« Kristi Yamaguchi endorses Romney | Main | Federal Court Finds Obama Appointees Interfered With New Black Panther Prosecution »
July 31, 2012
Olympic Swimmer Gets To Meet Mitt and Ann Romney , She has a great story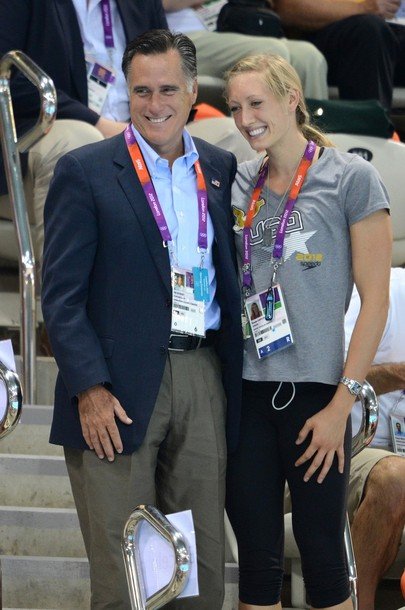 Mitt Romney with US swimmer Breeja Larson as they attend the men's 400m individual medley heats swimming event at the London 2012 Olympic Games on July 28, 2012 in London.
.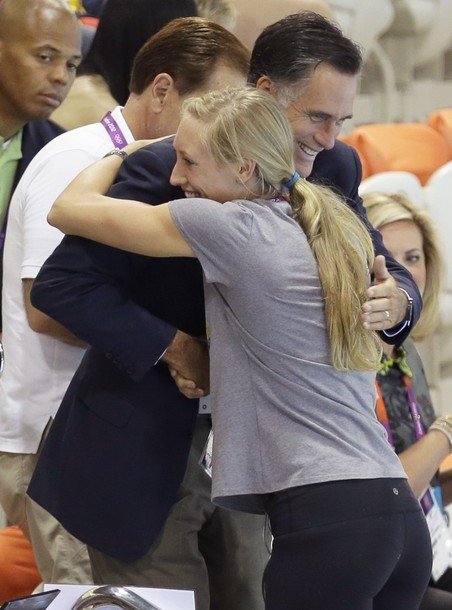 Swimmer Breeja Larson of the United States, right, is embraced by U.S. Republican presidential candidate Mitt Romney at the Aquatics Centre in the Olympic Park during the 2012 Summer Olympics in London, Saturday, July 28, 2012.


.

About Breeja.....She's a 20-year-old who didn't start year-round club swimming until her senior year of high school.
She's a kid who was absolutely terrified to attend her first college practice at Texas A&M.
She had a scare with thyroid cancer last summer, only to find out the tumors were benign and everything was all good.
And now she's an Olympian.
"An hour before this race adrenaline kept rushing through and I was getting really tense about it," Larson said. "I was just like, 'stay calm, don't shake it out, wait for the race.' I tried to make my first 50 a little faster so coming home I might have a chance.'"
Larson trailed Soni after the first 50 before pushing ahead in the second half of the race to beat her at the wall, 1:05.92 to 1:05.99. She signed a London phone booth sitting in a corner of the deck, which every Olympic qualifier has done this week.
Dealing with what could have been cancer to coming out of nowhere and punching her ticket to the Olympics in one year. That's quite a turnaround.
"I didn't want to say out loud, 'What if I don't make it?'" Larson said. "And I definitely didn't want to say, "What if I do make it?' I started thinking … 'When I make it,' so if it doesn't happen I'll be heart-broken and get over it. But if it does happen it will be great."
Larson's story doesn't stop there. Her family moved to Boise, Idaho when she was in high school and there was not a formal swimming program at her new school. They only swam four hours a week but Larson, who also liked volleyball, track and softball, wanted to choose swimming as her pastime. Her parents told her she would have to pay her own way in college so she was banking on getting a Division 2 scholarship via the pool.
Larson moved in with her aunt and uncle in Arizona and joined a club team that practiced four hours a day. She was finally getting what she wanted and needed. Shortly after that, Larson's coach hooked her up with Texas A&M coach Steve Bultman and he offered her a swimming scholarship.
That was two years ago. Now she's headed to London.
"He took a big risk in recruiting me," Larson said of Bultman. "It was really hard. I was the slowest kicker, I probably moved backwards a little bit. All of the drills, I was the last one to the wall and everyone had to be patient waiting for Breeja to come in so we could finish."
Those days are behind her. In two years she went from last to first.

.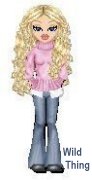 Wild Thing's comment..........
Great story.

These photos are from Opening Night at the Olympics in London. My guess is that the swimmer Breeja and her family are for Romney.
Posted by Wild Thing at July 31, 2012 02:47 AM
---
Comments
A great story. Hey Breeja, "Gig em Aggies"!
Posted by: TomR, armed in Texas at July 31, 2012 02:07 PM
---
Posted by: Wild Thing at August 1, 2012 02:35 AM
---