« Former Dem Rep. Artur Davis: "Millions of Americans" Have Left Democratic Party in Last 4 Years (Video) | Main | Marco Rubio's Story Gets Long Standing O at Romney Rally in Florida »
June 12, 2012
Obama and His Administration Denies Veterans Access to Vietnam Memorial on Memorial Day (Video)
Obama Administration Denies Veterans Access to Vietnam Memorial on Memorial Day
US veterans were denied access to the Vietnam Memorial on Memorial Day because Obama was going to give a speech there.
According to retired Lt General John Sylvester – 0bama was only there for 16 minutes, around 9:00 AM. They had the area closed until 3:00 PM.

Due to high security surrounding President Obama's visit to the Vietnam Veterans Memorial on Memorial Day, many veterans were turned away, unable to mourn their fellow soldiers at The Wall.
Retired Army Lieutenant General John Sylvester was one of the vets turned away, and he spoke out about the rebuff on Fox and Friends. Sylvester said that he didn't take offense on his own behalf, but on behalf of all those who died in the war. He said, "It's about those 58,000 plus soldiers, sailors, airmen, and Marines that are represented on that wall. That wall is America's wall. It is not the presidents wall."
The organization of which Sylvester is a part, the 11th Armored Cavalry Association, gathers on both Memorial Day and Veterans Day to place a wreath on the wall and to "be able to stand there reflectively, to be able to reach up and touch names of real-life humans, people that we knew, and it is our day as veterans to go and honor those men who are represented on that wall."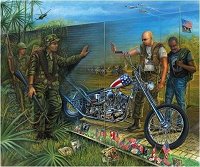 Wild Thing's comment..........
Burn in hell Obama and those in your administration as well that went along with this.
Posted by Wild Thing at June 12, 2012 12:55 AM
---
Comments
GW Bush would have been meeting with the Veterans instead of locking them out.
Posted by: BobF at June 12, 2012 07:37 AM
---
Looks like Biden was part of the obnoxious obama dog and pony show. Biden was a Vietnam draft dodger. F--k him! F--k em all! Frag em all!
Thank you Gen. Sylvester for speaking very well and directly to the issue. Your 11th Armored Cav had a good ass kicking reputation in Vietnam.
Thank you Fox. Did any of the other MSM cover this issue. Probably not. They just showed asswipe obama give a little phony teleprompter speech with our Wall in the background as his photo op prop of the day. Then they put a phony halo around his enormous vain head to present him as a heaven sent saint.
Come on America. Vote this deplorable administration out of office.
Posted by: TomR, armed in Texas at June 12, 2012 02:27 PM
---
Bob, yes he would have, what a huge difference. It sickens me to see Obama as CIC.
Posted by: Wild Thing at June 13, 2012 01:27 AM
---
Tom, ditto all you said!!!!
Posted by: Wild Thing at June 13, 2012 01:29 AM
---
Disgusting draft dodging potus
Posted by: Billy Ray in Cowtown at June 13, 2012 09:21 AM
---