« Fast & Furious in 62 Seconds - Video | Main | Krauthammer on Obama's Latest Whining Attempt to Blame GW Bush: Americans Won't Buy it because "There's a Kind of Psychological Statute of Limitations on Whining" – Video »
June 14, 2012
Flag Day 2012 ...Our Standard Old Glory - God Bless America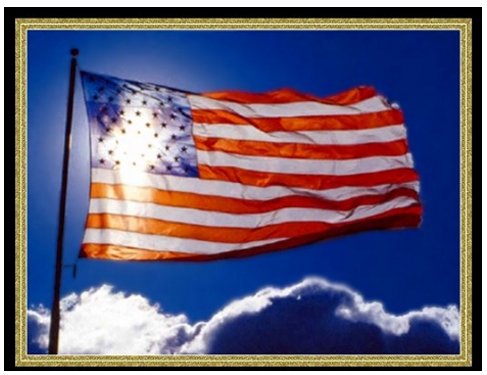 Flag Day in the United States of America, observed every year on June 14, is an opportunity to honor the American flag. It's a chance to reflect on our flag's history and to celebrate this symbol of the freedoms we enjoy as Americans.
The first American flag was made in 1776 by Betsy Ross, who was George Washington's seamstress. On June 14, 1777, the Second Continental Congress resolved the adoption of the flag of the United States. The idea of having a day every year to commemorate this event is believed to have been started in 1885 by Bernard J. Cigrand, a Wisconsin school teacher. During the following three decades, others continued recognizing our flag on June 14. Flag Day was officially established by President Woodrow Wilson in 1916 as a day to celebrate the anniversary of the 1777 resolution.

.
Red Skelton's "Pledge of Allegiance" was first introduced on the Red Skelton Show on January 14, 1969. It has since been twice read into the congressional record of The United States and has received numerous awards.
.
Wild Thing's comment ...............
This is to honor those that fought for our country, that carried our Flag into battle. For everything our Flag means and stands for. For our troops that look at our Flag especially when in country and know those that served before them, fought too for our freedom and security. Thank you Veterans and our Troops today, thank you for all the years of keeping us safe and free.
Posted by Wild Thing at June 14, 2012 02:47 AM
---
Comments
Excellent post.
—From the best thing to ever come out of Vincennes, Indiana; talented, humble Red Skelton knew in his poignant augury back in 1969 how this two word Under God omission from the Pledge of Allegiance would indeed come to be from those who seek to divide our mantra of God and Country.
How completely contrasting this truly American comedian is to the crass and belligerent Jon Stewart far too many of our young people listen to today —sadly a major news source for them that is purely trash and entirely anti-American.
Anyhow, here's another patriot on the Pledge of Allegiance by John Wayne:
http://www.youtube.com/watch?v=3Jf3MQpffBc
And of course Johnny Cash and "That Ragged Old Flag":
http://www.youtube.com/watch?v=JnivJb3Rv5A
We are Americans. Happy Flag Day June 14.
The Stars and Stripes Forever !
Posted by: Carlos at June 14, 2012 08:33 AM
---
Happy Birthday Old Glory.
The Stars and Stripes blowing in the breeze is one of the world's greatest and most inspiring sights.
Red Skelton never needed profanity to be a great comedian. His age of comedy seems to be extinct now.
Posted by: TomR, armed in Texas at June 14, 2012 12:56 PM
---
Thank you Carlos and Tom.
Carlos thank you for the added links, they are great.
Posted by: Wild Thing at June 14, 2012 05:01 PM
---