« VP Joe Biden Comes Unhinged in Angry Ohio Speech: 'They Dont Get Us!' | Main | Obama and Biden's War on the American Coal Industry »
May 18, 2012
Disabled troops inspire Gary Sinise to give back
Actor Gary Sinise's role as amputee "Lt. Dan" in "Forrest Gump" made him a hero to
real-life disabled veterans and inspired Sinise to help build homes for the most gravely
wounded. David Martin reports.
.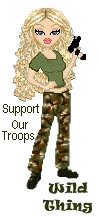 Wild Thing's comment..........
I wish the mainstream news media would offer more positive and inspiring stories like the story regarding Gary Sinise and his ability to honor and help our brave and courageous veterans.
Posted by Wild Thing at May 18, 2012 02:47 AM
---
Comments
The main stream media is more interested in the million dollar fundraiser for the Charlatan, hosted by the "could be a great President himself", George Clooney.
They cannot be bothered by the likes of Gary Sinise, who haa been doing this sort of thing for years. Without seeking publicity or reward I might add.
Guaranteed you won't see an item like this on the front page of any of those important publications you see, while standing in the checkout line, at the market.
Posted by: Sean at May 18, 2012 10:08 AM
---
Bob Hope led the way in entertaining the troops. He was dearly loved by the military and he loved them. People like Bob Hope always hope that there are others who will follow after them and most of all, they want someone who will also go further than they were able to. Gary Sinise has not only carried on what Bob Hope started, he's gone further. You know Mr. Hope has to be proud of Gary and what he's doing for his beloved military.
Posted by: BobF at May 18, 2012 07:49 PM
---