« Happy Easter and God Bless Each Of You | Main | Romney And Netanyahu Close Friendship Goes Back To 1976 ~ This is GREAT! »
April 09, 2012
Retired Marine Finally Reunited With Her Old Service Dog

A retired Marine has finally been reunited with her old military service dog after a six-year bureaucratic battle to adopt him.
Cpl. Megan Leavey, 28, served with her four-legged German shepherd partner Sgt. Rex through two tours in Iraq, completing hundreds of missions searching for roadside bombs until an insurgent explosion took them both out of service in 2006.
"I was on foot patrol in Iraq during the day, there was insurgents watching us from afar and they detonated an IED at a certain point when we got close," Leavey told ABC News. "It was real scary, it was a long day for us, we got through it together and recovered together after."
Leavey retired from the military and tried unsuccessfully to adopt Rex, but because of his valuable training he was put back in service after recovering from his injuries.
Rex was diagnosed with a kind of nerve paralysis earlier this year, permanently taking him out of service and prompting Leavey to take up a new adoption campaign. It became a race against the clock to get final approval before Rex was put down — something Leavey said can happen with old working dogs that become ill and are unable to be adopted out for safety reasons.
She was given final approval to adopt Rex month, and reunited with him when he was discharged at a ceremony at Camp Pendleton on Friday.
"I haven't seen him in so long, so, it's nice to see him again," Leavey told ABC.
At 11 years old, Leavey said Rex will be living a well-deserved life of luxury at her New York home.
"Whatever he wants. He wants to sleep all day. I have a nice fenced-in yard, so he's got plenty of area to run around. I got plenty of toys," she told KCEN-TV.
Mike Dowling, Rex's first handler, told ABC Leavey and Sgt. Rex are a perfect match.
"He's a combat-wounded marine, and someone that's going to understand him the best is another combat-wounded marine," Dowling said.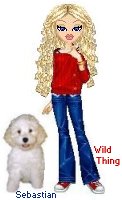 Wild Thing's comment.........
God bless both of them, they will be there for each other.
Posted by Wild Thing at April 9, 2012 02:47 AM
---
Comments
Posted by: Eddie (enemy of the state) at April 9, 2012 07:56 AM
---
Dogs don't forget. I bet Rex was one happy tail wagger when he saw Megan again.
Posted by: TomR, armed in Texas at April 9, 2012 12:49 PM
---
Posted by: Wild Thing at April 10, 2012 12:35 AM
---
Tom, I bet so too.

I love stories like this.
Posted by: Wild Thing at April 10, 2012 12:36 AM
---