« A Must See Voter ID Video | Main | Obama Better Checks Facts....Romney Was Strong On Wanting Osama bin Laden Taken Out Killed »
April 30, 2012
President George W. Bush and Veterans Bike Ride for Wounded Warriors
President George W. Bush and Veterans Bike Ride for Wounded Warriors

Dr. Marc Siegel shared a remarkable experience he had this past weekend with veterans of Wounded Warriors and President George W. Bush. In Palo Duro Canyon State Park, Texas he joined the veterans and former president for a 100k mountain bike ride. The 20 veterans participating have all faced challenges and among the most common are traumatic brain injury and post-traumatic stress disorder. President Bush said, "It's an opportunity for me to say to our vets I care for you, I thank you, I honor you."
Dr. Siegel said, "It was a deeply stirring experience … about mind over matter, about veterans who have been wounded, trying to get back to society, regain the new normal, overcoming post-traumatic stress, amputation … it's clearly an inspiration and it's helping the veterans to recover."
Retired U.S. Navy service member Chris Goehner told Fox News, "The lowest point for me was definitely the night that I wanted to commit suicide. There was a lot of survivor's guilt. … Having an event like this to help with the recovery and you know whether it be at the beginning or end of it, it's just kind of this is what you're working for."
Major Daniel Gade lost his leg in Iraq and since then he has received his PhD and teaches at West Point. Living proof of mind over matter, Gade says, "My brain works fine, my hands work fine, you know, my wife still loves me so I don't consider myself disabled. I just consider myself like, it's just an inconvenience."
.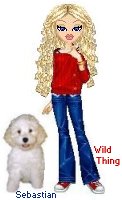 Wild Thing's comment.........
Bush never ever used our troops for a photo-op like Obama has done. I love how G.W. truly loves and cares about our troops and Veterans and wounded warriors. They know it too.
Posted by Wild Thing at April 30, 2012 02:55 AM
---
Comments
American decency incarnate.
Stateliness. Propriety. Respectability. Dignity. Refinement. Sophistication. Grace. Class. Taste. Polish. Substance. Courage. Honorable man of mettle, valor and moral fiber.
Exemplary.
George Walker Bush.
He is an American.
And so are we.
I wish not to sully this post,
I truly do not,
but it's hard not to contrast with what's now immediately and subsequently in the White House.
-A President and First Lady who publicly preach to us environmental austerity and call upon Americans to personally sacrifice in their lives while simultaneously indulging privately in their own lives an extravagant and lavish lifestyle.
Imagine for a moment if the current First Lady were to take vacations on hiking trips to various of America's National Parks to showcase America's vastness and nature preservation, and it were Laura Bush taking dozens of her friends to exclusive five star resorts in Spain and walking the finest high end shopping districts the world has to offer with their hands carrying shopping bags full from fine European shops before the cameras.
We'd never hear the end of it from the American media.
Just this past weekend at the annual Washington Correspondents fete - while they're having dinner - the President stoops so low as to joke how delicious it was to eat dogs when he was younger and attending Madrasa growing up in Indonesia.
And yet we are told by an American media that somehow he's the one that can better relate to ordinary Americans.
It's nothing savory at all that Americans are being served up these lost days - four lamentable years of them.
Come next January, after a good scrubbing, the White House will be made once again habitable and restored honorably to its rightful place of American dignity, pride and respect the world over.
The stars and stripes forever.
Posted by: Carlos at April 30, 2012 07:07 AM
---
Well said Carlos.
The military loved GW Bush and still does. We know when a president has respect for us and honors what we do. Bush not only shows this respect in words but also in deeds. GW greeted returning troops at Dallas airport in the middle of the night. After the terrorist attacks at Fort Hood, GW went there immediately to meet with survivors and family members of those who died; Obama waited a week. These bike rides through the desert is another way he shows his respect and that he truly cares for the men and women who served in our Armed Forces. The only time Obama wants to be around military members is when it's for a photo op or political gain.
Posted by: BobF at April 30, 2012 07:26 AM
---
George W and Laura Bush - dignity, honor, patriotism, respect, humility.
Benito Hussein and Michelle obama - scamming, narcissism, treason, racism, arrogance.
Posted by: TomR, armed in Texas at April 30, 2012 12:55 PM
---
Carlos, that was really good thank you.
Posted by: Wild Thing at May 1, 2012 01:32 AM
---
Bob, I agree, Bush was loved and loved them back and they know how much he respects them.
Posted by: Wild Thing at May 1, 2012 01:35 AM
---
Tom, that is the perfect description of G.W. and Laura. And also what you said about the Obama couple.
Posted by: Wild Thing at May 1, 2012 01:37 AM
---