« Actor Matt Damon Not Happy With Obama Retracts Support Of Obama and Obama Fires Back | Main | Sen. Blunt Slams Dems On Jobs and Energy »
April 21, 2012
Obama's Video Message Booed At Boston's Fenway Park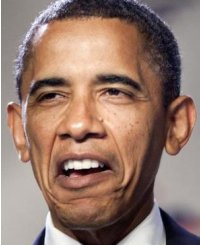 Obama's Video Message Booed At Boston's Fenway Park
During Friday's Red Sox game, President Obama delivered a video message recognizing the 100th of Fenway Park, in Boston. Several people are reporting that his message was met with booing.

Wild Thing's comment......
Thank you God. And for this to happen in a very liberal place, city, etc. is huge.
Posted by Wild Thing at April 21, 2012 02:55 AM
---
Comments
Come November, this President will not carry Massachusetts.
The citizens of the Commonwealth of Massachusetts will vote to elect Mitt Romney, just as they voted to elect Republican Scott Brown to the U.S. Senate.
Posted by: Carlos at April 21, 2012 07:42 AM
---
Forget all the polls that you see.
This non- scripted demonstration,in one of the most liberal cities in the Country, is all the evidence you need of this Charlatan's declining popularity.
All that the Obama Campaign has left is to resort to, personal character assassination, which has already started.
Let us all hope that Mitt Romney, concentrates on the real issue, Obama's miserable record, and not get caught up in the quagmire of trading insults.
If he does this he will win.
Posted by: Sean at April 21, 2012 11:16 AM
---
Doesn't Boston have a huge Irish Catholic population? obama pissed on the Catholic Church. He probably lost most of the usually liberal Catholic vote, the Kennedy Catholics. Forcing contraception and abortion on Catholics while exempting muslims from his mandated health care may bite obama in the ass at the ballot box.
Posted by: TomR, armed in Texas at April 21, 2012 01:21 PM
---
Great input, thank you all so much.
Posted by: Wild Thing at April 22, 2012 02:56 AM
---