« Obama Starts Selling Hoodies on Website ~ Good Example Of How Obama USES People | Main | Ambassador John Bolton Calls Obama's Open Mic Remarks to Russia's Medvedev "a Fire Bell in the Night" – Video »
March 27, 2012
NY Senate Democrats Wear Hoodies In Support of Trayvon Martin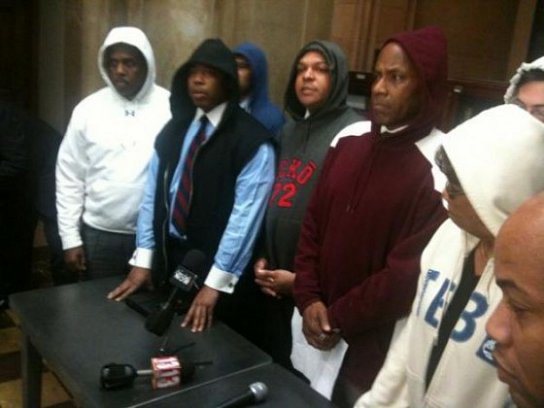 NY Senate Democrats Wear Hoodies In Support of Trayvon Martin
State Senate Democrats put on hooded sweatshirts Monday, March 26, 2012, to protest the death of Trayvon Martin, the young man allegedly gunned down by neighborhood crime watch captain in Florida.
Citing "demonizing stereotypes," a group of mostly African-American and Hispanic state lawmakers wore hooded sweatshirts into the legislative chambers on Monday in solidarity with the family of Trayvon Marton, the Florida teenager gunned down a month ago by a neighborhood watch officer who had told police the youth was acting suspicious.
The group included Assembly members Karim Camara and Marcos Crespo as well as state Sens. Eric Adams, Bill Perkins, Kevin Parker, Shirley Huntley, Mike Gianaris and Daniel Squadron.
Several of those who spoke to reporters said the killing reflected a law enforcement culture in New York and elsewhere that stigmatized young male minority members. "These incidents don't always lead to death, but they happen every day in urban communities throughout our state," said Camara.
Perkins referred to the cases of the youths convicted and then exonerated in the 1989 rape of a jogger in Central Park, plus the deaths of Amadou Diallo and other fatalities or injuries resulting from police action.


Wild Thing's comment.........
Good grief!
What is it with people that have such a strong need to do things like this. I just don't get it. They are not being supportive, not really. If they feel sorry for this family then take up a donation to help them or something. Wearing a hoodie and everyone going the thug route helps no one except make a statement that they all want to be like a gang or something.
Posted by Wild Thing at March 27, 2012 02:55 AM
---
Comments
What if it does turn out that Zimmerman did obey law enforcement when they told him not to follow Martin? What if Martin did attack Zimmerman as he was walking back to his vehicle? Problem is even if there was a video of those events, these fools would choose not to believe it.
Posted by: BobF at March 27, 2012 07:26 AM
---
Interesting that Hispanic lawmakers are involved in this idiotic show of support considering it was a Hispanic man who shot Martin.
A few more things are coming out on this case. It's looking like when the police told Zimmerman not to follow Martin, he can be heard on tape saying "OK". Zimmerman claims he was attacked by Martin as he walked back to his vehicle and witnesses seem to confirm that as Martin was beating Zimmerman next to his vehicle.
Posted by: BobF at March 27, 2012 07:42 AM
---
What if White NY senators wore KKK robes everytime a White was killed by Blacks.
Posted by: TomR,armed in Texas at March 27, 2012 11:33 PM
---
Thanks for the added information about all of this.
Posted by: Wild Thing at March 28, 2012 01:43 AM
---