« Mitt Romney Congratulates Santorum, Focuses on Obama | Main | Obama At the White House Takes Aim With Marshmallow Gun »
February 08, 2012
Michelle Obama Holds Tug Of War Match With Jimmy Fallon In White House's Dignified Blue Room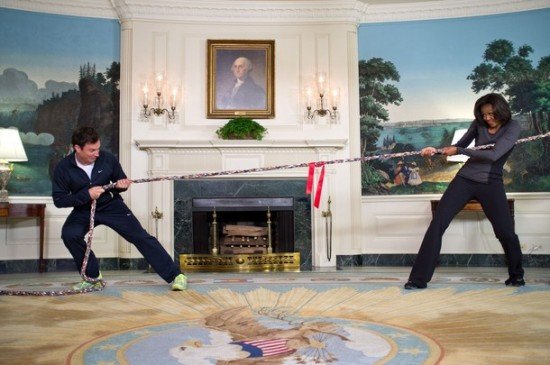 The normally dignified Blue Room at the White House became a late-night show comedy set last month when first lady Michelle Obama engaged in a friendly game of tug of war with host Jimmy Fallon, according to a photo released by the White House today.
The scene, part of a taping for Fallon's show, is meant to promote Mrs. Obama's commitment to physical activity — and good humor — on the second anniversary of her "Let's Move!" initiative aimed at fighting childhood obesity.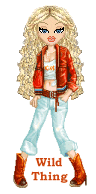 Wild Thing's comment......
AUGH! I can hardly wait for them to get out of office and the heck out of our White House.
This is the photo from the link of the article. At first I thought it was a photo shop but apparently it is an actual photo.
Posted by Wild Thing at February 8, 2012 02:50 AM
---
Comments
They could have done this in the White House gym. No respect for what the White House represents.
Posted by: BobF at February 8, 2012 09:44 AM
---
First Lady ?
Yeah, right.
Imagine what transpires there underneath the portrait of George Washington when there are no cameras around.
On this topic, I used to say that the Democrat party of today has no resemblance to the Democrat party of John F. Kennedy.
I'm now changing that to the Democrat party of Harry S. Truman.
How totally self absorbed, abusive, excessively self-indulgent, what sordid behavior and disrespect these Democrats have for the high office they hold.
Mimi Alford was a teenager working in the White House in 1962:
http://newyorkpost.com/p/news/national/inside_my_teen_affair_with_jfk_FGF4aS7OdoQozP4tyySsmK
After a good scrubbing, in 346 days according to the countdown clock in the right column - - - - - - - - - - - - - - - - - - - >
The White House will become habitable again, restored to its rightful place of respect, dignity, refinement and decorum befitting the historic Executive Mansion here in our nation's capital.
Dreary, gray skies and cold with snow flurries expected. February in Washington.

Posted by: Carlos at February 8, 2012 12:48 PM
---
Remember the Clinton people did thousands of dollars of damage to the White House as they were leaving.
Posted by: BobF at February 8, 2012 01:05 PM
---
Think the dignity of George and Laura Bush. I was disappointed in Bush's presidency, but he and Laura were loyal Americans and they respected their responsibilities of office while the Clintons and obamas thought the White House was for pillaging and partying.
Posted by: TomR, armed in Texas at February 8, 2012 02:32 PM
---