« It's Time For RICK PERRY If You Want To Restore America and A Fiscal and Social Conservative | Main | Rick Perry Says The Truth Calls Ron Paul a Hypocrite For His Earmark Record »
January 07, 2012
Santorum compares holding elective office to military service ~ This Is Unforgivable What He Said!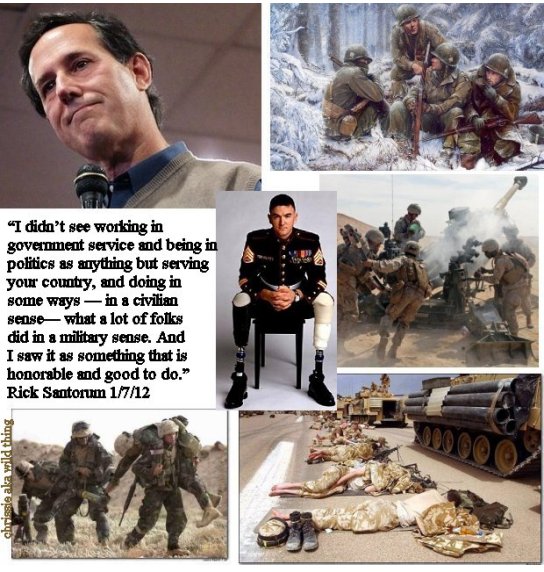 Santorum compares holding elective office to military service ~ This Is Unforgivable What He Said!
Former Pennsylvania Sen. Rick Santorum compared his service in government to serving in the military during a town hall meeting on Thursday.
"I grew up around veterans, I grew up around, you know, folks who loved their country and served their country," he said, answering a question about what propelled him into government service.
"I didn't see working in government service and being in politics as anything but serving your country, and doing in some ways — in a civilian sense — what a lot of folks did in a military sense. And I saw it as something that is honorable and good to do."
"The rest of the country doesn't function unless the government keeps us free," he added, "and we need people in politics just like we need people in uniform to do that."

Santorum has been criticized by former Massachusetts Gov. Mitt Romney for being a career politician. In 1990, at age 32, Santorum was elected to the House of Representatives. He entered the Senate after the 1994 Republican Revolution, where he served until losing to now-Democratic Sen. Bob Casey in 2006.
Santorum's father served in the military during World War II, but the senator never served in the military.

.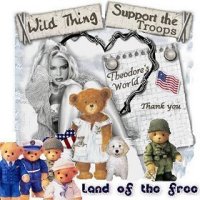 Wild Thing's comment......

Sorry to any of you that support this man for President. THIS what Santorum has said is unforgivable and there is NO way in hell he can talk his way out of it. NO way!
There is NO comparison to those that have served and someone working in our government....a politician or even a President. Nothing on earth can compare to it.
No one forced him to say what he did, no one put the words in his mouth.

Posted by Wild Thing at January 7, 2012 02:55 AM
---
Comments
According to his bio, he's been a lawyer/politician all his adult life. As a lawyer he argued that professional wrestling should be exempt from federal anabolic steroid regulations...we've all seen what those steroids have destroyed the lives of many of those wrestlers. Although he didn't get elected to congress till 1990, he was involved in politics many years before that.
This nation needs a CINC who's worn the uniform. One that knows the dangers of sending men and women into combat and one who knows what they face when they return from combat. Rick Perry is the only Republican candidate that knows that first hand.
Posted by: BobF at January 7, 2012 09:39 AM
---
Bob, thank you so much for the information. I agree Bob so much, it really makes a difference.
Posted by: Wild Thing at January 7, 2012 01:17 PM
---
My attitude is that ANY healthy young American male who doesn't serve his country and repay the freedoms he inherited from others who have worn the uniform and served is a lesser man. I am not an egotist, but I look down on those who have not served. Their excuses carry no weight. Santorum has not served his country. He has served himself in political office with lots of perks and benies. Gingrich and Romney are both BLATANT Vietnam draft dodgers. As far as I am concerned, anything out of their mouths is pure bullshit. I will maybe have to vote for one of these three political pissants but only because I hate the Marxist muslim racist now in the Oval Office more.
Posted by: TomR at January 7, 2012 06:09 PM
---
PROUD to be a non-affiliated INDEPENDENT voter Wild Thing! Now you know why when seeing the GOPhers destroy themselves for power...
- Don't Tread On Me 2012
Posted by: darthcrUSAderworldtour07 at January 7, 2012 07:17 PM
---
Tom, well said I agree so much.
Posted by: Wild Thing at January 9, 2012 01:04 AM
---
Darth, if Perry does not win, that is what I might do too, become an independent.
Posted by: Wild Thing at January 9, 2012 01:05 AM
---