« Veterans Speak About Rick Perry | Main | Always All About HIM, Attention Whore Obama To Speak To Iowa GOP Caucus Voters Tuesday Evening »
January 03, 2012
Rick Perry Joined by Marine Capt. Dan Moran and US Navy SEAL Marcus Luttrell in Perry, Iowa
Capt. Dan Moran - A wounded warrior for Rick Perry
"On the campaign trail in Iowa I asked Marine Corps Capt. Dan Moran what he was doing in Iowa? Talking to veterans and telling his story! And it's a real moving and inspiring story...he's for Rick Perry, a veteran for veterans!"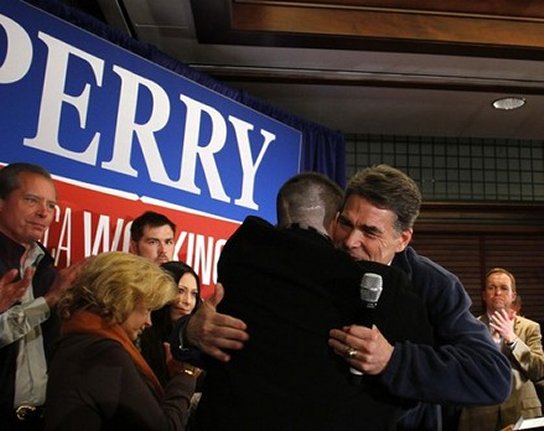 Governor Rick Perry (facing camera) hugs former Marine Captain Dan Moran during a campaign stop in Perry, Iowa
.

.
Marcus Luttrell, author of "Lone Survivor", interviewed by Matt Lauer on The Today Show on June 12, 2007.
.
And THIS is an amazing story of Marcus Luttrell, and Rick and Anita Perry.

As Texas Governor Rick Perry makes his final pre-caucus appearances before Iowa voters today, he will be joined on the stump by a figure who's well-known locally: 1996 and 2000 presidential candidate Steve Forbes.
The famous flat-tax advocate is expected to attest to Perry's outside-the-box, anti-Washington campaign message.
But also joining Perry will be someone who once preferred to live in the shadows: former Navy SEAL Marcus Luttrell.
He received the Navy Cross after surviving a vicious 2005 battle in which three of his fellow SEALs were killed when they were discovered inside Afghanistan while pursuing a Taliban leader.
Luttrell later wrote about the experience in his book, "The Lone Survivor." It is being made into a Peter Berg movie due for release next year.
Unlike Forbes, Luttrell isn't expected to testify today to Perry's policy. Rather, he will speak to the Republican presidential candidate's character.
In a story Perry himself related to a trio of reporters from the Globe and two other news organizations during a chance encounter last night at Des Moines's Django restaurant, Luttrell and the governor formed a bond after their own chance meeting on Coronado Island in San Diego.
Perry - still Air Force trim, with a BlackBerry on his hip and a Texas Ranger standing watch as he headed for the men's room - recalled how his wife, Anita, insisted they head to California for a week in July 2006 to escape the Texas heat.
Perry initially resisted, mimicking with flailing arms how he gets antsy after more than three days in the same place, but he recalled being won over as they arrived at the red-roofed Hotel del Coronado.
Its deep beach blends into the Pacific Ocean, not only providing an air of tranquility but also a perfect, 70-degree running spot for people like Perry - and SEALs like Luttrell.
Their training base and headquarters is located on a secure area of the beach just south of the hotel.
The governor told the reporters that during his stay, he met a Navy man from Texas who encouraged him to come visit their operation. When Perry accepted the offer, Luttrell - a native of Huntsville, Texas - was among the few who volunteered to give up time on a Saturday to accompany the governor on the tour.
Over the course of their two hours together, Perry said, Luttrell said little more than "yessir" and "no sir." But as his homestate governor went to leave, the Navy man asked Perry if he knew what had just happened to Luttrell.
When Perry said "no," he was told Luttrell had just received the Navy Cross.
The governor, sensing Luttrell's discomfort, said he congratulated his fellow Texan but didn't push him for details.
Instead, Perry found the answers for himself.
The governor recalled sitting down at his laptop and doing a Google search for the name "Marcus Luttrell."
He said it wasn't until the third page of results before he found a small mention of his Navy service.
Perry said he then recalled the Navy man mentioning "Operation Redwing."
When he typed in those two words, the screen filled with immediate hits. Perry moved both arms from high to low to emphasize how data came cascading down the screen.
The governor, who flew Air Force cargo planes in the 1970s, said he eagerly read the story about Luttrell and his team.
They were discovered on June 28, 2005, by three goat herders as they hid in the mountains while hunting a Taliban leader deemed responsible for a series of killings in eastern Afghanistan and the Hindu Kush mountains extending into Pakistan.
The group voted about what to do: one, Matthew Axelson, favored executing the herders, fearing they would betray them to Taliban forces; one, Danny Dietz, abstained, not wanting to make the life-or-death decision. The third, team leader Michael Murphy, said he would join Luttrell in whatever decision he made.
Luttrell voted to release the herders, fearing the possibility of criminal charges for violating their rules of engagement.
He later told the "Today" show's Matt Lauer he regrets that decision every day.
Within an hour, the group was surrounded by Taliban forces. One-by-one, Luttrell's teammates were shot and killed. A rescue helicopter carrying eight fellow SEALs was shot down by a Taliban rocket-propelled grenade, killing 16 overall.
Luttrell, though, was able to crawl away, despite being badly wounded. He later was taken in by Afghan villagers before being rescued six days after the battle.
Murphy was later awarded the Medal of Honor for his own heroics.
Perry told the reporters that after his initial meeting with Luttrell in California, the two reconnected in Texas as the SEAL battled post-traumatic stress disorder and struggled to get off a morphine regimen.
Over time, Rick and Anita Perry - the parents of two children - offered him a spare bedroom in the third floor of their Austin-area home. (They still are unable to live in the Texas Governor's Mansion since it was burned by an arsonist while being renovated in 2008.)
Luttrell's bed was nothing more than an air mattress, the governor related.
Perry said he also intervened with Navy Secretary Ray Mabus to get Luttrell the medical and psychological treatment he needed. He ended up being a regular presence in the home for about two years.
In 2010, Luttrell established the Lone Survivor Foundation, which is aimed at helping wounded warriors return home."
Also in 2010, he got married. And this past May, Luttrell and his wife, Melanie, had a son.
His name is "Axe," after Matthew Axelson, the SEAL teammate who voted to kill the herders and instead died himself in the Afghan mountains that June day.
.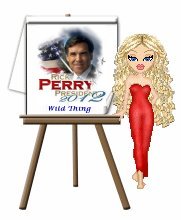 Wild Thing's comment..........

If you have the time I recommend watching each one of these videos. It is really worth it, I promise.
Marcus Luttrell and his wife were included in the Perry family's decision of whether Rick Perry should run for the nomination .
If Rick Perry's kind of character is not worthy of the Oval office then I don't know what is.
And I truly believe Perry will make a great President. He will also be a surpurb Commander in Chief.
Posted by Wild Thing at January 3, 2012 04:47 AM
---
Comments
Everyday...Everyday...It would be worth me doing the time in prison if my buddies were still alive.
No one should have to live with what this man has to live with. Thank God there are those like Rick Perry and his family to support him and the others who have, and are, going through a Hell on Earth.
Posted by: BobF at January 3, 2012 07:59 AM
---
Bob, I agree, I feel so much for this man, this hero. I also agree, I am so glad Perry is the man he is and supports our wounded warriors and all our troops and Veterans. It does make a difference.
Posted by: Wild Thing at January 4, 2012 11:10 AM
---