« Rick Perry Picks Up Key Endorsement in South Carolina | Main | Why No One Invades Switzerland »
January 09, 2012
Rick Perry At the Debates Over the Weekend ~ Excellent
Unlike Romney, Rick Perry is not going to hide behind politically correct language when describing Obama. He says in this clip that not only is Obama a Socialist, but that our founding fathers didn't want America to be a socialist nation.


.
Perry jokes about remembering 'cuts'. hahha love how he did this. it was a lighthearted moment for everyone. Perry's got personality plus. Cute and lovable. I am so glad to see him stressing what is important about himself- he's got executive experience like no one else.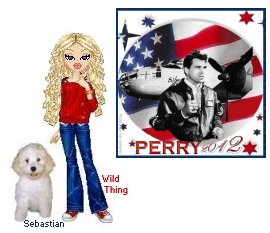 Wild Thing's comment........
Both debates this last weekend Perry did great. I wish they would have called on him more, but I understand they only do that when the candidate is in the top of the polling.
Posted by Wild Thing at January 9, 2012 02:55 AM
---
Comments
Can you imagine Gingrich laughing at his own mistake? Never happen.
Posted by: TomR at January 9, 2012 12:31 PM
---
Posted by: Carlos at January 9, 2012 05:04 PM
---
Tom, great point, I agree that would never happen.
Posted by: Wild Thing at January 10, 2012 04:05 AM
---
Carlos, love those, Perry is the best!!!!
Posted by: Wild Thing at January 10, 2012 04:07 AM
---