« The TEXAS DPS - New 36 ft. Patrol/Gunboat ~ Thank You Gov. Rick Perry!! | Main | Federal Judge Rules Santorum, Perry, Gingrich, Huntsman Cannot be Added to Virginia's GOP Primary Ballot »
January 13, 2012
Our Media and Taliban Leaders Condemned The Video of US Marines pi$$ing on three dead Taliban fighters ~ Apparently It is OK Though When Taliban Behead Our Troops!

Panetta assures Afghans of full probe into video
Here is the link to the full article.......CLICK HERE.
The Taliban is upset with the video even though they use snuff videos of attacks on US Marines as a recruiting tool.
The AP reported:
The reaction from Afghanistan was angry.
Afghan President Hamid Karzai condemned the video as "completely inhumane." The Afghan Defense Ministry called it "shocking." And the Taliban issued a statement accusing U.S. forces of committing numerous "indignities" against the Afghan people.
"First they killed the Afghans with mortars, and they then urinated on their bodies," Taliban spokesman Zabiullah Mujahid said. "We strongly condemn this inhumane action by the wild American soldiers."
.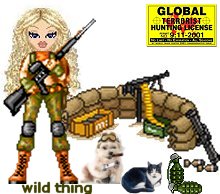 Wild Thing's comment........
So what! Our troops are awesome! Good for them!! The R.O.E.'s they have had to be under from the vile Obama, no wonder our troops get ticked off and frustrated. The community organizer Obama has not clue what our troops are up against and could care less about them. He is not worth one ounce of respect from our troops.
And what does the Taliban do to our troops? They behead them, cut the ones up in little pieces they have kidnapped. But oh that's right the media does not care about that, they only want to make a big deal about what our troops do. sheesh!

I realize our troops are supposed to be good and good examples of America. BUT I am so fed up with how Obama and his ilk have treated our troops. And the Code Pink people etc. holding signs saying Kill the Officers, Kill our troops. Enough!

Posted by Wild Thing at January 13, 2012 02:55 AM
---
Comments
As far as I know, no American that's been captured by any of these terrorist groups has been returned alive. Those that have been found could only be identified by DNA. They couldn't even use normal forensic methods to identify our men. You can only imagine the sadistic torture our young men endured until death revealed their suffering. Not one peep out of anyone about what happens to our troops when they're captured but now the world is all upset because a few guys pissed on some dead Taliban.
The only thing I have to say about this is why...why...did some stupid ignorant idiot post the video?
Posted by: BobF at January 13, 2012 01:07 PM
---
Pissing on dead(or alive) Taliban has to be a great relief. Filming it is utterly stupid. We are fighting two major wars. A no victory allowed military war and a gotcha PC war. These young Marines fed the PC war against our military. This only brings more stringent ROEs that ultimately cause more US casualties. Get those damned cell phone cameras under control guys.
Posted by: TomR, armed in Texas at January 13, 2012 01:31 PM
---
Rep. Allen West (R-Fla.), a former Army lieutenant colonel, sends THE WEEKLY STANDARD an email commenting on the Marines' video, and has given us permission to publish it.
"I have sat back and assessed the incident with the video of our Marines urinating on Taliban corpses. I do not recall any self-righteous indignation when our Delta snipers Shugart and Gordon had their bodies dragged through Mogadishu. Neither do I recall media outrage and condemnation of our Blackwater security contractors being killed, their bodies burned, and hung from a bridge in Fallujah.
"All these over-emotional pundits and armchair quarterbacks need to chill. Does anyone remember the two Soldiers from the 101st Airborne Division who were beheaded and gutted in Iraq?
"The Marines were wrong. Give them a maximum punishment under field grade level Article 15 (non-judicial punishment), place a General Officer level letter of reprimand in their personnel file, and have them in full dress uniform stand before their Battalion, each personally apologize to God, Country, and Corps videotaped and conclude by singing the full US Marine Corps Hymn without a teleprompter.
"As for everyone else, unless you have been shot at by the Taliban, shut your mouth, war is hell

Posted by: Gator at January 13, 2012 11:40 PM
---
Thank you for sharing, Gator.
Excellent.
The Florida Congressman and Lieutenant Colonel has a very bright future ahead of him.
The divide of opinion on this subject could not be greater.
Naturally, I stand fully with our brave men in uniform here:
http://www.youtube.com/watch?v=T3roZM2gmn4
And as for the reclining arm chair critics of America's finest in uniform that provide the peaceful comfort and civility we all enjoy as Americans,
I wish upon you
the same grave marker I wish upon the spineless senior Senator from Nevada who has and continues to cause more and more damage to this republic since assuming office as Senate Majority Leader in January 2007, one flaccid Harry Mason Reid of Searchlight, Nevada:
a fire hydrant.
Posted by: Carlos at January 14, 2012 02:13 AM
---
You are all so wonderful, thank you for your input.
Carlos, thank you for the link.
Posted by: Wild Thing at January 14, 2012 05:16 AM
---
Maybe I am being naive, but all this may be a minor misunderstanding? Just a simple failure to communicate the situation properly. All we need to do is update the knowledge of these offended bureaucrats who don't undestand the the true situation by reassigning them to a front line Afghanistan unit where they could interface on a more immediate manner with their Taliban counterparts. I think being fired upon might promote their undersatnding of the immediate urge to pass urine too. And, with a void of cloudy thinking bureaucrats fouling Washington, perhaps the Marines they replaced in Afghanistan would be generous enough to come back and straighten Washington out, as Rep. West has tried to do. I have heard this referred to as a "win/win" situation, or something like that. Perhaps the President, Sec. Def., and even Sen. Reid might want to participate, after all should they be ordering the rules of engagement without full knowledge of the on ground consequences of those rules. I hear them talk support of our troops, lets see them start the walk.
Posted by: Mike B. at January 15, 2012 04:07 AM
---