« Newt's Victory In S.Carolina is the Tea Party's Loss ~ A Must Read Article | Main | AZ. Gov.Jan Brewer and Confrontational Obama At Airport »
January 26, 2012
GOP Presidential Debate Tonight from Jacksonville, Florida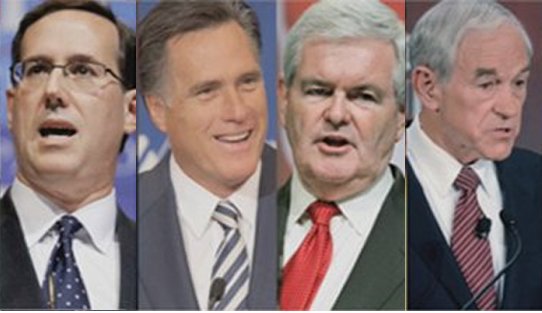 8pm ET on CNN
Location: University of North Florida in Jacksonville, FL
Sponsor: CNN, CNN en Español, The Hispanic Leadership Network and The Republican Party of Florida
Participants: Romney, Gingrich, Santorum, Paul
Posted by Wild Thing at January 26, 2012 12:50 AM
---
Comments
The GOP, Co-Chairman Reince Priebus and Sharon Day of the Republican National Committee have failed miserably in their duty in not having risen to the occasion of properly vetting the sponsors of these Republican Presidential debates and their moderators.
It should be easy. There are no Democrats involved. It's been a striking and dismal failure by them to the detriment of the GOP.

Posted by: Carlos at January 26, 2012 04:51 AM
---
The entire GOP/RNC apparatus needs to be abolished/dismantled/fired. We need to start from scratch with conservative based outside the Beltway Americans. The Democrat Party leadership is almost a pure liberal bunch. They don't fool around. We conservatives have a Republican Party that is rudderless, compromising, entrenched and self serving to itself(the leaders) rather than answering to the beliefs of the Middle America it is supposed to represent. That is why we get the McCains, Romneys, Gingrichs, and yes, the two Bushs.
Posted by: TomR, armed in Texas at January 26, 2012 11:46 AM
---
Both of you shared such good input, I agree so much. I wish with all my heart it was different and what is so horrible is it could be different and done just as you say.
Posted by: Wild Thing at January 27, 2012 02:31 AM
---