« GOP Presidential Debate Tonight from Jacksonville, Florida | Main | Obama To ABC's Diane Sawyer: I Want Second Term 'Badly' ~ God Help Us NO WAY Do WE Want Obama »
January 26, 2012
AZ. Gov.Jan Brewer and Confrontational Obama At Airport
Governor Jan Brewer discussed her confrontation with Obama today at the Phoenix airport. Brewer told Greta Van Susteren that Obama ambushed her when he got off the plane about a book she wrote. This upset her and that is when she poked her finger at his chest. Brewer said that Obama walked away from her in mid-sentence.
" I don't know why he was surprised by my book and he's very thin-skinned in regards to it."

President Thin-Skin arrived in Phoenix, Arizona today and was greeted by Governor Jan Brewer. With all the major problems facing our country and the state of Arizona he chose, instead, to complain about her book. She had called him…gasp!…patronizing.

.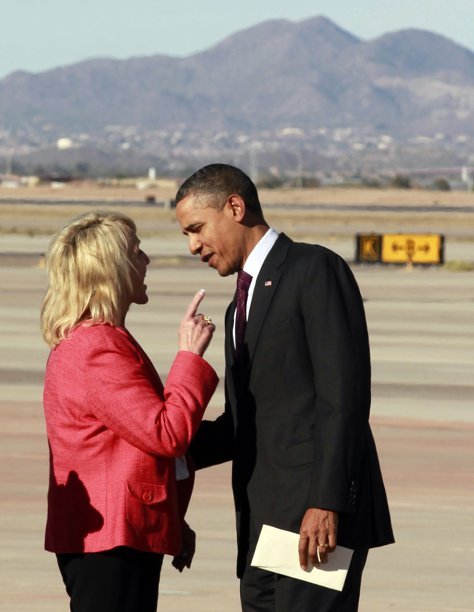 According to USA Today,
President Obama and Gov. Jan Brewer had a tense exchange Wednesday, sparring over the Arizona governor's portrayal of Obama as "patronizing" in her memoir. Obama was greeted by Brewer soon after Air Force One landed in Phoenix this afternoon. The president was handed a handwritten letter by Brewer and they spoke intensely for a few minutes, according to a White House pool report. At one point, she was pointing her finger at him and at another, they were talking at the same time, seemingly over each other, according to pooler Carrie Buddof Brown of Politico.
"He was a little disturbed about my book, Scorpions for Breakfast," Brewer told reporters travelling with Obama. "I said to him that I have all the respect in the world for the office of the president. The book is what the book is. I asked him if he read the book. He said he read the excerpt. "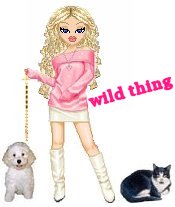 Wild Thing's comment......
This is what Rick Perry did, he hand delievered a letter at the airport to Obama too and Obama physically turned away from him. Obama is a POS!
Posted by Wild Thing at January 26, 2012 12:55 AM
---
Comments
Jan Brewer of Arizona, what a woman !
I'm going to find a copy of her book this weekend.
Two take aways from this airport tarmac encounter:
As written above, with all the problems Arizona citizens are having to deal with, to the divider-in-chief it's all personal, it's all about him, not about Americans.
In the months to come, as things get heated up and ugly, and they will get very, very ugly, these encounters will occur again as it is customary for Governors to greet a visiting President.
On the topic of Arizona, and the massacre that happened there a year ago this month, and the protracted splintering of Americans left and right only exacerbated by our divider-in-chief:
Some of us have forgotten five years ago when innocent dozens were randomly shot and killed on the campus of Virginia Tech by a lone crazed gunmen.
Speaking with sincere somber brevity, President Bush spoke for just six minutes to a quiet attentive audience with applause only once; at the end.
http://www.youtube.com/watch?v=zdvpw86_qkg
What a stark and complete contrast from the "Tucson Memorial Service" twelve months ago which digressed to an apparent rally before a college sporting event at the University of Arizona, a big top circus that began by a bizarre medicine man blessing reptiles all in the presence of the President of the United States who spoke for an hour:
http://www.youtube.com/watch?v=rnZvI_MFeoo&feature=results_main&playnext=1&list=PLA16FD4C8110330E2
Would you send your son or daughter to a university that hosted this cheering fete spectacle of a memorial service ?
Finally, should you perhaps have a relative, good neighbor or good friend who perhaps is on the fence, ask him or her what group they'd rather be a part of,
the group of American decency truly mournful and respectful of such senseless human loss in the first video, or with those in the latter with the menagerie spectacle of a zoo presided over by you know who.

Posted by: Carlos at January 26, 2012 04:35 AM
---
This guy is a freaking disgrace to the Office of the President.
Posted by: BobF at January 26, 2012 07:40 AM
---
Not only thin skinned but this piece of crap is more of a ruler and so narcissistic. What kind of President is he that he can't take any form of criticism. Barry couldn't survive 5 minutes of what Reagan and Bush 43 put up with during their 8 yrs in office. We have a would be tyrant who should be UN Secretary General or strongman dictator of a 3rd World Crackhouse.
Posted by: Nel Uy at January 26, 2012 09:37 AM
---
Note the "domineering posture", on the part of Our Dear Leader. Obviously meant to intimidate, as he knows that intellectually, he's in over his head.
Reminds me of a similar move pulled by the Global Warming Hokester, during a Presidential debate with GWB.
President Bush wasn't intimidated then and I'm sure that Jan Brewer isn't now.
Something else to consider, where does NOW stand on the posture of oue leader in this picture?
Posted by: Sean at January 26, 2012 11:01 AM
---
obama is consistent. His overbearing ego is always on display to those who are willing to notice. That obviously does not include the MSM. Perhaps the definition of obama's narcissism is the Mussolini pose he strikes so often whils making speeches. If he is reelected I would not be surprised if us mortals will be required to give him the Nazi salute or bow down five times a day in the direction of the White House.
Posted by: TomR, armed in Texas at January 26, 2012 11:33 AM
---
"Perhaps the definition of obama's narcissism is the Mussolini pose he strikes so often while making speeches"...Tom R. sums up *THE*RULER* in one sentence. Unlike Reagan or Bush 43, Obamalinsky lacks a basic grasp of what "class" means. The veneer is flaking away and the "true" Obama can no longer be concealed. The prospect of this man in a second term unfettered by concerns about re-election is chilling....
Posted by: Willy at January 26, 2012 02:22 PM
---
Huge thank you to all of you, great input.
I pray so hard we survive his first term somehow and that he will never again be in office anywhere especially in the WH.
Posted by: Wild Thing at January 27, 2012 02:34 AM
---