« South Carolina's Mike Thornton Medal of Honor Recipient To Travel With Rick Perry Today | Main | Newt Gingrich: I'd Support A Muslim Running For President Only If They'd Commit To 'Give Up Sharia' »
January 18, 2012
Arrogrant Gingrich: 'I Would Be Delighted' With a Santorum Endorsement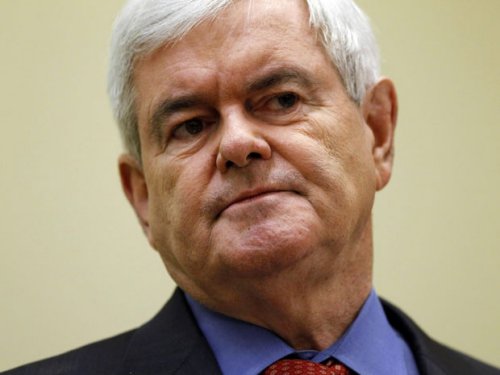 Gingrich: 'I Would Be Delighted' With a Santorum Endorsement
FLORENCE, S.C. — Feeling confident after a well-received debate performance Monday night, Newt Gingrich said Tuesday he would be "delighted" if Rick Santorum dropped his presidential bid and endorsed his own.

Mr. Gingrich made clear that he is not asking Mr. Santorum to leave the race, but the remark reflects the boastfulness the former speaker often displays when he feels a sudden boost in momentum.
"I would be delighted if he decided to endorse me," he told reporters here after being asked if Mr. Santorum should drop out. "I'm respectful that Rick has every right to run as long as he feels that's what he should do. But from the standpoint of the conservative movement, consolidating into a Gingrich candidacy would, in fact, virtually guarantee victory on Saturday."
Mr. Santorum essentially tied Mitt Romney in the Iowa caucuses and Mr. Gingrich for fourth place in last weeks' New Hampshire primary. But Mr. Gingrich often says is the only Republican contender who can run a national campaign besides front-runner Mr. Romney. "I don't think Santorum could do any of that," he said. "It's not because he's not a nice guy, he just doesn't have the knowledge that I do."
Mr. Gingrich also touted his skills as a debater, and said, "It's fairly obvious that last night some things really struck a chord with the American people." Among other things, he appeared to be referring to his spat with panelist Juan Williams over whether low-income children should do janitorial work in schools.
Speaking at a town hall in a local art gallery, he told an audience member here that should he debate President Barack Obama, "I don't want to bloody his nose, I want to knock him out."
Asked why Republicans should view him as the most electable anti-Romney candidate after his disappointing finishes in both Iowa and New Hampshire, Mr. Gingrich said because "we're in South Carolina."


Wiild Thing's comment......
We have had an arrogant president already with Obama, I sure as heck do not want another one. Confidence is one thing...but arrogance is another and Newt once again is arrogant!!
Posted by Wild Thing at January 18, 2012 02:50 AM
---
Comments
Gingrich and obama wrote the training manual on arrogance and narcissism.
Posted by: TomR, armed in Texas at January 18, 2012 03:09 PM
---