« Former U.S. Ambassador to the United Nations John Bolton Endorses Mitt Romney | Main | Romney and Gingrich Do Who's on First ~ A Must See Video! LMAO »
January 30, 2012
ABC News: Santorum's Daughter Has Pneumonia ~ Please Pray For Little Bella Santorum!!!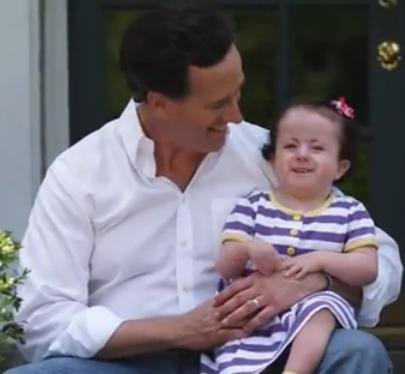 Sen. Rick Santorum will stay off the campaign trail, canceling scheduled stops in Florida so he can remain in Philadelphia with his 3 year-old daughter, Bella, who is hospitalized:

.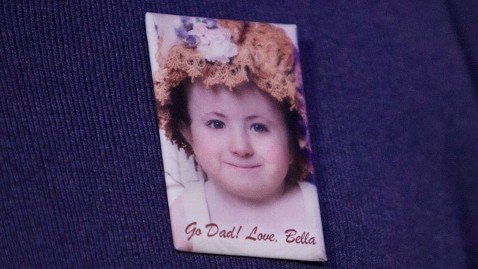 ABC News: Santorum's Daughter Has Pneumonia

The reason Bella Santorum was admitted to Children's Hospital of Philadelphia Saturday night is because she has pneumonia in both of her lungs, a campaign aide told ABC News.
The 3-year-old, who has the serious genetic disorder Trisomy 18, is not on a ventilator, though, which is a very good sign. The family has medical equipment in their Virginia home and because of the risk of infection in hospitals they try to keep her out unless it is absolutely necessary.
She was in and out of hospitals the first year of her life, but since then — aside from besides being admitted for surgeries — she has not spent any time in the hospital before Saturday, Rick Santorum has said on the campaign trail.

Wild Thing's comment.........
This goes beyond politics, I am praying this dear child will get well soon. And prayers for Rick Sanotrum and his wife and the rest of their family.
Posted by Wild Thing at January 30, 2012 01:50 AM
---
Comments
MR.SANTORUM MY HEART AND PRAYERS GO OUT TO BELLA AND YOUR FAMILY.. I GAVR BIRTH TO A DAUGHTER NAMED SUMMER HOPE ON JAN.9,2012 SHE WAS DISINOGED WITH HYPO PLASTIC LEFT HEART AND T18 AT 21 WEEKS ALL THE DRS. TOLD ME THAT SHE DID NOT HAVE A CHANCE AT LIFE IF I CARRIED HER TO TERM AS A MOTHER I DECISED TO CARRY HER TO TERM SHE FOUGHT SO I FOUGHT FOR HER TO .. WHEN SHE WAS BORN SHE GAVE ME 9 WONDERFUL HRS. AND LIKE THE DRS. TOLD YOU OURS CHILDREN DON'T HAVE A CHANCE AT LIFE WELL I THINK GOD GIVES US CHILDREN WITH DISABILIES TO CARE AND LOVE TO .ALL CHILDREN DESERVE TO LIVE BECAUSE ALL CHILDREN ARE GIFTS.IF YOU CAN FIND TIME PLEASE CALL ME I WOULD LOVE TO TALK AND SHARE OUR STORIES. BARBARA AND WAYNE ECKERT 1270-987-2017
Posted by: barbara eckert at January 30, 2012 11:52 AM
---