« Since Obama Has Rated Himself the 4th Best President Ever ~ check out this new AD ( video) | Main | Merry Christmas To Each One of You »
December 23, 2011
Violence in Iraq Only Days after Obama's Troop Pullout of U.S. Combat Forces; At Least 63 Dead, Hundreds Wounded (video)

Violence in Iraq Only Days after Obama's Troop Pullout of U.S. Combat Forces; At Least 63 Dead, Hundreds Wounded

A wave of deadly attacks took place today across Baghdad, killing at least 63 people, and wounding 185 more. The bombings appear to have been planned to coincide with the pullout of all U.S. Combat Forces:
Blasts Rock Baghdad as Political Crisis in Iraq Deepens
A series of explosions ripped through Iraq's capital on Thursday, an ominous turn for a country reeling from a deepening political and sectarian crisis that erupted after the departure of the United States military. It was Baghdad's deadliest day in more than a year.
The attacks began at 6:30 a.m. and transformed the morning commute into a bloodbath. Car bombs and improvised explosives destroyed schools, markets and apartments. An ambulance packed with explosives incinerated a government office. At least 63 people were killed and 185 wounded.
On Thursday night, four more blasts shook Baghdad, killing three more people.
There were fears that the precipitous withdrawal of American troops might lead to instability in Iraq, but the speed with which conditions have deteriorated has alarmed Western officials. Until Thursday, however, the bitter fighting between Prime Minister Nuri Kamal al-Maliki, a Shiite, and his foes in Parliament had not been accompanied by a rise in violence.
American officials were scrambling to defuse what has become an embarrassing and potentially destabilizing standoff. The American ambassador rushed back to Baghdad after leaving before the holidays, and Vice President Joseph R. Biden Jr. spoke on Thursday with Iraq's president, Jalal Talabani, urging a dialogue to resolve the crisis. David H. Petraeus, the director of the Central Intelligence Agency and the former military commander in Iraq, arrived in Baghdad on Tuesday.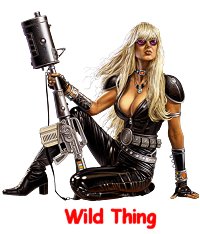 Wild Thing's comment......
The Muslims there that appreciated our troops and kept thanking Bush wanted out troops to stay. The other Muslims could hardly wait for our troops to get out. How long till we hear of Iran doing things with Iraq.
WW2: Bomb the city, all of it
Today: "Can we please have permission to attack an IED factory that is next door to a mosque?" NO!
Posted by Wild Thing at December 23, 2011 12:55 AM
---
Comments
It's only going to get worse over there.
Posted by: BobF at December 23, 2011 07:20 AM
---
Dare I say I told you so???
Posted by: Gator at December 23, 2011 12:11 PM
---
Ah, the Americans are gone. Now the locals can get back to doing what they enjoy and are so adept at. Killing each other.
Posted by: TomR,armed in Texas at December 23, 2011 12:41 PM
---
Bob, I agree and we all knew this would happen.
Posted by: Wild Thing at December 23, 2011 02:31 PM
---
Gator, sure you can say it and we all knew it too. This is no surprise that's for sure.
And I would guess even Obama knew it but he is the one that could care less.
Posted by: Wild Thing at December 23, 2011 02:33 PM
---
Tom, exactly that is what comes natually to them.
Posted by: Wild Thing at December 23, 2011 02:35 PM
---
And he will crow his ass off that he Killed Osama
and ended Bush's war in Iraq..And I will hold him and the Press accountable for the deaths of those
35 Spec-Ops troops including the 17 seals till Hell
freeze's over
Posted by: Gator at December 23, 2011 06:10 PM
---
There needs to be choirs of people reminding the public that the Democrats pulled defeat from the jaws of victory in Vietnam by cutting off supplies to South Vietnam after we had a signed peace treaty.
Posted by: Avitar at December 24, 2011 03:21 AM
---