« GOP Presidential Debate, Saturday December 3rd on FOX News | Main | George Will: "You Can Associate Many Things With Mr. Gingrich, But Wisdom Isn't One of Them" »
December 02, 2011
Rick Perry Was Great On Jay Leno Last Night (12/1/11)
H/T The Right Scoop
.

And this was Perry's ad right before the Leno show..........
.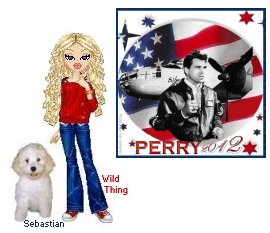 Wild Thing's comment.........
Perry always does so great in interviews and when he gives speeches. And the last few debates he has improved on the debates as well.
Posted by Wild Thing at December 2, 2011 04:55 AM
---
Comments
Governor Rick Perry needs to be credited with bringing up the long established set up of part time citizen legislators that have a long history going back to the founding of this republic and still exist in many state legislatures.
Many of our current problems come as a direct result of instituting career politicians working within over bearing and incremental increasingly more highly intrusive government by hyper active legislatures.
This good and well founded theme brought up Rick Perry of our republic's original intent of limited government by charter, together with elected part time citizen legislators would go a long way to getting our country back on track at both the state and federal level.
It would also bring to the fore the huge fallacy and failure of the left's continued incremental collectivist beliefs of unlimited government, its never ending reach and encroachment in our private lives, our livelihoods, diminished liberty, and their ultimate goal of a life by government ration for all of us by their perversions of equality and environmentalism.
It bothers me so that it seems that there are those that want or that allow polls and the media to somehow decide primary elections for the citizenry when there hasn't even been an election yet, and it's as if voters don't get to vote much less decide. It's not a horse race; it's an election with more than a dozen candidates and 50 state elections between January and June. The press would do a better job of concentrating on just presenting fairly the ideas of each candidate instead of constantly trying to pick who's up or who's down and who they think will be the winner.
Rick Perry is the best candidate with the best character and resume, the best successful record of achievement as the three term governor of Texas, and the best, most sound national policy ideas to redirect and lead this country to a new American renaissance.
I think Republican voters are much smarter than the talking heads on television and radio, and will see through a lot of this hooey nonsense and surprise many non-Republicans by simply voting for Rick Perry as the party's nominee and the 45th President of the United States.
Posted by: Carlos at December 2, 2011 08:38 AM
---
I wanted to stay up and watch last night but was too tired. Thanks for posting the video. He was great. Very down to earth and honest.
Carlos, you're right on the money.
Posted by: BobF at December 2, 2011 09:48 AM
---
Carlos - if you wrote editorials or op-ed for the Dallas Morning News I would subscribe again. I think you are on a par with Charles Krauthammer.
Gov. Perry did very well on this Leno show. I liked the audience's favorable responses to his numerous statements. His laid back friendly demeanor and his basic uncomplicated ideas ring well with normal folk. He is not a great orator nor a hot shot debater. He converses, just like ranchers would do under a shade tree as they discuss, not debate, the best way to handle the day's work.
Posted by: TomR, armed in Texas at December 2, 2011 11:49 AM
---
Carlos, that was great, thank you so much.
I agree with Tom, you should be writing op-eds.
Posted by: Wild Thing at December 3, 2011 02:46 AM
---
Bob, I am so glad thank you.
Posted by: Wild Thing at December 3, 2011 02:48 AM
---