« Coffee Blend Named After Rick Perry's 9/11-Inspired Cowboy Boots | Main | North Korean Dictator Kim Jong-Il is Dead ~ GOOD! See Video Of His Killing Fields of Death and Torture »
December 18, 2011
Last U.S.Soldiers Leave Iraq
Visit msnbc.com for breaking news, world news, and news about the economy
A United States military officer gestures upon entering Kuwait during their withdrawl from Iraq
December 18, 2011
The last American troops crossed the border from Iraq into Kuwait early Sunday, ending the U.S. military presence there after nearly nine years.
As the last convoy left Iraq at daybreak Sunday, soldiers whooped, bumped fists and embraced each other in a burst of joy and relief, The Associated Press reported.
The Iraq War began on March 20, 2003, at a time when national defense was a top priority for Americans still shocked by the Sept. 11, 2001, terrorist attacks on U.S. soil. It continued with the invasion and ouster of Saddam Hussein, then ground through years of war against an insurgency that left tens of thousands dead.
The final column of around 100 mostly U.S. military MRAP armored vehicles carrying 500 U.S. troops trundled across the southern Iraq desert through the night along an empty highway to the Kuwaiti border
"It's good to see this thing coming to a close. I was here when it started," Staff Sgt. Christian Schultz said just before leaving Contingency Operating Base Adder, 185 miles south of Baghdad, for the border. "I saw a lot of good changes, a lot of progress, and a lot of bad things too
.

In a final tactical road march, the last U.S. troops in Iraq crossed the border into Kuwait on Sunday morning, ending almost nine years of a deadly and divisive war.
About 500 Fort Hood, Texas-based soldiers and 110 military vehicles made the journey south from Camp Adder, near Nasiriya, to the Khabari border crossing, from where they will head to Camp Virginia in Kuwait before flying home.
They were the last soldiers in what amounted to the largest U.S. troop drawdown since the war in Vietnam.
Brigade Commander Col. Doug Crissman said his soldiers used the cover of night for security and timed the troop movements so as to avoid a traffic jam on the main north-south highway, which the Americans called Main Supply Route Tampa.
Staff Sgt. Daniel Gaumer, 37, recalled his first tour of Iraq, in August 2003, when he drove in on this very same road. He had never been in a combat zone before.
He was driving an unarmored Humvee -- something that is unimaginable now. He was frightened.
There was not a lot of traffic at that time, he recalled. He remembered a lot of cheering by Iraqis, even though the situation was tense.
Sunday morning, the air was decidedly different.
"It's pretty historic," he said about the drive south, hoping he will not ever have to come back through this unforgiving desert again.
"The biggest thing about going home is just that it's home," he said. "It's civilization as I know it -- the Western world, not sand and dust and the occasional rain here and there."
.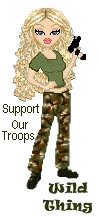 Wild Thing's comment.......
WELCOME HOME !!!!
God Bless our returning troops!
Happy sight, but also a sad time for many. My prayers and wishes go out to all of those who lost loved ones, husbands, wives, brothers, sons, daughters in this war, and in Afghanistan. We will never forget the sacrifices made — never ever forget.
It's hell to be one of those who does NOT have a loved one returning when the troops come back. I've watched widows having to do this — although they bravely chose to stand with the rest of the families at these welcome home ceremonies.
Am praying for them at this time.
Posted by Wild Thing at December 18, 2011 04:55 AM
---
Comments
I know the troops are happy about this.
Posted by: BobF at December 18, 2011 09:11 AM
---
We should have nuked half the Middle East in 2001.
Welcome Home Troops! You did a phenomenal job. It is our sorry assed politicians that screwed up.
Posted by: TomR,armed in Texas at December 18, 2011 02:25 PM
---