« Huckabee Presidential Forum (Full Video) | Main | Sen. Tom Coburn: I Will Have Difficulty Supporting Newt Gingrich as President of the United States »
December 04, 2011
Gov. Rick Perry Has Best Responses At Last Night's Huckabee Presidential Forum (video)

Gov. Rick Perry shared his faith in the U.S. Constitution, plan to overhaul Washington and vision to get America working at the Republican Presidential Forum, hosted by Mike Huckabee and Attorneys General Pam Bondi, Ken Cuccinelli and Scott Pruitt.
"I've lived a purpose-driven life and my purpose was never to be President of the United States, but our country's in trouble," Gov. Perry said. "Our country needs us working together to take our country back. I hope again that you'll take a look at my plan and give me that second opportunity and I'll promise you that every day I will work to make Washington, D.C., as inconsequential in your life as I can."
.
And here are some tweets and messages and quotes from others about the debate:

....... Florida Attorney General Pam Bondi: "Perry is the one that lived up to being the 10th Amendment Purist Tonight"

.... tweet from Ann Coulter to David Limbaugh: "I thought ole Rick Perry did very well."
......."I THINK RICK PERRY HAD HIS BEST DEBATE TONIGHT, I WOULD HAVE TO SAY THIS WAS HIS FINEST HOUR, HE HAD SOME TOUGH QUESTIONS, AND HE ANSWERED THEM WELL, HE KNOWS THE CONSTITUTION, AND STICKS TO IT, I WOULD HAVE TO SAY HE STUCK OUT AS THE MOST CONSERVATIVE CANDIDATE IN THE DEBATE TONIGHT !" ~ MIKE HUCKABEE, FORMER GOVERNOR OF ARKANSAS
.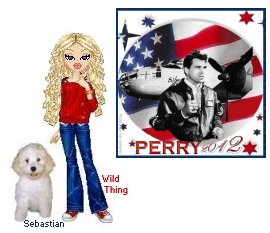 Wild Thing's comment..........
First up is Newt Gingrich. He's getting hammered by Cuccinelli on his (big government) record. "How can we trust you?"
Rick Santorum was up second. He did OK but looked angry.
Rick Perry did an excellent job tonight.
The Texas governor called for term limits for Supreme Court Justices.
Michele Bachmann was behaved since this was a non attack debate
Ron Paul was nuts.
Mitt still likes Romney-care.
I have backed Rick Perry since the beginning. One big reason is his record of achievement. We have to have an actual record to beat the Obama charm offensive. He also has a very strong social conservative background.
In this election we must put a candidate up against Obama with a record to contrast Obama. If we put up Newt or Mitt there is no real reason to vote for those two, but Perry actually can say "I created jobs in Texas while Obama lost jobs and this is how I did it and this is how I will do it."
Obama cannot debate, he needs a teleprompter just to talk to 6th graders. Screw that son of a bitch. Let's put the best candidate with the best record and the best plan to get DC off our back and restore our greatness. Not some has been insider like Newt who ran to promote his brand and not Mitt who ran to complete his resume but Perry who ran because this country is in deep shit and he saw all his parents and grandparents had worked for, his and America's heritage being sold in DC! That is why Perry is running.
Posted by Wild Thing at December 4, 2011 04:55 AM
---
Comments
If I could vote for American elections I will choose Gov. Perry, he is the best. What chance you have in America!
In france we a have only socialists. Yes in France Obama would be a right winger.
Posted by: RWC at December 4, 2011 09:29 AM
---
Ron Paul was nuts....LOL
Rick Perry is The Man! We not only need term limits for SCOTUS but also for Congress.
Posted by: BobF at December 4, 2011 08:20 PM
---
Perry sure did well this time. Hopefully he will generate a large jump in voter support in the next few weeks. I guess a lot can happen such as the Cain drop out. We'll see.
Posted by: TomR, armed in Texas at December 5, 2011 01:31 AM
---
Hi RWC good to see you. ((hug))
Thank you for your comment and friendship.
That means a lot to me that you like Perry too and can see how he truly is the best.
Posted by: Wild Thing at December 5, 2011 03:54 AM
---
Posted by: Wild Thing at December 5, 2011 03:55 AM
---
Tom,I thought he did well too. I think more and more people are going to realize Perry is the one the Tea Party movement was asking for in their signs, speeches, and what they all were saying they wanted at the many rallies. I hope so before it is too late.
Posted by: Wild Thing at December 5, 2011 03:56 AM
---