« Rick Perry's RESURGENCE!!! | Main | Last U.S.Soldiers Leave Iraq »
December 18, 2011
Coffee Blend Named After Rick Perry's 9/11-Inspired Cowboy Boots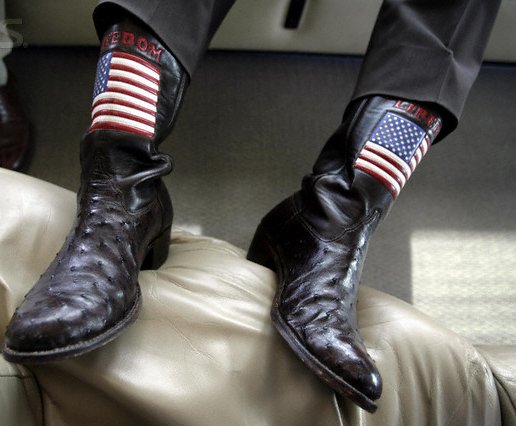 Rick Perry had the boots inscribed with the words 'freedom' and 'liberty', and refers to them as his 9/11 boots.
.

Coffee Blend Named After Rick Perry's 9/11-Inspired Cowboy Boots

CLEAR LAKE, Iowa — Rick Perry's cowboy boots, which make an appearance on the campaign trail every now and then, have kicked their way into the coffee world. One coffee shop has created a coffee blend named after those famous Texas boots bearing the words "Freedom" and "Liberty."
The Cabin Coffee Company here in Clear Lake developed the "Freedom & Liberty Blend," made of 100 percent Arabica Beans and described as being "Rich & smooth, medium bodied, sparkling acidity, with Smokey undertones."
Brad Barber, the owner of Cabin Coffee Co., presented Perry with a bag of the coffee before the Texas governor's event today at the coffee shop.
Perry's brown ostrich boots are custom made, date back to 2001, and were inspired by 9/11.
"They were a pair that were made in June, I think the summer of '01, and they said, 'What do you want on top of them?' And I said 'I'll call you back. I was at a loss,'" Perry told ABC News. "And then on the 12th or 13th of September, I called them back and said, 'I know what I want on my boots. I want an American flag on each one of them and on the left one, liberty and on the right one, freedom."

Though they are not seen often on the campaign trail, Perry still wears those 10-year-old boots, admitting, "They have been re-soled a few times."
The "Freedom & Liberty Blend" of coffee sells for $13.50 a pound and $8.00 for half a pound.
.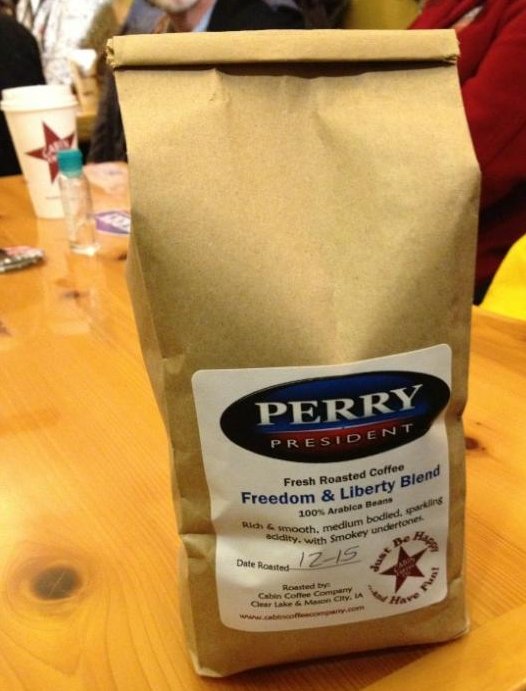 .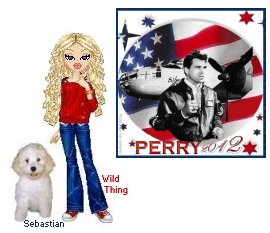 Wild Thing's comment.........
What a neat thing they did for Gov. Perry. I love when people jump in with passion for Perry like this. Candidates really work hard and Perry is such a good man and the best candidate.
Posted by Wild Thing at December 18, 2011 04:50 AM
---
Comments
I have my hopes up. Maybe the early voting will show that the polls are wrong and that Perry does have a lot of popular support.
Can you imagine Marxist/muslim obama with the American flag on an item of clothing. More likely a crescent or a hammer and sickle. Instead of cowboy boots, the sign of an American working man, obama would probably be wearing fuzzy slippers, the sign of a metrosexual.
Posted by: TomR,armed in Texas at December 18, 2011 02:35 PM
---