« Gov. Rick Perry: Fannie and Freedie and Bonnie and Clyde | Main | Mitt Romney Wants His Logo Pro-Romney "Happy Holidays" Tags on Your Gifts this Year - NO Merry Christmas on Tags »
December 22, 2011
American Story Beautiful Anita and Rick Perry (video)

Perry's Wife Heads Up New Campaign Ad
Mrs. Perry: "It's an old-fashioned American story. I married my high school sweetheart, but first I had to wait as he volunteered for the Air Force and flew planes all over the world."
"I'm Anita Perry. When Rick's tour of duty as a captain in the Air Force ended, he returned home to farm with his dad and asked me to marry him."
"We grew up in small towns, raised with Christian values — values we still believe in. And we know Washington, D.C., could use some of that."
Gov. Perry: "I'm Rick Perry, and I really approve this message."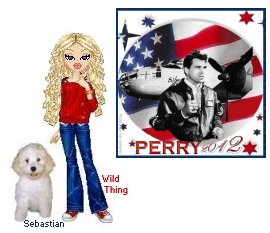 Wild Thing's comment..........
Love this ad and what a great couple they are. I love the way Rick comes into the video.
Posted by Wild Thing at December 22, 2011 12:47 AM
---
Comments
I like it.
Thanks to the media, people aren't looking at Perry or the other true conservatives who could beat Obama. The media is focusing on Gingrich, Romney, and Paul. Paul is so moonbat, they know people will run from him. With Gingrich and Romney, they have so much baggage, Obama and the medial will eat them alive, thus securing an Obama victory.
Posted by: BobF at December 22, 2011 10:30 AM
---
I sure do like this lady. Unlike the present First Lady, Anita Perry would be a First Lady who has always been proud of her country.
Posted by: TomR,armed in Texas at December 22, 2011 02:02 PM
---
Thank you Bob and Tom.
I agree, the media including FOX is really only pushing Mitt, Newt and Ron Paul.
Posted by: Wild Thing at December 23, 2011 12:01 AM
---