« Best Local News Bloopers of 2011 ~ LMAO | Main | GOP Candidates, Iowa Voters Voice Resolutions »
December 31, 2011
A Must See Video....Rick Perry Answers "gotcha" Question ~ Fantastic!
Here is video of Texas Gov. Rick Perry on the campaign trail where he took what he called a "gotcha" question, and used it to hammer big Government and excessive spending. The question was about "Lawrence v. Texas," a Supreme Court case where the court struck down anti-sodomy laws in Texas. Perry was not about to get drawn into a debate about the subject, but stayed on topic with his answer.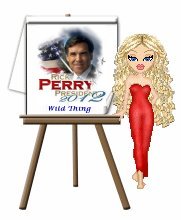 Wild Thing's comment.......
I absolutely love his answer, his passion and I agree with him. This man IS what IMO the Tea Party movement was begging for IMO.
Governor Perry is just the kind of president we need right now. When someone focuses on the vision of the Founding Fathers and what they intended our government structure to be, as Governor Perry does and writes about in his book " Fed Up", you can understand how he is going to lead us well into a stronger future and away from the damage the Obama administration and yes even earlier administrations have injected into our society and lives.It's time for a change, a REAL change, and the best part about this is that the government structure Perry speaks of and espouses was given to us those Founding Fathers through a loving and blessing God, and it provides the most wonderful system of governing as a people there could ever possibly be on this earth.
I truly believe Rick Perry is now, in this very time of history, the one carrying that message to us once again, and I can think of no better time in our country's history than NOW to get back to those very things that our country was built on and stands for!
Posted by Wild Thing at December 31, 2011 09:40 AM
---
Comments
This was a good reply to a loaded question. Fingers crossed that things will pick up for Gov. Perry over the next few weeks as the primaries begin.
Posted by: TomR, armed in Texas at December 31, 2011 01:28 PM
---
Tom, my fingers are crossed too, thank you.
Posted by: Wild Thing at January 1, 2012 03:19 AM
---