« Yikes! Obama Says Hawaii is in Asia | Main | Awesome Rick Perry Ad Hammers Obama for Calling Americans "Lazy"; Says "Obama's Socialist Policies are Bankrupting America" »
November 17, 2011
Obama Bad-Mouths US to Aussie Teens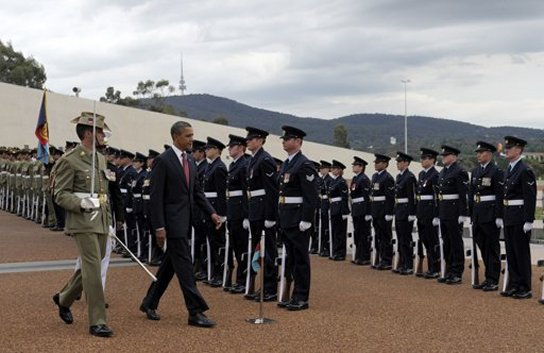 President Barack Obama reviews the troops with Federation Guard Maj. John Cottis, left, during an official arrival ceremony at Parliament House in Canberra, Australia, Wednesday, Nov. 16, 2011. (AP/Susan Walsh)
Obama Bad-Mouths US to Aussie Teens

President Obama bad-mouthed the United States during a visit to an Australian high school, telling teenagers that the United States has "fallen behind" in education, according to a White House pool report.
He told young people at Campbell High School the United States has "fallen behind" when it comes to math and science education – explaining why he made it a priority in his administration.
He also said poor American children don't get "the support they need when they're very young" and are "already behind" when they enter grammar school.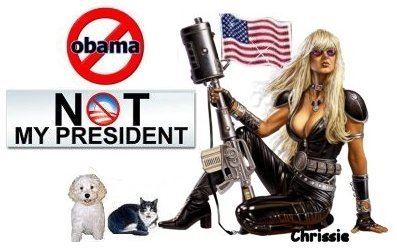 Wild Thing's comment......

Surprised he did not bow and apologize as well.
Posted by Wild Thing at November 17, 2011 03:45 AM
---
Comments
The more the Feds get involved in education, the further behind we lag in education. The people who build the rocket ships which took men to the moon and back weren't educated under the federal dept of education.
Posted by: BobF at November 17, 2011 09:04 AM
---
"Surprised he did not bow and apologize as well."
Well the Aussies are, after all, descendents of the old British Empire; so he probably sees them as evil white devils who need to repent for their British heritage.
He might however bow and apologize to some Aborigines and find some way to bash the U.S. in front of them.
Posted by: JohnE at November 17, 2011 02:00 PM
---
I hope my Aussie friend at Cann River doesn't hold this asshole's visit against me. Actually Bob loves America which is just the opposite of obama's opinion of America.
Posted by: TomR, armed in Texas at November 17, 2011 08:12 PM
---
They really must wonder what is wrong in America that Obama could get elected.
During Clinton's administration I was on the Internet before the World Wide Web when it was all command line and people all over wanted to know why nobody was arresting Bill Clinton. Explaining to them that the President is the Chief Law Enforcement official of the United States did not satisfy them. Particularly not after Ken Starr throw the impeachment case against Bill Clinton.
With Obama in office the 18th century mechanism for removing a bad president does seem insufficient.

Posted by: Avitar at November 18, 2011 12:25 AM
---
Thank you everyone so much.
Posted by: Wild Thing at November 18, 2011 04:24 AM
---