« GOP Debate....The Heritage Foundation ..Tonight On CNN | Main | GOP Candidate Gov. Rick Perry Joins Bret Baier's 'Special Report' In The Center Seat ~ GREAT Interview »
November 22, 2011
Lech Walesa Unveils Reagan Statue in Warsaw: "Without Reagan There Would Be No Poland"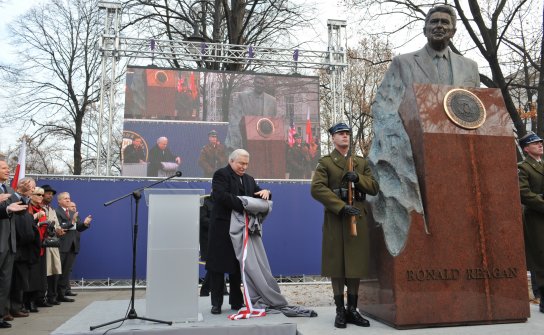 Walesa unveils one more for the 'Gipper'

The former Solidarity leader said that "as a participant in these events," it was "inconceivable" that such changes would have come about without the last American president during the post-1945 cold-war era.
Walesa added that thirty years ago, it seemed that the fall of the communist system would not be possible without a nuclear war.
The bronze statue of Reagan has been installed not far from the American Embassy, on Ujazdowskie Avenue, one of the capital's most picturesque thoroughfares.
A statement from President Barack Obama was read out to the guests attending the ceremony, which said that: "The location of this monument is a fitting reminder of the close ties between the American and Polish people, and a tribute to the strong support the United States gave Poland during its long struggle to free itself from communist rule".
The three-metre high monument, designed by sculptor Wlaydyslaw Dudek, depicts Reagen nicknamed 'the Gipper' making his famed 1987 speech at Berlin's Brandenburg Gate.
During the Berlin address Reagan called on his Russian counterpart, President Gorbachev, to "tear down this wall."
.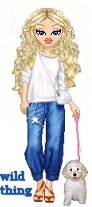 Wild Thing's comment........
God bless Poland and Walesa.
Eat your heart out Obama the most hated President.
Posted by Wild Thing at November 22, 2011 04:48 AM
---
Comments
You can bet the Polish People will not vandalize the statue. I bet this Obama's not happy about this.
Posted by: BobF at November 22, 2011 08:36 AM
---
The decisive leadership of Ronald Reagan in the early 1980's with regard to Poland's uprising against Soviet domination as the leader of the free world and his reaching out publicly to both Pope John Paul II and other Polish natives so defiant and successfully against the Soviets without committing the force of American armed forces could not be better contrasted with the current occupant of the White House whose continued protracted ineffectiveness of American foreign policy with his abandonment of Iranians seeking freedom against tyranny, weak with tolerance and appeasement he can rarely bring himself to even uttering the word freedom in fear of offending anyone to avoid having to lead:
http://hotair.com/archives/2009/06/16/reagan-didnt-remain-silent-on-poland/
Posted by: Carlos at November 22, 2011 12:42 PM
---
There's also now a recently unveiled and long overdue statue of Ronald Reagan at the entrance to Ronald Reagan Washington National Airport which I saw for the first time yesterday.
Posted by: Carlos at November 22, 2011 12:46 PM
---
Ronald Reagan, Pope John Paul II and Margaret Thatcher. These three memorable leaders and Lech Walesa and the brave people of Poland broke the Soviets 45 year stranglehold on Eastern Europe. As Carlos points out, compare the moral strength and fortitude of those people with the slimey, inept and cowardly "reigning" of the Chicken Little in the White House now.
Posted by: TomR, armed in Texas at November 22, 2011 01:28 PM
---
Great input thank you everyone so much.

Carlos thank you for the link.
Posted by: Wild Thing at November 23, 2011 12:31 AM
---
A must see is the Reagan Library in Simi Valley, CA. We take visitors there and it has been remodeled. If you love Reagan as much as we do, your trip will be worth it. Oh and call when you're here and I'll buy you drink.
Posted by: Eddie (Enemy of the State) at November 23, 2011 12:10 PM
---