« New Poll of GOP Presidential Candidates Who Would Defeat Obama Perry Comes In Second and Cain Third | Main | VP Joe Biden Warns of More Rapes and Murders If Jobs Bill Is Not Passed »
October 13, 2011
Two Must See Videos Of Gov. Rick Perry ~ You Won't Be Sorry!
Videos were done AFTER the debate Tuesday night as he spoke to the crowd.

Here are two videos of Rick Perry the way that we want to hear him speak at the debates, courtesy of Aaron Gardner, via Moe Lane, via Red State.
Governor Perry has the reputation of a swaggering Texan, but he's not one to knock others off the podium. He's a gentleman, who is out to defeat the real enemy: Barack Obama. and big, centralizes, expensive, inefficient and unConstitutional Government. These are the real threats to liberty and the real job killers.
In these videos, he's speaking to a group of college students about jobs, tar sand oil fields and the proposed gas pipeline from Canada through the US, and about Social Security and Medicare.
Below are TWO awesome videos of Governor Rick Perry's remarks after the debate Tuesday night. They are both a must see!!! ~ Wild Thing
.
The first part of Perry's post-debate remarks on 10/12/2011
.
The Q&A from the post-debate speech. GREAT responses here.
.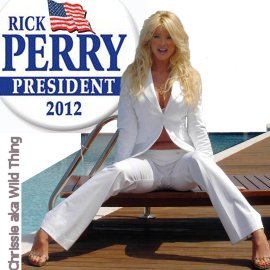 Wild Thing's comment........
What thoughtful and intelligent answers from Governor Perry.
I hope he can get this comfort on the debate stage soon and no one will be able to surpass him!
And NO teleprompter!
Rick Perry is a solid fiscal and social conservative and has a great executive governing record in Texas.
Posted by Wild Thing at October 13, 2011 02:50 AM
---
Comments
Gov. Perry does such a great job with Q&A and speaking. Too bad he is not a debater. His messages on energy independence, economy, govt. spending and intrusions, immigration and adherence to The Constitution are better than the other Repub. candidates.
We are now down to less than 3 months before the state primaries begin. A lot can happen in 3 months. I hope Perry can get his message across to conservative leaning voters. I am afraid he and Cain will split the conservative votes and Romney will take the nomination.
Posted by: TomR, armed in Texas at October 13, 2011 12:37 PM
---
Tom,I agree, I wish so much he was better at debating. He seems to freeze up.
Your right Tom about the time and how Perry has got to work hard now to get his message out there.
Posted by: Wild Thing at October 14, 2011 01:08 AM
---