« Cain Jabs Palin Again Over 'flavor the week' Comment ~ Cain Needs To Get Off This Race Baiting | Main | 9 U.S. Sheriffs Announce Press Conference to Call for Eric Holder's Resignation ~ Press Conference This Morning »
October 07, 2011
As Cain Continues To Race Bait....Cain Now Also Says He 'Would Not Be Comfortable' As Perry's Running Mate
Here is video of Texas Gov. Rick Perry telling Fox News' Juliet Huddy that he knows "for a fact" that his family painted over the word "Nig*erhead" on a rock at their hunting camp in "1984″ shortly after they began using the camp. Perry said they found the word "very offensive."
"All of us agree that the word that was on that rock is a very offensive rock and a very offensive word. At the moment we had to move to paint over that rock, we did. . . . I think there were some very much and strong inconsistencies and just infactual information that was in that story. I know for a fact in 1984 that rock was painted over. It was painted over very soon. . . . My family did that. We painted over that rock, and it stayed that way. I have no idea where or why people would say that they had seen that rock, because that's just not the fact."
.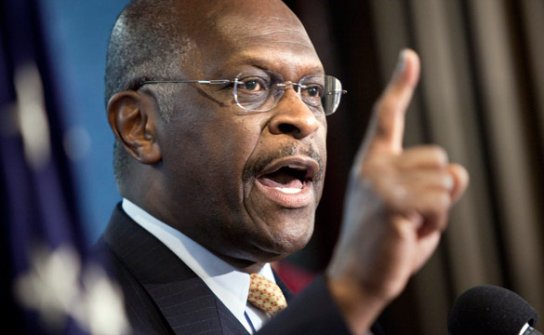 Cain Says He 'Would Not Be Comfortable' As Perry's Running Mate
Republican presidential candidate Herman Cain said on Thursday that he would definitely consider an invitation to run as the eventual nominee's vice president, except if the nominee turns out to be Texas Gov. Rick Perry.

Cain, who rocketed to the top tier of the GOP field in several recent polls, was asked by reporters on the campaign trail for his thoughts on a hypothetical invitation to run as the eventual nominee's No. 2. After offering the obligatory comment that he intends to be the nominee, Cain said, "Quite frankly, based upon Governor Perry's position on some issues, I would not be comfortable being his vice presidential nominee."
Cain said his concerns about Perry include "being soft on the border, issues relative to tuition for children of illegal aliens." As governor, Perry supported legislation offering in-state college tuition for the children of illegal immigrants, which has become a flash point in the campaign. "And I haven't totally gone through all of his positions, but a lot of positions I have questions with," Cain said.
Cain, who is black, was also critical of Perry after the Washington Post reported on Sunday that his family owned a Texas hunting camp once known as "Niggerhead," a word that was painted on a rock near the camp's entrance. Perry has maintained that his father painted over the word as soon as he bought the property in the 1980s.

Of a vice presidential slot in general, Cain said: "I would not say no to being vice president of the United States. But it would depend upon who got the nomination. I will support who gets the nomination. I know I have said that there are some people right now who I cannot support, but I wouldn't say no to it. I could say yes. But it has to be someone who I believe I can complement them in their job by being able to bring my skills to the table."

.
THIS IS WHY WHAT HERMAN CAIN HAS DONE ON THIS SUBJECT ( about the rock) IS DANGEROUS IT PROMOTES THIS KIND OF THING. Herman Cain is in the same league as Rep Jackson Jr. and his attacks on Perry. Cain needs to STOP this crap now. And even make a statement to Jackson as well. Allen West took the high road and spoke out about this was a NON story. Applause for Allen West and Boo's for Cain! I expect this shit from Jackson but not from a fellow Republican. ~ Wild Thing

Rep. Jackson Jr. introduces resolution slamming Perry over offensive ranch sign

Rep. Jesse Jackson Jr. (D-Ill.) on Thursday introduced a House resolution that calls on GOP presidential candidate Rick Perry to apologize for his family's decision to continue to lease a hunting ranch that once featured a stone at the entrance painted with the racially-offensive name "N-----head."

Jackson's resolution, which he read in its entirety on the House floor, also called on Perry's Republican rivals to condemn his use of the ranch's name, and asks Perry to condemn the use of the word as "totally offensive and inappropriate." It also asks him to supply a list of lawmakers who visited with Perry at the ranch over the years he used it.
Jackson's resolution was based on news reports that said Perry's family continued to use the West Texas hunting ranch for several years when "N-----head" could still be seen on the painted rock. Perry's campaign has said the word was painted over in 1983, but news reports note that others disagree with that account.

The ranch is still referred to by that name by some in Texas.
The resolution adds that when presented with this complaint last week, Perry responded by saying the word on the rock is an "offensive name that has no place in the modern world." Jackson said this implies that "it may have been OK and had an appropriate place in that community when he was growing up."
The presiding officer of the House said Jackson's resolution would be printed in the Congressional Record, but that House leaders would decide the question of whether it can be treated as a privileged resolution later.

.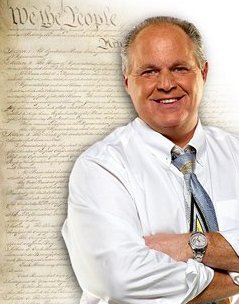 From Rush Limbaugh... href="http://www.rushlimbaugh.com/daily/2011/10/03/herman_cain_piggybacks_on_wapo_s_perry_smear_and_obama_s_debate_lie">Herman Cain Piggybacks on WaPo's Perry Smear
"You have the Washington Post with an unsupported nonstory, and here comes Herman Cain piggybacking on it trying to capitalize; essentially letting the mainstream media (in this case, the Washington Post) set the narrative. I'm gonna tell you, this is really disappointing to me. Herman Cain."

.
And this from Dan over at his own blog:



Regarding: "Herman Cain said Thursday that he would consider an invitation to join an eventual Republican presidential nominee as a vice presidential candidate — unless the nominee is Rick Perry."

Why Cain's Latest Unforced Error Matters
It's a foolish statement on more than one level.
I didn't open up my browser thinking, okay, Palin's out, it's time to choose a candidate. In fact, I remain open to any conservative to take the first battle to Romney. Herman Cain's statement above forced that choice on me. He is saying to conservatives, in effect, it's Rick Perry or it's me. While that's not exactly true, as others remain in the race, as regards Perry versus Cain, fine. Cain wanted an answer, he got it as far as I'm concerned. Otherwise, I would have been perfectly content to watch Perry and Cain and whomever else bang heads as we go forward.
If Cain can't keep himself from saying things that only, shall we say, bang himself, fine. As it isn't the first time, I'll just assume he enjoys doing it, for some strange reason.
Romney okay in the White House, Perry not okay? Huh? Herman! What the hell is on that pizza you been eating, or are you just sniffing the fumes as it burns in the oven?
.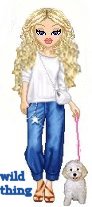 Wild Thing's comment......
Shame on Cain.
Cain is missing an opportunity to send a powerful message to the democrats and the media that says race card politics is no longer acceptable. He just won't stop his race baiting. I sure as heck to NOT want a President that continues the race bating like Obama has been doing and Cain is doing just that.
Then regarding the very stupid comment about being a VP but not Perry's. Good grief. Herman Cain is wrong with you. Also I notice he never attacks Romney only Perry and that is even before his pulling the race card on Perry. Cain is a Romney guy to be sure. He previously endorsed (RINO) Mitt Romney: In 2008 and now would accept his invitation to be Romney's VP in 2012. Hmmmmm not good.
Posted by Wild Thing at October 7, 2011 05:50 AM
---
Comments
Cain's vocal opinion concerning this is causing me to withdraw my support for him.
What Cain should have said was that Perry was a Democrat during the 1980's but when he saw the error of the ways of the Democrat party, he became a Republican.
Posted by: BobF at October 7, 2011 09:30 AM
---
There go the good ole GOPhers self imploding again! Sooooo glad to be INDEPENDENT where I don't have to shell out $$$ for Elephants anymore
- just a few peanuts - and the same for the socialist Jackass Party Wild Thing!
- DON'T TREAD ON ME 2009-2012
Posted by: darthcrUSAderworldtour07 at October 7, 2011 11:41 AM
---
Herman Cain is seriously disappointing me. Perhaps with his surge in the polls, his true feelings are coming out. He has such a great resume and he is terrific at debates. I agree with darth about Repubs cutting their own throats. This is what I was so afraid of.
Posted by: TomR, armed in Texas at October 7, 2011 12:15 PM
---
darth, one of the reasons I quit giving to the RNC.
Posted by: BobF at October 7, 2011 04:41 PM
---
PS: A few of US get it RIGHT (being Independent yet conservative) but how about the FOX News losers setting up Hank Williams last week? Hank fell for their BAIT and was wrong to apologize that HITLER is a slur... Unreal Bear Nation patriots! ESPN ran Rush Limbaugh off their football pre-game show too and did the same to Hank! ESPN, ABC and Disney are all one in the same (ownership).
Posted by: darthcrUSAderworldtour07 at October 8, 2011 08:41 AM
---