« Unemployment: Obama, "I Created 2 Million Jobs" ~ Love How This Man Speaks Out! | Main | Rick Perry's Campaign Tries to Raise Cash off Obama's Golf Game ~ GREAT Idea!!!! »
September 03, 2011
Sarah Palin Arrives In Iowa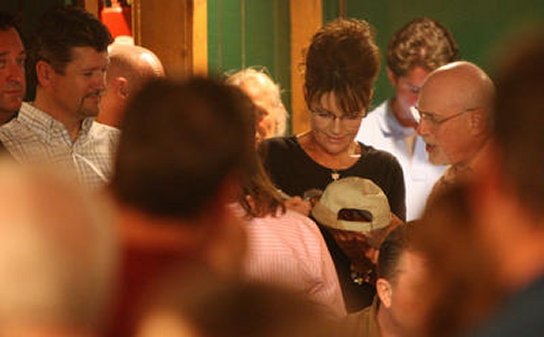 URBANDALE, Iowa (AP) — Sarah Palin is making a surprise appearance at a suburban Des Moines restaurant.
And she was greeted there Friday night with chants of "Run, Sarah, run!"
When asked about the current field of GOP presidential hopefuls...Palin mischievously claimed that another candidate could still join the fray.
"Happy with the field of candidates," Palin said. "I always think that there's room for more, though, because spirited debate and more competition will allow an even better discourse and a more rigorous discourse that the public deserves."

The event is 11am to 2pm Central time - Palin schedule to speak starting around 1:15pm Central time
CSPAN is carrying the whole event - CNN and Fox and MSNBC will pick it up when Palin speaks plus there will be multiple streaming videos online
Accompanied by husband Todd, Palin worked the crowded restaurant, shaking hands, posing for pictures and hugging babies.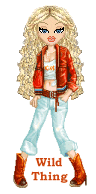 Wild Thing's comment........
The article says "Sarah Palin is making a surprise appearance". I am not sure how that works to be a surprise, since there was a large group of people there waiting for her and also a podium and a gentlemen that made a speech. But that is OK I just find it odd how the article states that. LOL it is OK it is just funny to me.

I am wishing Sarah all the best whatever she decides to do. Maybe she will say she is entering the race in her speech today, no one knows. It is up to Sarah.

As you all know I have chosen to give my support to Gov. Rick Perry, he has entered the race and wants to make the scarifces it takes to work to save our country.
That is not to lesson what a terrific person Sarah is and has been for our country.

Sarah's speech today is something I do not want to miss, it should be fantastic.
Posted by Wild Thing at September 3, 2011 03:50 AM
---
Comments
You can keep the soccer mom for I'll take a HOCKEY mom like Sarah any day... or night!
"Darth shoots and scores!"
PS: Sir Nick, two minutes for roughing?!
Posted by: darthcrUSAderworldtour07 at September 3, 2011 08:31 AM
---
I love Sarah, but I hope she announces she is not entering the race. She has waited too long. We now have a true conservative running(Perry) and Sarah can only divide and derail our express train. There are definitely places in a conservative presidential administration for Sarah. Please do the right thing Sarah.
Posted by: TomR, armed in Texas at September 3, 2011 11:58 AM
---
She won't run this time but she is going to be one of the few pulling the strings that get us a good candidate. The media and McCain-Finegold did away with the influance of Party elders. Now Sarah is bring it back together with the Supreme Court decisions.
If they ever make the "Sarah Palin, a history" it will have to be rated R because of how often she catchs the media with their pants down.
Posted by: Avitar at September 3, 2011 04:54 PM
---
I agree with Tom R.
We all love Sarah.
She young, still in her 40's, with a bright future ahead of her.
She should finish raising her kids for now.
It's good to be within a natural, politically incorrect crowd that can see through the truth in things here with Wild Thing, isn't it ?
If I said or wrote that elsewhere I'd be called sexist, gender stereotyping or worse !
Think about it for a moment.
Would your grandparents ever have uttered the words sexist, gender stereotyping or any other of this BS perversion of the English language our modern left comes up with these days ?
Some of the best sustaining well grounded advice you can give anyone is to always ask yourself what would your grandparents have done or said.
Posted by: Carlos at September 3, 2011 11:28 PM
---
Posted by: Wild Thing at September 3, 2011 11:57 PM
---