« GOP Sweep, Republicans Win Special Elections In Nevada and New York | Main | Michelle Obama at 9/11/11 US Flag Folding [rolls her eyes] »
September 14, 2011
Obama's At It Again, Remember His 2008 "the Barack Obama Truth Squad"? Now He Has His " Expose the Attacks" Squad!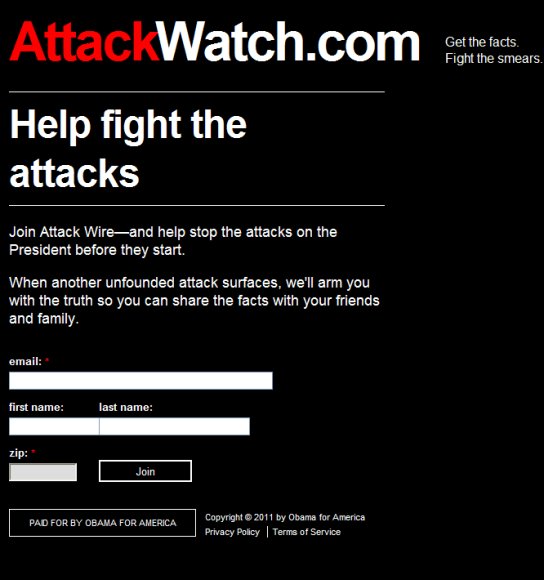 .

Obama campaign launches snitch line website

It's official. The Obama campaign launched a new snitch line website today ostensibly to handle "misinformation" out there against President Obama.
"Got my spy email today from the Obama campaign," CFP reader Rosemary from Norwalk, Ct. wrote Canada Free Press (CFP). "They have set up a website called AttackWatch.com. It is for people to report "lies" about Obama! They even reference some of their own."
"How low can they go?"
Plenty low, as AttackWatch will soon prove.
The Obama campaign is only making official what they started back in the summer of 2008 with "the Barack Obama Truth Squad".
"KMOV-TV in Missouri is reporting that Senator Barack Obama's presidential campaign has signed up law enforcement officials "to target anyone who lies or runs a misleading TV ad during the presidential campaign." (Obama's Legal Goon Squads, Matthew Vadum, CFP, Sept. 28, 2008).
"According to a summary on National Review Online by Jim Geraghty, prosecutors and sheriffs in the state are joining "the Barack Obama Truth Squad". Mentioned in the report are Jennifer Joyce, a St. Louis Circuit Attorney, and Bob McCullough, prosecutor for St. Louis County, NRO reports.
"The reporter says, "They will be reminding voters that Barack Obama is a Christian who wants to cut taxes for anyone making less than $250,000 a year.
"While the report never comes out and says anyone running an ad saying those things would be subject to prosecution, that certainly is the message implied.
"Of course, the Senator is perfectly entitled to fight back if he believes his positions are being misrepresented, but he should do that with more speech, not heavy-handed legal maneuvering aimed at suppressing speech. We don't need politically correct inquisitors. (We profiled Senator Obama in the June Foundation Watch. The article has proven so popular we had to order reprints.)"

That was 2008. Today Obama's reelection campaign manager, Jim Messina announced the formation of AttackWatch.com.

"Forming the first line of defense against a barrage of misinformation won't be easy," Messina wrote in a fundraising email to campaign supporters. "Our success will depend on a team of researchers and writers to stay on the lookout for false claims about the President and his record, bring you the facts, and hold our opposition accountable."
ABC news was first of the alphabet television networks to jump in with sympathy in a story headlined, Obama 'Attack Watch' Website to Help Supporters 'Fight Back', quoting Tennessee college student Jennifer Kickliter, who signed up for the 2012 campaign. Kickliter said, It's not easy being an Obama for America volunteer, especially when you feel ill-equipped to respond to the waves of attacks from his critics.
Meanwhile, the big question is will Tea Party members be falsely accused and prosecuted or just outed by Obama's AttackWatch.com?
.

Here is the email I received ..........~ Wild Thing

From: Jim Messina, BarackObama.com info@barackobama.com
Subject: Expose the attacks
Date: September 13, 2011 7:56:35 PM EDT
To: XXXXXXXX XXXXXXXXXX
Reply-To: info@barackobama.com

Christine
f you're someone who cares about seeing a campaign focused on substance between now and November 2012, I need you to become a part of one of our most important teams.
It's called AttackWatch.com, and it launches today.
Here's the deal: We all remember the birth certificate smear, the GOP's barrage of lies about the Affordable Care Act, and the string of other phony attacks on President Obama that we've seen over the past few years.
There are a lot of folks on the other side who are chomping at the bit to distort the President's record. It's not a question of if the next big lie will come, just when -- and what we're prepared to do about it.
AttackWatch.com is exactly what it sounds like: a resource that allows us to nip these attacks in the bud before they show up on the airwaves and in emails -- and then fight back with the truth.
By signing up, you'll be on the front lines -- you'll hear about false claims as soon as they come up, and we'll count on you to spread the truth to your friends and personal networks and let us know about new smears whenever you hear them.
Will you sign up now to be a part of AttackWatch.com?
Yes, I want to be on the team that fights back.

Not right now, but I'll donate $5 to fund the 2012 campaign and support this work.

I remember the smears from 2008 well, and I'm sure you do, too.
They didn't just attack Barack Obama and Joe Biden. They went after everything this movement is built on, and everyone who supports it.
This time, they're not just out to personally attack the President -- they're also out to mislead Americans about the record of accomplishments that he's compiled. Just the other day, a Republican financier actually quoted Saddam Hussein in telling a group of millionaire donors that defeating President Obama will be "the mother of all wars."
We're launching AttackWatch.com today to make sure we're ready for the attacks we know are coming -- and armed with the ability to fight back quickly.
Sign up for AttackWatch.com now, and let's get the facts out:
http://my.barackobama.com/Join-Attack-Watch

Thanks,
Messina
Jim Messina
Campaign Manager
Obama for America
.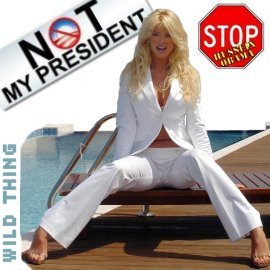 Wild Thing's comment.......
The last presidential election I signed up for every one of the candidates. Because I have a blog and wanted to get any news the candidates were sending out. Hillary and Obama have kept me on their list.LOL Know what the enemy is doing kind of thing.
Never in the history of the USA has a president behaved this way toward the American people and now this is the normal behavior of Barack Hussein Obama. DISGUSTING !
This should be illegal to do something like this. IMO

Posted by Wild Thing at September 14, 2011 05:50 AM
---
Comments
Reminds me of what the Communist Bloc nations did when they were part of the Soviet Union.
Posted by: BobF at September 14, 2011 07:35 AM
---
What is amazing they are plotting against private citizens, who have an opionion that does not agree with theirs, and to attack them as being enemies of the state. What has happened to the rule of law, where the government protects the rights of the individual and not favor one group against that individual.
Time for you to leave Bark, your villiage in Kenya is still missing their idiot, time to go back and take up your responsibility as State fool.
Posted by: Mark at September 14, 2011 08:32 AM
---
I suggested going to a public library and posting an attack at the site without your real email address.
Posted by: Bob A. at September 14, 2011 09:26 AM
---
Brought to you by the same folks that are all over the Patriot Act as being an invasion of our privacy.
Isn't amazing how this always seems to be the case, with the Lefty/Progressives?
Posted by: Sean at September 14, 2011 10:02 AM
---
The Communist Manifesto is alive and well in this administration. Karl Marx would be proud of obama.
Posted by: TomR, armed in Texas at September 14, 2011 12:59 PM
---
Great input, thank you all so much.
Posted by: Wild Thing at September 14, 2011 11:55 PM
---