« Rick Perry's Campaign Tries to Raise Cash off Obama's Golf Game ~ GREAT Idea!!!! | Main | Obama Sticker In Urinal Draws Criticism And Laughs »
September 04, 2011
Gov. Rick Perry Campaigned in New Hampshire Saturday
Texas Gov. Rick Perry campaigned in New Hampshire today, and CNN reports he had a suggestion for President Obama and his big "Jobs Speech" this coming Thursday Night:
Chichester, New Hampshire (CNN) - Texas Gov. Rick Perry focused blame for the economic slump squarely on President Barack Obama in a pair of speeches Saturday, as his stump speech continues to take shape.
Reading from notes, the folksy leader launched a blistering assault on the president for failing to turn around the country's fiscal struggles, and offered his record in Texas as his recipe for success.
"It's time for a change," he told a group of largely undecided Republican voters in Manchester, New Hampshire. "And I'm not talking about the rhetoric of change, I'm talking about a record of change."

Perry said he had created jobs in Texas, while the president had expanded the role of the federal government without creating long-term jobs, and had taken the country in the wrong direction, he said.
He also had some advice for the president as he prepares to announce a jobs plan next week.
"If the president wants to make a good jobs speech, he needs to stand up in front of the American people and say we're going to repeal 'Obamacare,' " Perry told an audience in Chichester, to thunderous applause.

At the house party in Chichester, Perry spoke emotionally about service members fighting in foreign wars. He said the country should spend more money caring for its veterans. On the subject of the wars in Iraq and Afghanistan, Perry said there should be a "national conversation" over the next year before the election, but said he did not favor setting timetables for withdrawal.

Perry was asked at each crowded event about preventing illegal immigration, and said it was the federal government's responsibility to aid in border protection by sending National Guard troops.
Gerald Easson, of Farmington, said he was impressed by the governor's candor.
"Talk is cheap. I'm going by facts. What they've accomplished, what they can do," he said. "Everything he's tackled, he's accomplished it."
State Rep. Al Baldasaro, who has yet to endorse a candidate, had a similar response.
"He looks you in the eye and he tells you how it is," Baldasaro said. "He's not looking over my shoulder. He's talking to me when I ask him a question."
Baldasaro said he asked for more information about Perry's record on caring for veterans in Texas to help him make a decision about supporting the governor.
.

He may have been 2,000 miles from the border, but Republican presidential candidate Rick Perry's immigration record in Texas quickly became the focus in New Hampshire Saturday afternoon.
Speaking to hundreds of Granite State voters at a private reception, the Texas governor was asked whether he supported a fence along the Mexican border.
"No, I don't support a fence on the border," he said, while referring to the long border in Texas alone. "The fact is, it's 1,200 miles from Brownsville to El Paso. Two things: How long you think it would take to build that? And then if you build a 30-foot wall from El Paso to Brownsville, the 35-foot ladder business gets real good."
Instead, Perry said he supported "strategic fencing" and National Guard troops to prevent illegal immigration and violence from Mexican drug cartels.

.

Rick Perry talking immigration with Arpaio, Sheriff Joe tweeted and Sheriff Joe also posted about it at his Facebook page.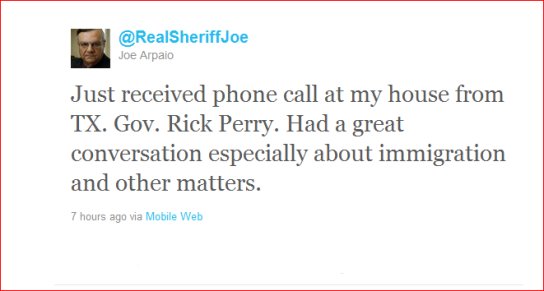 .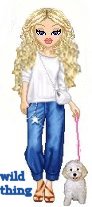 Wild Thing's comment.......

"He looks you in the eye and he tells you how it is," Baldasaro said. "He's not looking over my shoulder. He's talking to me when I ask him a question."
I like what this person said. I think that is important. I have met politicians over the years and too few will do this, most of them are looking to see the next person to shake hands with.
And I have to say the way he explains about the border I'm alright with his explanation. He explained this on the Mark Levin Show, and if there are other ways to accomplish the same thing, I'm ok with it.

The Texans I know that live near the border say ...."they need the Rio Grande for our farmers and ranchers. Any Texan that knows anything about our border knows a fence will not work here. It's not true that Governor Perry "prefers open borders."
I also love that Gov. Perry called Sheriff Joe yesterday. I have read several times that Perry is not closed on discussions of learning more and we know he has already shown when he made a mistake he said so. This is a good man and I think he will listen to we the people.
Posted by Wild Thing at September 4, 2011 05:45 AM
---
Comments
Secretary of Homeland Security Joe Arpaio
Attorney General Mark Levin
Secretary of Defense Allen West
Secretary of the Treasury Paul Ryan
Secretary of Commerce Herman Cain
United States Trade Representative Donald Trump
Vice President Marco Rubio
Labor Secretary Scott Walker
Secretary of State David Petraeus
Associate Justice Jim DeMint
Press Secretary Charles Krauthammer
Speech Writer George Will
There's still a hard election, but oh, the possibilities, and what a turn around for America and the free world...

Posted by: Carlos at September 4, 2011 08:24 AM
---
Excellent choices Carlos. There are numerous other good choices also. For the first time in a long time there are a lot of good conservatives to choose from as potential leaders. Not the phony RNC types that talk conservatism during elections, then revert to their true Rino nature.
Posted by: TomR, armed in Texas at September 4, 2011 11:18 AM
---
Thank you Carlos and Tom.
Carlos thank you for the list, lots of good ones for sure.
Posted by: Wild Thing at September 5, 2011 01:03 AM
---