« Democrats Murray, Baucus, Kerry on Super Committee ~ Could Not Be Worse! | Main | Charles Krauthammer: The Markets Show Obama is the Anti-E.F. Hutton, When He Speaks No One Listens »
August 11, 2011
Republican Picks For The Joint Select Committee on Deficit Reduction (Super Committee)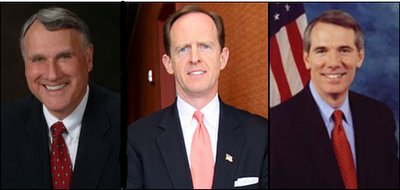 Speaker Boehner Announces Appointments to Joint Select Committee on Deficit Reduction

The Speaker's Official Website
House Speaker John Boehner (R-OH) today announced his intent to appoint the following three lawmakers to represent House Republicans on the Joint Select Committee on Deficit Reduction:
House Republican Conference Chairman Jeb Hensarling (R-TX)

House Ways & Means Committee Chairman Dave Camp (R-MI)

House Energy & Commerce Committee Chairman Fred Upton (R-MI)

Speaker Boehner has tapped Chairman Hensarling to serve as a co-chair of the joint select committee. Boehner issued the following statement regarding the appointments of Chairmen Hensarling, Camp, and Upton:
"Our debt and deficits are a threat to our economy, and America cannot achieve long-term job growth until we take action to address this crisis. In the weeks ahead, a serious, bipartisan committee of lawmakers will begin the hard but necessary work of making the tough choices needed to rein in mandatory and entitlement spending, which are the drivers of our debt. The lawmakers I have appointed to serve on this joint committee are proven leaders who have earned the trust and confidence of their colleagues and constituents. They understand the gravity of our debt crisis and I appreciate their willingness to serve on this panel.
"The two parties have fundamental differences about government and its proper role in our society. Where we've been able to agree, we have acted, and in a way consistent with the American people's desire for a smaller, less costly, and more accountable government. Still, the differences remain, and so does the urgent work of returning our economy to creating jobs and lifting the crushing burden of debt that threatens our children's future. This joint committee presents an opportunity for both parties to bring to the table their best ideas, debate them on the merits, and ultimately come together to do what's best for our country. With all that's at stake, I expect that the joint select committee will conduct its work in the open and transparent manner the American people deserve."
McConnell Appoints Kyl, Toomey, Portman, to Joint Select Committee on Deficit Reduction
Mitch McConnel's Official Website
U.S. Senate Republican Leader Mitch McConnell Wednesday announced his appointments to the 12-member Joint Select Committee on Deficit Reduction tasked with reducing the deficit by $1.5 trillion more than the cuts already identified in the Budget Control Act. McConnell appointed Sens. Jon Kyl (R-Ariz.), Pat Toomey (R-Pa.), and Rob Portman (R-Ohio).
Sen. Jon Kyl was elected unanimously by his colleagues in 2008 to serve as Republican Whip, the second highest position in Senate Republican leadership. He is a senior member of the Finance Committee and a leading advocate of pro-growth tax policies. Kyl is in his third term in the Senate after serving four terms in the House of Representatives. He was the Senate Republicans' lead negotiator in the deficit reduction talks led by the Vice President over the summer.
Sen. Pat Toomey is a member of the Budget, Banking, Commerce and Joint Economic Committees and has been a leader on economic, financial services, and budgetary issues. Toomey is in his first term in the Senate after serving three terms in the House of Representatives. Sen. Toomey has run a small business and served as the president of The Club for Growth.
Sen. Rob Portman will be the only former Director of the Office of Management and Budget on the Joint Committee. He is a member of the Budget Committee and serves on the Subcommittee on Federal Financial Management (Homeland Security and Governmental Affairs Committee). Sen. Portman is in his first term in the Senate. He served in the House of Representatives from 1993 to 2005 when he became the U.S. Trade Representative. While serving in the House of Representatives, he served as Vice Chair of the House Budget Committee and as a member of the House Ways & Means Committee. In 1997, Portman co-chaired the National Commission on Restructuring the Internal Revenue Service with Senator Bob Kerrey of Nebraska.
.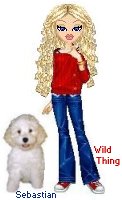 Wild Thing's comment....

I wish I could be excited about othis committee, but it just makes the pit of my tummy feel sick and very concerned. I just hope and pray the Republicans that will be on it will not cave to the dems.
Posted by Wild Thing at August 11, 2011 04:45 AM
---
Comments
Ii agree with you, WT, about not getting excited about this committee or any other government committee.
All this is is a delaying tactic on the part of the politicians, of both parties, in both houses. It is amazing to me how cowardly they are in committing to anything.
I have to give Boehner and McConnell credit here. They, at least, read the mood of the country and kept the RINOs off the panel.I really don't see any of these Republicans, getting swayed and forced into compromising.
This is all going to be a waste of time and money, because there will be nothing of any value accomplished.
One only has to look at the make up of the Democratic side. Murray, the Dumbest of the Dumb, Kerry the seditionist/Marxist and the town drunk from the Dakotas. All puppets dancing on Harry Reid's string.
By the way who has Pelosi named? Waters, Waxman and herself? That would be my guess.
Posted by: Sean at August 11, 2011 12:03 PM
---
This Super Committee will set an example by being very frugal in their committee costs. If you believe that then you probably believe that they will cut $1.5B in govt. spending.
Posted by: TomR, armed in Texas at August 11, 2011 05:28 PM
---
Sean, that is a great way to put it, it is a delaying tactic.
Thanks Sean for your input.
Posted by: Wild Thing at August 11, 2011 06:43 PM
---
Tom, I wonder if they pass something how strong a fight they will get not to put it through. augh. this is all so ..not good.
Posted by: Wild Thing at August 11, 2011 06:46 PM
---