« Site Back and Thank You For Your Patience | Main | Pawlenty Drops 2012 Presidential Bid »
August 14, 2011
Palin Visits Reagan Boyhood Home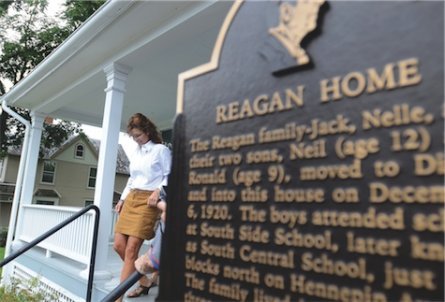 Palin visits Reagan Boyhood Home
DIXON – Outside President Ronald Reagan's Boyhood Home, a small crowd began to form.
With no public announcement and no fanfare, Sarah Palin's flashy "One Nation" tour bus pulled into town and parked on "Ronald Reagan Way."
On board were the former Republican vice presidential candidate, her husband, Todd, her daughter, Piper, and a niece, McKinley, both 10.
They all toured the home of the most beloved GOP president, in the town he always called home, during Reagan Trail Days, the town's annual 5-day festival celebrating its native son, and during the centennial year of his birth.
Many in the crowd, needless to say, were thrilled.
For her part, Palin seemed to enjoy the tour.
"I think the home was absolutely beautiful and so appreciative, speaking on behalf of I think a lot of Americans, that this town has put such effort into the restoration of this," Palin said afterward.
"These volunteers are amazing. This is beautiful."

Dressed in a tan skirt and white button-up shirt with a red, white and blue pin in the shape of a cross, Palin signed autographs and posed for cellphone pictures before getting back on bus and heading to Eureka College.
The visit wasn't a total surprise. Ann Lewis, chairwoman of the Dixon Ronald Reagan Centennial Commission, was honored on Friday night at the Trail Days Reagan Gala. A short time later, around 10:45 p.m., she got a phone call from a Palin representative.
"People at Eureka College had given them my number," Lewis said. "They wanted someone to act as a guide."
Lewis agreed to show Palin around – and also to keep the visit under wraps, she said Saturday.
After visiting the Boyhood Home, Lewis took the group to historic Lowell Park, where a handsome Ronnie Reagan was a lifeguard back in his teens and early 20s, and where he reportedly fished 77 people – many of them young women – out of the Rock River.
To complete the local tour, the bus made its way back through Dixon along Ronald Reagan Way.
"We drove from the river all the way up," Lewis said. "She was very gracious. She was answering questions. She signed pictures."
Lewis said Palin's next stop Saturday was Eureka College, Reagan's alma mater.
Anne Brousil was among who met Palin on her stop in Dixon.
"I live down the street, and the neighbor told me that Sarah Palin's bus just pulled up, and we're Republicans and I thought we would just come on down and say hello," Brousil said.
Brousil grabbed her copy of Runner's World magazine – the one in which Palin appeared – before she dashed out the door.
Palin autographed the mag, and the two even chatted about Brousil's preparation for an upcoming triathlon.
She's "very personable, friendly and interested in the people that she's talking with," Brousil said.
Lee Murray told Palin that the next time he sees her, he hopes it's when she's in the White House.
The 93-year-old thinks the potential candidate is "pretty honest."
"She means well. I think she's a good American," Murray said.
He said he was surprised to see Palin in Dixon, where he's lived since 1945. He was so excited that he planned to tell his family about meeting Palin even before returning home, he said.
Two years ago, Sally Campbell didn't get Palin's autograph when the two were in The Villages in Florida at the same time, she said.
"My friend called me this morning and said, 'Sally, Sarah Palin's up at the Reagan house,' so what did I do? I hopped in the car," Campbell said.
"I think she's absolutely down-to-earth, and she's got it."
Campbell and her friends Donna Misner and Janey Coffey, all of Dixon, each got Palin's autograph.
Misner said she had no idea she would be meeting Palin on Saturday. "It's exciting," she said.
Coffey called Palin a "delightful, real person."
Palin hasn't said if she'll be running for president in 2012; her bus tour across the country is one of her ways of testing the waters.
She and her reps have steadfastly refused to divulge a "One Nation" itinerary, instead sending people to sarahpac.com for information.
The former Alaska governor also attended the Iowa State Fair Friday, also unannounced, in advance of Saturday's Iowa Republican Party Presidential Straw Poll in Ames.
Palin wasn't the only celebrity to visit Reagan's hometown this week.
Reagan's oldest son, Micheal Reagan, paid a visit to the Boyhood Home on Monday, on a trip that included throwing out the first ball at the Cubs/Cardinals game last Saturday, on Reagan Day at Wrigley Field.
"Michael Reagan on Monday and Sarah Palin on Saturday," Lewis said. "What a week for Dixon."
.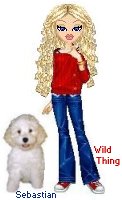 Wild Thing's comment......
I love that she went to his childhood home.

Posted by Wild Thing at August 14, 2011 12:45 PM
---
Comments
Would't Reagan be proud of Sarah. She is so much like him with her love of America and Americans. Both also fear government overreach. Sarah could be another Margaret Thatcher.
Posted by: TomR, armed in Texas at August 14, 2011 05:44 PM
---
Tom, big smile, I can imagine Reagan smiling from Heaven.
Posted by: Wild Thing at August 15, 2011 12:51 AM
---
Posted by: Avitar at August 15, 2011 12:28 PM
---