« Perry Tells N.H. Audience He's a Global-Warming Skeptic ~ He Is Correct!!! | Main | Sarah Palin Will Talk to Megyn Kelly This Afternoon and Will Be On Greta's Show Tonight »
August 18, 2011
Obama's Bus Looks More Like a Gigantic Hearse
.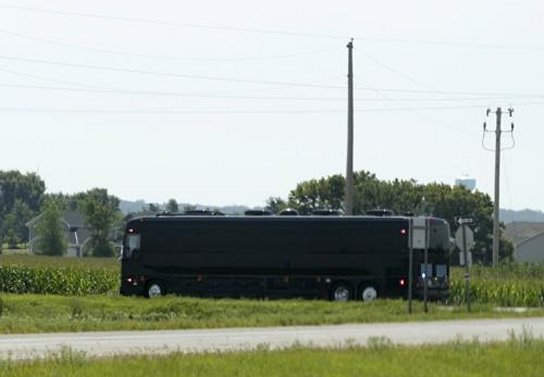 .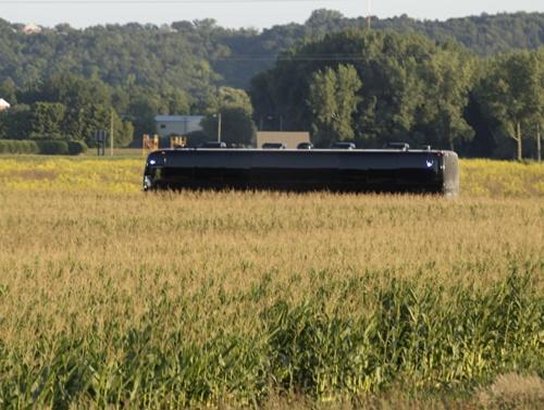 WASHINGTON


President Obama is barnstorming the heartland to boost US jobs in a taxpayer-financed luxury bus the government had custom built -- in Canada, The Post has learned.

The $1.1 million vehicle, one of two that Quebec-based Prevost sold the government, has been tricked out by the Secret Service with state-of-the-art security features and creature comforts.

It's a VIP H3-45 model, the company's top of the line, and is used by major traveling rock bands.

"That's the more luxurious model," Christine Garant of Prevost told The Post.

"When we have the Country Music Awards, we sometimes see a lot of them," she said, noting that Kid Rock, David Lee Roth and Kenny Rogers also have owned them.

Obama's new ride is equipped to carry all the baggage a president needs -- including the "football" that allows him to remotely control US nuclear weapons.

There's electronic equipment allowing Obama to communicate and teleconference worldwide.

Like his GM-built limousine, nicknamed "The Beast," the bus has armored doors.

The president also has large flat-screen TV sets and comfortable couches.

There's a bathroom, but unlike on Air Force One, no sleeping area.

The bus was ordered by the Secret Service in July 2010 and delivered two months ago.

The feds bought the two coaches for $2.2 million from Hemphill Brothers Coach, based in Tennessee. It installed custom interior upgrades into the Prevost shell, which accounted for about half the cost.

The contract lists the country of origin as Canada and place of manufacture as "outside U.S. - Trade Agreements," a possible reference to the North American Free Trade Agreement.

Hemphill wouldn't comment on the bus. But an ad on its Web site for a similar bus costing $100,000 less than what has been dubbed "Greyhound One" boasts: "This coach is appointed with the finest materials and the latest in high tech electronics and was built for a top entertainer to travel efficiently without losing the luxuries of home.

The Secret Service says the buses will be available to other protectees who travel by bus, which could include the 2012 GOP presidential nominee.




.

Rep. Allen West discusses the big black bus as he calls it and how Obama is NOT going into the black communities on this bus tour. Blacks are very upset with Obama.

Allen West: "Well I think Laura when you look at what is happening, the laughable hypocrisy is that the big black bus is not going into the black communities. When you have unemployment in the black community, 16.3% in July and it dropped down to 15.9% in the month of August, that's not in the right direction. So you have this 21st Century plantation where the democrat party has forever taken the black vote for granted and you have established certain black leaders are nothing more than the overseers of the plantation. And, now the people on that plantation are upset because they've been disregarded, disrespected and their concerns are not cared about. So I'm here as the modern day Harriet Tubman to kinda lead people on the underground railroad away from that plantation into a sense of sensibility."




.



Socialists/communists getting fed up with Obama hahahaha oh really.

During a sometimes-raucous session of what's being called the "For the People" Jobs Initiative tour, a key member of the Congressional Black Caucus told an audience in Detroit Tuesday that the CBC doesn't put pressure on President Obama because he is loved by black voters. But at the same time, Rep. Maxine Waters said, members of the CBC are becoming increasingly tired and frustrated by Obama's performance on the issue of jobs. Even as she expressed support for the president, Waters virtually invited the crowd to "unleash us" to pressure Obama for action.
"We don't put pressure on the president," Waters told the audience at Wayne County Community College. "Let me tell you why. We don't put pressure on the president because ya'll love the president. You love the president. You're very proud to have a black man — first time in the history of the United States of America. If we go after the president too hard, you're going after us."
The problem, Waters said, is that Obama is not paying enough attention to the problems of some black Americans. The unemployment rate for African-Americans nationally is a little over 16 percent, and almost twice that in Detroit. And yet, Waters said, the president is on a jobs-promotion trip through the Midwest that does not include any stops in black communities.

.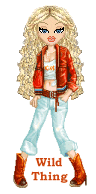 Wild Thing's comment........
Allen West is so good!
So much for Obama's ' listening ' tour, it is almost finished and he has not heard one word anyone has said. Except for the people that were planted in his audience where they stood up and praised him. That is so obvious and so sickening to see happen. AUGH
LOL I love it when Maxine Waters says we will give the president time... and someone yells out in the audience..... How long!
hahha

Posted by Wild Thing at August 18, 2011 05:55 AM
---
Comments
Obama's living in an alternative universe and his twin is still out in space. GM, Ford, Chyrsler all American Automakers can build anything but obama goes to Canada for a Bus.
Doesn't this tell the American Automakers something? LIke he doestn't trust you to build a decent vehicle or maybe they should ask themselves, Why are we supporting this dork, he can't even trust us enough to build his luxury bus in our country.
If he is an American he's an insult and if not he deserves to be gone.
Posted by: Mark at August 18, 2011 06:56 AM
---
That ridiculous bus looks like it belongs to Darth Vader hah!
Posted by: jan at August 18, 2011 08:18 AM
---
How sweet it will look driving AWAY from 1600 Pennsylvania Avenue on January 20, 2013... !
- DON'T TREAD ON ME 2011-2012 & less than 15 months until WE THE PEOPLE vote.
Posted by: darthcrUSAderworldtour07 at August 18, 2011 09:46 AM
---
So, Maxine Waters acknowledges that Blacks voted for obama and support him mainly out of racism.
Posted by: TomR, armed in Texas at August 18, 2011 10:34 AM
---
Some thoughts on this, from a casual observer.
What is the reaction of the leadership and the rank and file of the UAW union, regarding the building of this vehicle?
Has anyone in the has any member of the Liberal Press corps bothered to ask?
It its certainly looks like Obama's advisors have lead him astray here.
He is running into a lot of angry citizens, even though, it is most likely, the locations were selected because they would be safe and non-controversial.
Two black congress members, one from each party, chastise him for ignoring the Black Community.
Allen West hits the nail on the head when he likens the Black Dem. Leadership as being plantation overseers.
When one of those "overseers", Maxine Waters makes statements like the one above, then we know that The Anointed one is in trouble.
Posted by: Sean at August 18, 2011 10:45 AM
---
In all what's been taking place, it completely slipped my mind that Obama has the Nuclear Football. That alone ought to strike fear into the hearts of every American. IF a nuclear attack was launched against the US, would he retaliate? It was that fear of retaliation that prevented an attack during the Cold War. Do our enemies which possess nukes still have that fear?
Posted by: BobF at August 18, 2011 04:07 PM
---
I'd like to know what the Congressional Caucasian Caucus had to say about this clusterfuck.
Posted by: Eddie (Enemy of the State) at August 18, 2011 05:13 PM
---
Thanks for your comments everyone. I appreciate it.
Posted by: Wild Thing at August 18, 2011 05:19 PM
---