« Christina Romer the Former Obama Economic Adviser on Downgrade: We're 'Pretty Darn F--ked' | Main | S&P Says It Favors Spending Cuts Over Tax Hikes To Fix Credit Rating ~ Are You Listening Obama???? »
August 06, 2011
Obama Has Now Caused This:The United States Has Lost Its Sterling Credit Rating

Michele Bachmann reacted to the news tonight that S&P downgraded the US credit rating. Bachmann was on with Greta Van Susteren.
"This president has destroyed the credit rating of the United States through failed economic policies and his inability to control government spending… President Obama is destroying the foundation's of our economy one beam at a time. I call on the president to seek the immediate resignation of Treasury Secretary Tim Geithner and to submit a plan with his list of cuts to balance the budget this year, turn the economy around and put our people back to work."
.

FLASHBACK.....

Obama Treasury Secretary Tim Geithner back in April where he was asked point blank if there was any danger the U.S. could lose its AAA Credit Rating.
His answer: "No risk of that." He cited the "leadership of the President of the United States of America" and a key reason why it could not happen. Geithner further said, "Absolutely" the U.S. would keep its AAA Credit Rating.
.
Standard & Poors downgraded the U.S. Credit Rating from AAA to AA+, the first time such a downgrade has ever happened to the U.S.
August 5, 2011
The United States has lost its sterling credit rating.
Credit rating agency Standard & Poor's on Friday lowered the nation's AAA rating for the first time since granting it in 1917. The move came less than a week after a gridlocked Congress finally agreed to spending cuts that would reduce the debt by more than $2 trillion -- a tumultuous process that contributed to convulsions in financial markets. The promised cuts were not enough to satisfy S&P.
The drop in the rating by one notch to AA-plus was telegraphed as a possibility back in April. The three main credit agencies, which also include Moody's Investor Service and Fitch, had warned during the budget fight that if Congress did not cut spending far enough, the country faced a downgrade. Moody's said it was keeping its AAA rating on the nation's debt, but that it might still lower it.
Speaker John Boehner issued a statement saying that the downgrade is "the latest consequence of overspending by Washington."
One of the biggest questions after the downgrade was what impact it would have on already nervous investors. While the downgrade was not a surprise, some selling is expected when stock trading resumes Monday morning. The Dow Jones industrial average fell 699 points this week, the biggest weekly point drop since October 2008.
"I think we will have a knee-jerk reaction on Monday," said Jack Ablin, chief investment officer at Harris Private Bank.
But any losses might be short-lived. The threat of a downgrade is likely already reflected in the plunge in stocks this week, said Harvey Neiman, a portfolio manager of the Neiman Large Cap Value Fund.
"The market's already been shaken out," Neiman said. "It knew it was coming."
One fear in the market has been that a downgrade would scare buyers away from U.S. debt. If that were to happen, the interest rate paid on U.S. bonds, notes and bills would have to rise to attract buyers. And that could lead to higher borrowing rates for consumers, since the rates on mortgages and other loans are pegged to the yield on Treasury securities.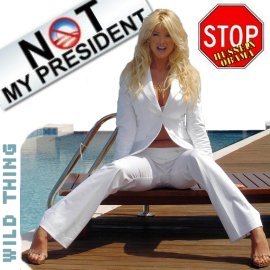 Wild Thing's comment.........
God help us and our country.
Unprecedented! This is NOT a good thing.

Stop blaming the Tea Party movement. The media needs to quit spreading blatant lies! Do they think they and their families are immune from the consequences of destroying the US economy?

Obama has deliberately put this country on a road to ruin, with his debt bomb.
Obama should be tried for treason in our Courts and hung! Let it be strong lesson to any other aspiring POS dictators.
Posted by Wild Thing at August 6, 2011 05:55 AM
---
Comments
Is Boehner a complete moron? Isn't he the one who, wrote and proposed and submitted the current Debt ceiling increase? Over spending?
The interest on the debt will go up an estimated 100 Billion a year, in 10 years thats another Trillion bucks added to the debt.
We need 536 impeachments, now. 435 for congress, 100 for the Senate and 1 for the white house. This usurper is killing our country, a slow death by strangulation.
Posted by: Mark at August 6, 2011 08:26 AM
---
I think next year there are some Republicans who are going to loose their elections.
Posted by: BobF at August 6, 2011 08:51 AM
---
Read the negative, but don't dwell on it.
Stay positive, move on.
My conservative GOP picks for six of the twelve to serve on the super committee:
From the House:
Paul Ryan of Wisconsin
Allen West of Florida
Tom McClintock of California
From the Senate (three Jims):
Jim DeMint of South Carolina
Jim Inhofe of Oklahoma
Jim Bunning of Kentucky
I think these six will stand firm and won't cave.
Your thoughts Wild Thing and Theodore's World readers ?
Posted by: Carlos at August 6, 2011 08:57 AM
---
Back when Bush appointed Geithner to the Treasury and Bernanke to the Fed, I soon thought both were bad mistakes. When both stayed over after obama was elected, I knew they were wrong choices. I can't see that either men have made good economic decisions.
I like your picks Carlos, but I don't like the idea of a super committee.
Posted by: TomR, armed in Texas at August 6, 2011 09:22 AM
---
i agree TomR,
No super committee. Congress should do what they were elected to do, although that hasn't happened yet.
Posted by: Bob A. at August 6, 2011 09:54 AM
---
Carlos, they don't need a super committee, or any committee at all. They've already had 17 or so committes, and we all can see how effective they have been. Besides it's like Rep. Mc Clintock said the other day,"Congress is the Committee".
As far as your Republican nominees, I doubt very much, that you will get your wish. When Boehner caved to the RINOs,and came up with that piece of crap that he wrote, he immediately downgraded any credibility, and influence of the likes of Ryan, and company.
Since the Dems took over Congress in 2007, the deficit has gone from 160million to 1.6trillion, spending has increased by 41%, the Debt has increased by 68%, and unemployment has gone from 4.4 to 9.1.
Those numbers were there a week ago, when Boehner blinked and gave Obama a blank check to continue this downslide.
The idea of a committee having the ability to turn this thing around, as long as Obama is president and the Dems. control Congress, is nothing more than, "Smoke and Mirrors".
Posted by: Sean at August 6, 2011 10:50 AM
---
Thank you all so much.
Carlos, good picks. The only thing is the super committee is very dangerous imo and against our Constitution. We don't need something like a super committee it goes against how our government is set up.
Posted by: Wild Thing at August 7, 2011 02:55 AM
---