« Perry Wins Straw Poll … In Alabama | Main | Obama's Taxpayer-funded No Hope Bus Tour Begins »
August 14, 2011
Michele Bachmann Wins Iowa Straw Poll

Rep. Michele Bachmann (R-MN), an Iowa native, won the Iowa Republican Straw Poll today in Ames, Iowa. Ron Paul was second and former Minnesota Governor Tim Pawlenty placed third.

Minnesota Rep. Michele Bachmann won a test vote of Iowans on Saturday, a show of popularity and organizational strength for the tea party favorite five months before the state's caucuses kick off the GOP presidential nominating season.
The result is the first indication of what Iowans think of the field of Republicans competing for the chance to challenge President Barack Obama next fall. But it's hardly predictive of who will win the winter Iowa contest, much less the party nod or the White House.
Rather, Saturday's outcome suggests that Bachmann has a certain level of support and, perhaps even more important, the strongest get-out-the-vote operation and widest volunteer base in a state whose caucuses require those elements.
Texas Rep. Ron Paul finished a close second while former Minnesota Gov. Tim Pawlenty placed a distant third.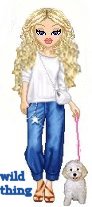 Wild Thing's comment.......
Congratulations and well deserved. She has worked very hard in Iowa.
I like Michele, I just don't think she can get enough support to get Obama out of office. If she would keep with facts too is important. Her love for America is great and I will always remember how she took on Geithner about the Dollar that time.
Posted by Wild Thing at August 14, 2011 12:55 PM
---
Comments
I like Bachmann, but I agree with you WT. I don't think she is quite up to the level needed to defeat obama. Then again, maybe she will mature during the primaries and be a legitimate candidate. I think of her more as a VP candidate partnered with Palin or Perry.
Posted by: TomR, armed in Texas at August 14, 2011 05:57 PM
---
Tom, thank you for sharing what you think about her.
Posted by: Wild Thing at August 15, 2011 12:37 AM
---
Well in fairness to her she is at least half again the man John McCain is. Except for Romney and Huntsman they all are. Romney is about a man and a quarter of an Obama and only Huntsman would be a step down.
How can we gather together a group where Newt who delivered four balanced Federal budgets is fifth? We need t review the nominating process with the question of how a weak sister like John McCain or Bob Dole gets Nominated. Professor Phill Gram would have crushed Bill Clinoton and done ten times the job over the nest four years.
How do we stop that from ever happening again.
Posted by: Avitar at August 15, 2011 03:35 AM
---