« On the Nature of the Perry Attacks | Main | Bozell Discusses Media Perry-Bashing on Hannity »
August 21, 2011
Gov. Perry Receives Defender of Jerusalem Award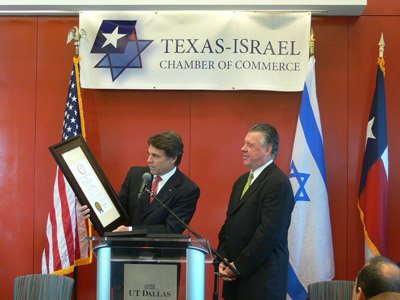 .
Gov. Perry Receives Defender of Jerusalem Award
from August 13, 2009
JERUSALEM – Gov. Rick Perry has received the Defender of Jerusalem Award, which is given to public figures who have demonstrated support and commitment to the state of Israel and its capitol, Jerusalem. The governor accepted the award while on his trip to Israel, where he also met with Israeli President Shimon Peres, Prime Minister Benjamin Netanyahu and business and academic leaders.
"I have long supported the right of a Jewish state to exist in the Middle East and firmly believe in the protection and preservation of democratic states in that part of the world," Gov. Perry said. "After visiting several sacred and historic sites, meeting with business, civic and government leaders and seeing the day-to-day lives of the people on my trips to Israel, I am even more convinced that a safe, secure Israel is an essential part of stability in this part of the world."

The Defender of Jerusalem Award was created in 2008 by Guma Aguiar, head of the Lillian Jean Kaplan Foundation, as a tribute to dignitaries within Israel and around the world who have demonstrated strong support for the people of Jerusalem and Israel. The first award was presented to Israeli President Shimon Peres.
Gov. Perry continues to be a staunch supporter of Israel.

After a trip to the area in 2007, the governor supported Texas' divestment from companies that do business with Iran, a main opponent of Israeli freedom. Additionally, as a result of meetings with Israeli leadership during the governor and first lady's visit to Israel in 2007, the Texas-Israel Chamber of Commerce was created to help launch future commercial interests and solidify the strong business and cultural connections between the two states.

Texas is Israel's fourth largest American trading partner. Texas and Israel's commercial relationship began with agriculture and natural resources, and has grown in recent years to include a variety of major business sectors, including information and communication technologies, aerospace and defense, medical technologies, homeland security initiatives and renewable energies.
Source for article below:

Besides the lone star that sits boldly on both of their flags, Texas and Israel have much in common, and a sturdy relationship that should continue to grow, according to Texas Governor Rick Perry, who is in the country on a visit aimed at strengthening economic ties between the Jewish State and his own.
"I come from a pro-business, pro-prosperity point of view," Gov. Perry told The Jerusalem Post on Thursday, "And the first goal of this trip was to further some of the economic development that already exists between Texas and Israel, and to recruit some of the Israeli businesses we visited here to expand and come to Texas."

Perry also recalled the Texas-Israel Exchange - a body that supports the trade of agricultural know-how between Texan and Israeli scientists - which he established in 1991, while serving as the Texas Agriculture Commissioner.

We have a connection that goes back many years," he said. "And Israel has a lot that we can learn from, especially in the areas of water conservation and semi-arid land - Israeli technology has helped us a lot in dealing with drought."
"But also," the governor continued, "when I was here for the first time some 18 years ago and I was touring the country, the comparison between Masada and the Alamo was not lost on me. I mean, we're talking about two groups of people who were willing to give up their lives for freedom and liberty." Beyond the comparisons, Gov. Perry said another point of his trip here was to show other people "what was really going on", with regards to the military threats facing the country, and in particular the IDF's recent Operation Cast Lead in the Gaza Strip.
"We went to the border with Gaza and received a briefing from the army there, and we went to Sderot and saw the police station with all the Kassam rockets piled up, we saw playgrounds that had to be covered from rocket fire. It's a powerful place." In that vein, the governor said he was also interested in learning more about security aspects while in the country, as Texas has a large, porous border with Mexico, and the recent violence in that country had unnerved many Texans.
"Israel is a leader in security technology, and another reason for our visit to the Gaza border was to see some of the security measures being used there," said Perry.
"Kassam rockets have killed 28 Israelis over the last eight years. Well, 1,000 people have been killed in Juarez [Mexico, on the border with El Paso , Texas] since the beginning of the year [in drug-related violence]. So we're trying to find ways to secure that border, because just like it's important to Israelis to keep heavy security on their border with Gaza, it's important to citizens of Texas to keep out the illegal activities that are going on with drugs [in Mexico].
Gov. Perry went on to describe his support for Israel from a religious point of view, saying, "I'm a big believer that this country was given to the people of Israel a long time ago, by God, and that's ordained."
The Obama administration's pressure on the Israeli government unnerved the governor, saying he felt that, "Israel does all the giving and the other side does not reciprocate."
"What I don't understand, is this administration's hesitancy to recognize the sovereignty of Israel," he said.

.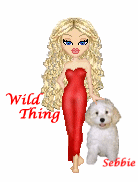 Wild Thing's comment.......
Fantastic, this award is huge and I love how he feels about Israel.
Posted by Wild Thing at August 21, 2011 07:55 AM
---
Comments
Wild Thing, "Don't Mess With TeXas.... or the Mossad!"
Posted by: darthcrUSAderworldtour07 at August 21, 2011 09:35 AM
---
Posted by: TomR, armed in Texas at August 21, 2011 02:04 PM
---
I wonder if we trade some Texas Rangers for some Mossad to work the borders respectively maybe that would be another solution to a mutual problem in both states.
Posted by: Mark at August 21, 2011 03:44 PM
---
Posted by: Carlos at August 21, 2011 06:39 PM
---
Darth, giggle. good one.
Mark, great idea.
Thank you everyone.
Posted by: Wild Thing at August 22, 2011 03:15 AM
---