« Residents At Martha's Vineyard Tell Obama to "go home" | Main | Gov. Rick Perry For President And Why I Give Him My Support »
August 24, 2011
Getting To Know Beautiful Anita Perry The First Lady Of Texas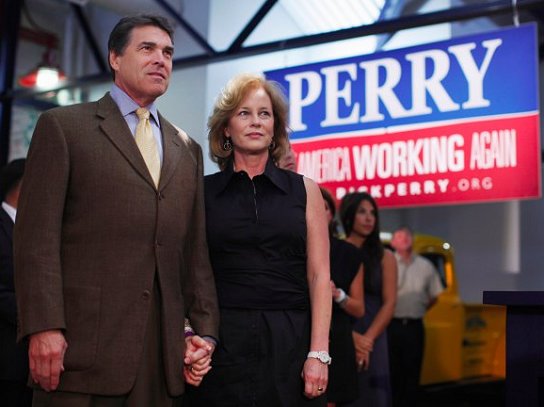 Anita Perry, a no-nonsense nurse, overcomes shyness in signing on to win votes for her husband
Their first date was awful, although Anita Perry didn't exactly use that word. But she certainly didn't use whirlwind or enchanted, either.
The facts of the event are what they are, and from that night in September, Rick Perry did have to invest 16 years to get to the day in November 1982 when Mary Anita Thigpen finally married him.
The first lady of Texas is not an embellisher or one to gild a memory. She is still, at her core, a small-town West Texas girl who sees her life with a pragmatic eye and a deadpan humor.
"It wasn't a good date," she said. "Memorable, yes."
Perry, 58, leaned forward over a round oak table in her Capitol office. Her hands occasionally drummed the table. She had just come from a workout and hadn't changed out of her black leotard sweats and sneakers.
Even seated, she is still on the run. Her weeks are a collection of calls, meetings, travel and speeches. Her agenda is preserving county courthouses, sponsoring the Texas Conference for Women, promoting tourism, pushing childhood immunizations and raising money to restore the Governor's Mansion, gutted by arson two years ago.
This is the Anita Perry described by her friends: unadorned, straightforward and as steady as her blue-eyed gaze.
And this is the first lady who has overcome shyness and learned to tell a story, engage her audience. She is gracious, but that didn't come from public duties. It was obvious from that first date.
Awkward first date

She was 14 and a freshman at Haskell High School. He was a junior on the Paint Creek six-man football squad. They'd been acquaintances from neighboring towns, occasionally running into each other, beginning with a piano recital in grade school.
And so he asked her out to the Paint Creek-Moran Saturday night matchup. He had hoped they'd spend some time together since his arm was broken and he knew he wouldn't be playing.
But the coach made Rick Perry ride on the team bus and work the sideline chain. His older sister, Milla, picked up Anita, and she rode with Milla and Rick's parents for the 65-mile trip.
She sat in the stands with Milla. "I think at halftime he came up to say hello," she recalled.
After the game, Anita climbed back into the car with the Perrys to follow the bus home. At some point, the bus stopped and Rick joined the car.
"We dropped them off in Paint Creek - and then he actually drove me home - home!" she said. That was it.
"He said the other day, 'Did I kiss you on that first date?' and I said, 'No,' " Perry recalled. The "no" is of the are-you-kidding variety.
Milla Perry Jones remembers a mature, quiet girl who was friendly and made the most of an awkward situation.
"I mean, who takes her brother's first date to the date?" Jones said with a laugh.
But she remembered something else, too. "When my brother got off of that bus and got into that car, his eyes sparkled. You have to know he was a West Texas boy - he rode horseback and picked cotton in the fields. There was nothing romantic about him. But it was magic with them that night."
Eventually, Rick Perry went off to Texas A&M University and then five years as an Air Force pilot. Anita Perry had her own sights set. She received a nursing degree from West Texas State University and then a master's of science in nursing from the University of Texas Health Science Center in San Antonio.
'Meant to be'

In San Antonio and then as she worked as instructor of nurses at WTSU in Amarillo, she and Rick Perry still saw each other. Through all the years, they stayed connected.
"For 16 years, off and on, she came in and out of our lives," Jones said. "But you knew it was meant to be."
For Anita Perry, it took some cajoling. She loved her job and her profession. But she relented. "His smile always captured me," she said.
To make a serious go of it, at age 28, she moved back home with her parents. "I lived in my bedroom, slept in my twin bed that I grew up in. He was living with his parents. It was a little odd," Perry said.
It took the planets aligning, according to the governor, before they married two years later. She gave birth to their son, Griffin, 42 weeks later.
The baby was 3 months old when her husband, with a new glint in his eye, came running in with the news that Haskell's longtime state representative was retiring. He wanted to try his hand at politics - and he won, running as a Democrat.
Anita Perry had seen herself as a nurse and a mother - roles she had sought. And she managed through the six years he traveled to Austin to serve in the House to play a small role in their community.
But the real jolt came when she left her career and home to help her husband pursue his ambitions. She moved the family, by then including 5-year-old daughter Sydney, to the capital when Rick Perry, who switched to the GOP, became agriculture commissioner in 1991.
"He had friends. He had a job to go to every day. He had receptions. He had events," Perry recalled. "I moved to a neighborhood where I didn't know anyone, coming from a place where I'd known everyone and going to a job I loved every day - nursing," she said.
They were difficult, unhappy days, she said. Gradually, through her children's classmates, she met other women in the neighborhood.
Dr. Melinda McMichaels, who lived down the block, described Perry as "a salt-of-the-earth kind of person" who was fun to be around.
As her world expanded with Rick Perry's leap to lieutenant governor and then governor, Anita Perry took on a new universe of people, but has stayed close with seven or eight friends from the old neighborhood, McMichaels said.
"She was a little reluctant to take on such a public role. To me, she's grown into it beautifully," she said.
Perry said she recognized she had to let go of her natural small-town reserve. "You're thrust into this. It's either you go or not," she said. "Actually, I've come to love it and enjoy it."
Staying centered

The toughest part of her first lady role is the politics. The criticisms, the lobs, the anger heaped on political leaders are hardest on their families, she said. Some critics who recognize her children will approach them and bad-mouth their father.
Part of the tension is the insulated feeling while living life in the public eye. It's hard to find the center, she said.
She tries to help the governor not get too carried away with his own role. "I try to keep him grounded. Sometimes I wonder," she said. When he gets a little too puffed up, "I'm always saying: 'Who told you that you were cute today?' "
Still, she intends to get out on the campaign trail and play a more visible part.
"Not that I'm a vote-changer or a vote-getter or anything like that," she said. "But I'll do whatever I need to do because I think it's important that he get re-elected."
You have to grow thick skin, enjoy people, tackle big projects and, in all of it, keep family as a priority, she said.
The governor has also set his priorities. The staff knows to keep his schedule clear every Sept. 9. That's not his wedding day or an important birthday.
It's the anniversary of their first date.

ANITA PERRY
Age: 58
Hometown: Haskell, Texas
Education: Bachelor's degree in nursing, West Texas State University (now West Texas A&M University), and master's of science degree in nursing, University of Texas Health Science Center-San Antonio.
Career highlights: Nursing in areas of surgery, pediatrics, intensive care, consulting and administration; helped develop and host the Texas Conference for Women.
Family: Married 28 years next month; mother to Griffin, 27, and Sydney, 24

.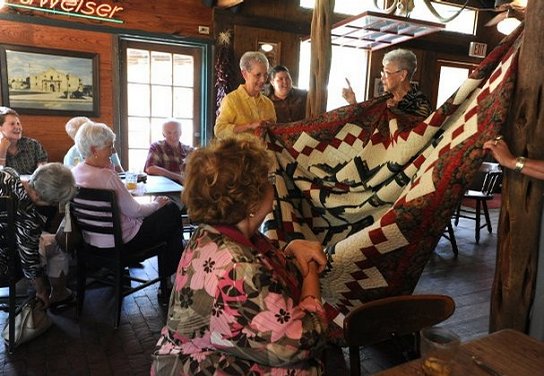 Amelia Perry(right), mother of Texas Gov. Rick Perry, shows her quilts at a meeting of the Buffalo Gap Republican Woman's Club at Perini Ranch Steakhouse Friday.
Perry called this quilt her "Scarlet O'Hara" quilt, because she made it out of a curtain during a time she was getting cancer treatments and spending most of her time at home.
.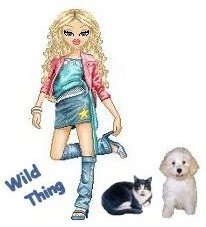 Wild Thing's comment.......

Love the photo too of Rick Perry's Mom. And she and her husband still live in the little house her husband built near the cotton fields in Paint Creek, Texas.

Rick's wife Anita is grounded and one can tell by the article about her that she helps in keeping Rick that way too. It is cute what happened on their very first date. haha
Posted by Wild Thing at August 24, 2011 06:45 AM
---
Comments
A lot of Texas culture is coming our way.
Get used to it...
http://www.youtube.com/watch?v=nyc3RaI2AV4
" The eyes of Texas are upon you,
All the live long day.
The eyes of Texas are upon you,
You cannot get away.
Do not think you can escape them,
At night, or early in the morn'.
The eyes of Texas are upon you,
Till Gabriel blows his horn! "

Posted by: Carlos at August 24, 2011 08:32 AM
---
I believe Anita Perry will return grace, beauty, class and honor to the office of First Lady of America. Just as another West Texas gal, Laura Bush, did.
Posted by: TomR, armed in Texas at August 24, 2011 11:22 AM
---
Carlos, thank you.
I lived in Dallas for 5 years and loved it so much. I had to move to Calif. for work I was offered but otherwise I would have stayed and never left.
Posted by: Wild Thing at August 25, 2011 05:36 AM
---
Tom,I think so too and yes she will be another wonderful First Lady like Laura was.
Posted by: Wild Thing at August 25, 2011 05:39 AM
---