« Greece and Democrats by Colonel Bob Pappas, USMC, Retired | Main | Obama Hates Washington D. C. ~ Vote Him OUT Of Office So He Can Stay Out For Good! »
July 05, 2011
Rush Limbaugh in Joplin,Mo. Showing Support For Their Rebuilding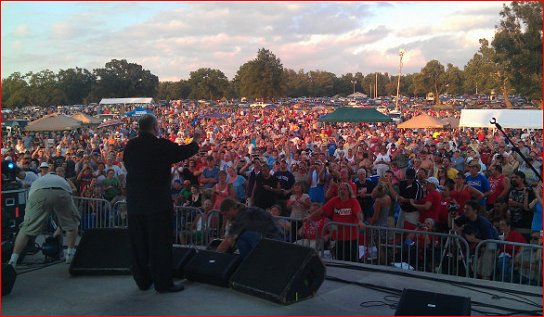 .

Here is raw video (you can hear Rush but not really see him in the cell phone video) from Joplin, Missouri last night.

Limbaugh was in Joplin to deliver ice cold bottles of his new line of teas –
"Two if by Tea" – in honor of the way they are working together as a community to rebuild following the devastating tornado that hit in May. Limbaugh praised their spirit of rugged individualism and the hard work they are doing to rebuild. Limbaugh chose Joplin as the winner of the contest to receive the tea after receiving many letters from his listeners suggesting Joplin be the winner.
Rush pledged to keep the spotlight on Joplin as they rebuild.
"Those of you from Joplin, Missouri, you are the essence of what the founding fathers had in mind...You represent the best this country has to offer"

Rush Limbaugh in Joplin, Missouri at the 'Freedom Fest' celebration. Joplin also received a giant semi of 'Two if By Tea.'

.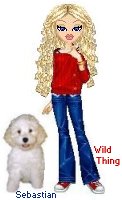 Wiild Thing's comment.......
This is great that Rush did this. He was born in MO. and after the horrible Tornadoes they had there and all the destruction, this July 4th was such a wonderful positive encouraging thing to happen. God bless and give strength to those living there.

More about Rush's Two If By Tea:
Two If By Tea™ is a proud sponsor of the Marine Corps - Law Enforcement Foundation and will donate a minimum of $100,000 to MC-LEF beginning in June 2011.
The Marine Corps - Law Enforcement Foundation is certified as one of America's best charities and provides assistance to the children of United States Marines and federal law enforcement personnel who were killed on duty or died under extraordinary circumstances while serving our country.
This Foundation was formed in February of 1995, under the belief that our nation's most precious resource is its youth. The recent wars in Iraq and Afghanistan have certainly illuminated America's commitment to freedom. We are reminded that freedom is not free. The price is great. No one knows that better than the left-behind sons and daughters of America's fallen heroes. Through the continuous support of donors, the Marine Corps - Law Enforcement Foundation has distributed aid with a value of more than $50,000,000.00 to eligible children.
Posted by Wild Thing at July 5, 2011 05:45 AM
---
Comments
In 491 days these MIZZOU voters can cast their votes for the BEST tea party candidate that IN GOD WE TRUST!
Posted by: darthcrUSAderworldtour07 at July 5, 2011 03:14 PM
---
Darth, I am really looking forward to that.
Posted by: Wild Thing at July 6, 2011 03:22 AM
---
You can see why the MSM are so afraid of Rush. When you know all that goes into putting together one of their rallies that are half of what come together at a place like Joplin.
Posted by: Avitar at July 6, 2011 03:37 PM
---