« Cornel West AND Tavis Smiley Refuse To Say They Will Vote To Re-Elect Obama! | Main | Obama Says Election Assessment Of HIS Leadership »
July 21, 2011
House Dems Want Apology From Rep.LTC Allen West ~ Two Words For YOU Democrats....Alan Grayson! And West Spoke the TRUTH!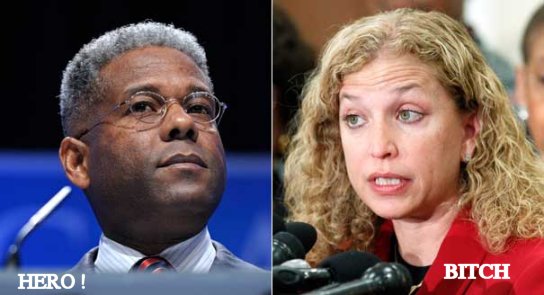 Allen West email prompts call for apology from Democrats

Several House Democratic women on Wednesday called on Rep. Allen West to apologize to Rep. Debbie Wasserman Schultz for his e-mail that called her "vile," "despicable" and "not a Lady."
The lawmakers said they were sending a letter to House GOP leadership, asking them to condemn the e-mail from the freshman Florida Republican. The group of five House Democrats said West's e-mail was indicative of a larger problem – both inside Congress and out – of gender discrimination in the workplace.
"For his own good, they ought to take him into the woodshed and say, 'if you want to survive in this work environment, you've got to keep your word, you've got to be cordial and congenial and civil even when you're disagreeing," said Rep. Gwen Moore (D-Wis.) "It makes for a very hard career otherwise."
"Sticks and stones will not break Congresswoman Wasserman Schultz's bones, and neither will Congressman West's Blackberry," added Rep. Jackie Speier (D-Calif.) who charged that in other workplaces, West would be hit with a sexual harassment claim.
So far, West's office has stood by the e-mail, sent late Tuesday afternoon to Wasserman Schultz and copied to House Majority Whip Kevin McCarthy, House Minority Leader Nancy Pelosi, House Majority Leader Eric Cantor, and West's chief of staff, Jonathan Blyth. West has since sent fundraising letters referencing the e-mail, asking his supporters to donate money to defend himself from Wasserman Schultz – who is also chairwoman of the Democratic National Committee.
The Democratic Congressional Campaign Committee has also used West's e-mail in a fundraising letter.
The Congressional Black Caucus – of which West is the only Republican member – declined to take an official position on the matter. Moore said copies of the e-mail were circulated at the group's weekly meeting earlier Wednesday afternoon.
Congressional Black Caucus Chairman Rep. Emanuel Cleaver (D-Mo.) declined to comment on West's comments. West, who attends the meetings infrequently, is supposed to provide lunch for the next meeting.
Wasserman Schultz herself has stayed relatively quiet on the e-mail, dismissing questions earlier Wednesday at a press conference and when asked on MSNBC, indicated that she sympathized with West for the "pressure" he faces for his stance on benefit cuts.
But her fellow Democrats were out in full force in her defense.
"I was especially appalled at the misogynistic suggestion that she was not being a lady," Speier said. "Allen West knows as much about being a lady as Rupert Murdoch does about privacy."
Rep. Carolyn Maloney (D-N.Y.) noted that West's remarks came on the anniversary of the first women's rights convention in Seneca Falls, N.Y., 73 years ago, saying "it's ladylike to stand up and speak for what you believe."
"I'm disappointed and I believe that ladies should never be called unladylike for participating as a woman in a man's world," Rep. Sheila Jackson Lee (D-Texas) told POLITICO. "That's what many of us do in this body. We don't ask for special privileges, we simply ask that if there is a disagreement with our words you can come to the floor and discourse and debate."
It wasn't just women who condemned West's missive on Wednesday. Rep. Elijah Cummings (D-Md.) told reporters earlier Wednesday said the e-mail was "shocking to the conscience."
"I thought it was just unfortunate that one member would send another member an e-mail like that," Cummings said.

Black Caucus 'Furious' Over GOP Rep. West's Email to Dem Party Chief

The head of the Congressional Black Caucus told Fox News on Wednesday that members are "furious" about the incendiary email Rep. Allen West sent to the Democratic party chairwoman, saying he's going to speak with the Florida Republican about the matter.

"It's unfortunate," Rep. Emanuel Cleaver, D-Mo., said. He could not say whether the CBC would seek to discipline its only Republican member, but claimed lawmakers were upset the incident has brought "undue attention" to the caucus.
West fired off an email Tuesday to Florida Rep. Debbie Wasserman Schultz, the chairwoman of the Democratic National Committee, calling her "vile, despicable and cowardly" for calling into question his stance on Medicare on the House floor.
The CBC was planning to discuss the email at its weekly meeting Wednesday, but votes got in the way and the caucus now plans to discuss the issue at a later date.
In the meantime, Cleaver said, "I'm going to talk to him."
Rep. Elijah Cummings, D-Md., another member of the CBC, said he was "shocked" to see the language West had employed.
"We have really got to make sure that we maintain a high level of civility," he said.
Elsewhere, House Democrats' campaign arm quickly seized on the exchange, blasting out a fundraising pitch Wednesday asking donors to help them raise $100,000 toward defeating West next fall.
Democratic Congressional Campaign Committee Chairman Rep. Steve Israel called his email "disgraceful" and "hate-filled," urging supporters to make sure Republicans "don't forget this moment."
West, though, stood by the email.
"I think it's important to stake my ground," West told Fox News. "It was about enough is enough, and it's my right to say that. She is the one elevating this."
In her remarks on the House floor, Wasserman Schultz had said: "The gentleman from Florida, who represents thousands of Medicare beneficiaries, as do I, is supportive of this plan that would increase costs for Medicare beneficiaries. Unbelievable from a member from south Florida."
She was alluding to a GOP-backed bill to reduce the debt and amend the Constitution to require a balanced federal budget. The House later approved the bill 234-190, but it is unlikely to pass the Democratic Senate.
West, who is in his first term, wasn't shy about his online outburst. He sent his email to numerous lawmakers, as well as Wasserman Schultz and other congressional leaders. The subject line of the email: "Unprofessional and Inappropriate Sophomoric Behavior from Wasserman Schultz."
The e-mail said: "Look, Debbie, I understand that after I departed the House floor you directed your floor speech comments directly towards me. Let me make myself perfectly clear, you want a personal fight, I am happy to oblige. You are the most vile, unprofessional and despicable member of the US House of Representatives. If you have something to say to me, stop being a coward and say it to my face, otherwise, shut the heck up."
West also wrote that Wasserman Schultz has proven "that you are not a Lady" and "shall not be afforded due respect from me!" He said he was alerting House leaders to her "heinous characterless behavior."
A spokesman for Wasserman Schultz, Jonathan Beeton, said in an email of his own: "I don't think that Congressman West is upset at the congresswoman, but rather with the fact that she highlighted that he and other Republicans are once again trying to balance the budget on the backs of seniors, children and the middle class. ... The truth hurts."
West's office did not back off the criticism after the email was widely distributed. A spokeswoman said Wasserman Schultz had taken "another cowardly cheap shot at Congressman West."
West told Fox News that Wasserman Schultz's comments were part of a "pattern" of "hate," and he felt that she "disrespected" him in her House floor speech.
"You don't need to call me out on your time to speak on the floor," West said. "Focus on what is your plan for the debt ceiling."
House Majority Whip Kevin McCarthy, R-Calif., whom West copied on his email, defended the tea party-backed freshman.
"Tensions are building here sure," McCarthy told Fox News. "Allen is going to defend himself. There's always a way to display that differently."
.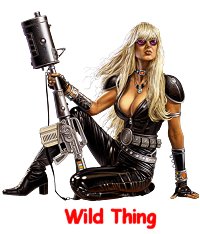 Wild Thing's comment......
Schultz IS vile and despicable - funny that it offends people when someone speaks the truth.
He took the fight to them and they are not used to it. When you are taking flack, it's because you are directly over the target.

This complaining about what he said is the height of double standard. Where were the dems when Grayson literally spewed his lies about Republicans and Conservatives???
Its time to start slapping them back, repeatedly.

Rep. Allen West was saying the things to the Rats, up front and personal, that we would love to say! He is the shining star amongst dull embers. Wasserman-Schultz has been harassing and smearing West for quite some time. He finally got fed up. She's not lady. She's a lying skunk. Remember this that SHE said: "Republicans Want To 'Literally Drag Us All The Way Back To Jim Crow Laws."

Allen West's office : 202-225-3026
His email site.....
https://forms.house.gov/west/webforms/contact-form.shtml
I told him that until Wasserman-Schultz can provide proof that she has done as much for this country as he has, she should just SHUT UP!
Posted by Wild Thing at July 21, 2011 04:50 AM
---
Comments
Anyone takes Lt. Col West out to the woodshed is libel to get their ass beat instead.
I would bet this hyphenated wench was involved with sending West's social security number out.
Posted by: BobF at July 21, 2011 07:29 AM
---
Strange, the LTC is Black, more Black than obama, has more slave blood than obama, his big mistake, though, he's a Republican. Suddenly this is racism, he attacked a Honkie...er White woman, after she attacked him. But the lefts hypicrisy doesn't count, it is the intent of West's threats, i.e., he was defending his family and self. If you are a Conservative, you have no Right to self-defense.
I would ask ,, Why wasn't Sheila Jackson Lee appointed to this post instead Shultz got it a White woman, I wonder if there is a lot of political machinations going on behind the scenes.
Posted by: Mark at July 21, 2011 08:01 AM
---
I cannot see the Democrats getting too much gain from all of this. It is ludicrous, when one looks at all of the very personal attacks leveled by the Dems. at the likes of Bush, Palin and others.
In Lt Col. West they have encountered a man, who is used to fighting for what he believes in, regardless of the cost. I wish more Republican Representatives and Senators, shared his fire.
The Congressional Black Caucus is really caught between a rock and a hard place here. It will be interesting to see how they handle this. If they choose to be consistent, they will back the Lt Col., if they choose not to, then they become more of a non-factor than they already are.
Posted by: Sean at July 21, 2011 11:23 AM
---
I believe West is a member of said Black Caucus too :D
Posted by: JoleneAL at July 21, 2011 12:36 PM
---
Wasserman Schultz is just an Anthony Weiner in Heels.
Posted by: Mr Observer at July 23, 2011 07:56 PM
---