« Brainwashed Alabama Legislator Sells Out To 'Anti-Constitutional Leftwing Union' by Dr. Alan Bates, MD. | Main | Howard Dean warns Democrats Sarah Palin could beat Obama in 2012 »
June 06, 2011
Worst President In US History Obama Blames 'Europe, earthquake and gas prices' For Economic Woe

DOW plunges into longest weekly losing streak since 2004 as Obama blames 'Europe, earthquake and gas prices' for economic woe
The Dow Jones industrial average and the Standard & Poor's 500 index are both headed for a fifth straight week of losses - the longest losing streak for the Dow since July 2004.

The slump follows jobs data published on Friday showing employers added only 54,000 new workers in May, the fewest in eight months and well below what analysts were expecting.

The news comes as President Barack Obama today blamed high gasoline prices, the Japanese earthquake and Europe's financial crisis for economic 'headwinds' at home.

As inspiration for a broader recovery, he's citing the American auto industry's resurgence.
'We're a people who don't give up, who do big things, who shape our own destiny,' the president said in his weekly radio and Internet address Saturday.
Like his words to Chrysler workers, Obama's address did not mention the bleak unemployment numbers announced Friday for the month of May. The Bureau of Labor Statistics said the economy last month created only a net 54,000 jobs and unemployment inched up to 9.1 percent.
'We're facing some tough headwinds,' Obama said.
'Lately, it's high gas prices, the earthquake in Japan and unease about the European fiscal situation. That will happen from time to time.'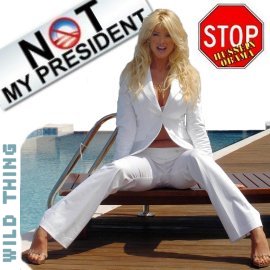 Wild Thing's comment.......
I guess he fogot to blame G.W. Bush again.LOL What a total ass obama is and what an embarassment to our country. He sure know how to make enemies and please oh please obama count me as ONE of many of those.
Posted by Wild Thing at June 6, 2011 12:47 AM
---
Comments
Actually it is kind of refreshing. Do you remembe how the USSR had sixty years of bad harvests? I wish he was in a completely differant country but the is something so retro about Obama.
Posted by: Avitar at June 6, 2011 11:24 PM
---
Avitar, love how you put that.
Posted by: Wild Thing at June 7, 2011 01:30 AM
---