« Obama's Incompetent Janet Napolitano: Concentrating Terrorists Screening Efforts on Muslim Men Under 35 is Not Good Logic | Main | Sarah Palin Documentary, The Undefeated, Coming Exclusively to AMC Theatres® on July 15th »
June 10, 2011
The Obama's Are Kiss Of Death On Business As Restaurant and Clothes Designers Effected By Obama's Not So Golden Touch!

Ohio restaurant referenced by Obama is closing
Days after being mentioned by President Obama when he visited Toledo, New Chet's Restaurant on East Manhattan Boulevard will close Sunday. The owner said he blames the economy and the smoking ban.
It figures. A week after Obama mentioned an Ohio restautant in one of his "success stories", it goes out of business.
An Ohio restaurant mentioned last week by President Barack Obama as an indirect beneficiary of the government's Chrysler bailout will go out of business Sunday after a more than 70-year history.
Co-owner Richard Lawrence of New Chet's Restaurant in Toledo says business has fallen victim to the economy and the workplace smoking ban approved by Ohio voters in 2006. He told The Blade newspaper of Toledo on Wednesday that auto industry cutbacks also hurt.
Lawrence says he used to deliver up to $300 in food per week to Chrysler Group LLC's Jeep plant in Toledo, but now that's down to about $100 worth.
.
Obama Flaunted Saving "Chet's," Days Before it Goes Out of Business
Obama visited the plant on Friday and told workers that without them, who would eat at Chet's or patronize other local businesses?
.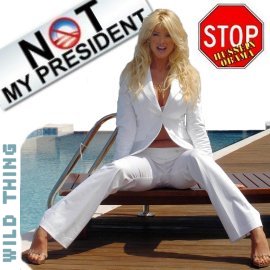 Wild Thing's comment.......
Obama did the same thing to Las Vegas. Remember how he attacked companies that had plans to do their usual conferences in Vegas and obama bawled them out. That really hurt Vegas big time. Those companies should have told obama screw you!
So what he said about Chets to the factory workers was a total put down to Chets. It was not necessary to say such a thing. What a total POS!
He's a destroyer of everything productive and good, sort of like a Locust of One.
The Obamas are the kiss of death. 2-3 of the designers used by Michelle have had to close shop and file bankruptcy.

Mario Pinto - "Designer Maria Pinto stunned the fashion world last spring when, after almost 20 years in business, she made the heartbreaking decision to shut down her West Loop boutique and cease wholesale operations."She just recently signed on with Mark Shale who hired Pinto as their new Creative Director for Women, injecting a much-needed sexiness to the 80-year old, Chicago-based clothier.

Kai Milla -
In more Michelle Obama designer news, Kai Milla, who clothed the First Lady in February 2009 has reportedly gone out of business, according to Page Six. Milla, the wife of Stevie Wonder, rose to fame after the First Lady wore a green silk frock made by her when Wonder received the Gershwin Prize last year.
But a source told Page Six that Milla's time has come -- or possibly came months ago, explaining, "The company has left many creditors coming after her to be paid for time, service, and materials. Modeling agencies, production crews, design assistants, pattern makers, office and store landlords have all been trying to contact her office in Los Angeles and New York for months for payment."
There may be a Michelle Obama Effect....another Michelle Obama designer, Maria Pinto, shuttered her business in February.

Hartmarx Corp. who made Obama's suits filed bankruptcy.-
Chicago-based Hartmarx - which custom-made the suit President Barack Obama wore on Election Night and the suit and tuxedo he wore on Inauguration Day - filed for Chapter 11 bankruptcy protection in January after creditors cut its U.S. credit lines. Primary lender, Wells Fargo, has said the company was unable to repay $114 million in loans.
Hartmarx employs more than 3,000 workers, including about 1,000 at its plants in Des Plaines and Rock Island, and makes clothes under several labels.
Phone messages left Wednesday with Emerisque and Hartmarx were not immediately returned. Wells Fargo spokeswoman Susan Stanley said the company would not comment.
Illinois lawmakers on Wednesday stepped up pressure on Wells Fargo, which received about $25 billion in federal bailout money, to make a deal to sell Hartmax. And workers renewed their vow to take over the factory if banks try to close it, much like a worker sit-in at a Chicago window factory last winter.
Posted by Wild Thing at June 10, 2011 02:55 AM
---
Comments
The Baracksheviks reap what they $OW... Our FAITH and TRUST ... IN GOD WE TRUST will bring down Dr. Zhicago and his socialists in 215 days...
Book it with the Good Book!!!
Posted by: darthcrUSAderworldtour07 at June 10, 2011 08:53 AM
---
Wild Thing, contributors, readers and friends of Theodore's World, we Americans vote in a General Election in a little over 500 days, and I think I've been able to figure it now.
What I write here, nobody is writing or talking about, but they soon will.
I do think we have a conservative white knight who, if he now seeks the Republican nomination, can win and will win simply because he must win.
I believe the November 2012 General Election will prove to be the most important, decisive election in the history of our country since 1860 and Abraham Lincoln, the first Republican.
Anyhow, allow me to introduce you,
born in 1950, he was:
-an Eagle Boy Scout growing up and coming of age in the 1960's
-a door to door book salesman before graduating from college
-a C-130 pilot and Air Force Captain in the 1970's
-a cotton farmer and elected a Democrat state representative in the 1980's
-a twice elected Republican State Agriculture Commissioner in the 1990's
-and for the last ten years, the Governor of his state, three times elected.
Pro-life, and opposing legal recognition of same sex marriages, he is a social conservative.
With a low tolerance for crime and a law and order proponent of the death penalty, there have been more than 200 executions during his tenure as Governor.
A fiscal conservative for the most part, he has signed and delivered balanced budgets as the law requires in a state with no income tax with remarkably no increases in the state sales taxes, while still protecting his state's rainy day fund.
He has written two books:

"On My Honor: Why the American Values of the Boy Scouts are Worth Fighting For" where he defends and celebrates the positive impact of the organization on America's youth and criticizes the ACLU for its legal actions against the Boy Scouts of America.
In his second book, "Fed Up! Our Fight to Save America from Washington", he writes of the founding fathers' intent for limited federal government.
Now that his state's legislative session this year is coming to an end, I think we may very well soon have an announcement from Austin of a successful white knight entry into the 2012 race for the White House of one,
James Richard "Rick" Perry, the three term Governor of the State of Texas.
It is not easy to unseat a sitting President, but it can be done.
It will be done, simply because it must be done.
During what will certainly be a contentious, heated campaign with sadly many false claims of racism, other crap and diversions, the economy will still be the predominant and defining issue.
In the midst of a serious economic downturn throughout the country and the world, the Lone Star State has great comparative economic strength and continued success being the state with the largest job creation with a growing economy, lower unemployment despite the severe recession, and with low state taxes, restrained public spending and balanced budgets.
The eyes of Texas and the world will see this stark economic policy contrast of the current White House with higher taxes, higher deficit spending, and continued higher unemployment making for a fork in the road so very clear and well delineated for American voters that will forebode well throughout the campaign to come.
So as this remains the predominant issue, victory is assured for a better America with conservative leadership in the White House, President Rick Perry, Vice President Marco Rubio and with more than a pretty face, registered nurse and first lady Anita Perry (God help them):
Posted by: Carlos at June 10, 2011 09:29 AM
---
(Sorry, mistakenly posted here.)
Posted by: Carlos at June 10, 2011 09:31 AM
---
Sounds good. First they got to get the nomination and the RNC behind them. They did not support Rubio during the last election. Also, the RNC is notorious for supporting RINO's, that goes all the way back to Reagan, Bush 41 Was their Boy but Reagan trumped him. Then last election the RNC said the era of Reagan was gone, meaning they are going to support a watered down version of a democrat.
I also like Palin/West, I have soured on Bachmann because of Ed Rollins. Now we are shooting at each other and there is a biger target than all out there and they are missing the boat. The republicans had better get their shit together or the Kenyan mis-tit will completely change us to an Oligarchy.
Posted by: Mark at June 10, 2011 12:39 PM
---
Darth, Ditto that! Thank you Darth!
Posted by: Wild Thing at June 11, 2011 03:02 AM
---
Carlos, thank you so much for all you wrote. I did not know all of that about Gov. Perry.
Posted by: Wild Thing at June 11, 2011 03:07 AM
---
Mark, I agree with all you said. I feel the same.
Posted by: Wild Thing at June 11, 2011 03:08 AM
---
Herman Cain is also very good.
There are only three things that have to be considered to make a good Republican Nominee.
First, he is going to need about 200 appointees on becoming Presisdent. A big staffing job is a plus, or does he appoint Rinos often. Second. does he walk the walk as a conservative. The guy behind the curtian can be talking the talk and we won't know until it is too late. Third, is a disqulification; does he want to be liked. If you want a friend in Washington get a dog, expect the media to hate you and expect to be the most hated man in town or you are not doing your job for the American People.
Posted by: Avitar at June 12, 2011 12:57 PM
---