« The Obama's Are Kiss Of Death On Business As Restaurant and Clothes Designers Effected By Obama's Not So Golden Touch! | Main | Rush: Search & Destroy Mission Against Palin; No Curiosity Who Obama Really Is »
June 11, 2011
Sarah Palin Documentary, The Undefeated, Coming Exclusively to AMC Theatres® on July 15th

.
"The Undefeated", which chronicles Sarah Palin's rise from obscurity to national prominence, will play exclusively in AMC Theatres starting on July 15th. You can vote for the movie to play in your town at The Undefeated website.

Victory Film Group today announced The Undefeated, which chronicles Sarah Palin's rise from obscurity to national prominence, will play exclusively at select AMC Theatres (AMC), a leading theatrical exhibition and entertainment company, starting on July 15th.
The film will launch in markets such as Dallas, Denver, Oklahoma City, Orlando, Atlanta, Orange County, Phoenix, Houston, Indianapolis, and Kansas City. Cinedigm Digital Cinema Corp. (NASDAQ: CIDM), a full-service theatrical distributor specializing in digital cinema, is managing the theatrical release and ARC Entertainment has taken on worldwide distribution responsibilities for the project.
"After screening The Undefeated, we took the unusual step of immediately exploring an expedited theatrical release, something we normally wouldn't do during the busy summer months," said Trevor Drinkwater, CEO, ARC Entertainment.
"AMC is committed to providing distinct content to diverse audiences across the United States," said Nikkole Denson-Randolph, VP, Specialty & Alternative Content at AMC Theatres. "We are proud to consistently offer a wide variety of product to our guests."
"The Undefeated is the ideal candidate for digital theatrical distribution," stated Jonathan Dern, President of Cinedigm Entertainment Group. "Given Palin's ardent following throughout the country, digital cinema allows us to be extremely precise and efficient in our distribution strategy, bringing this much-anticipated film directly to interested theatre-goers."

In addition to the cities in which the movie is expected to launch, the public also will be encouraged to vote on future theatre locations that may screen The Undefeated. Voting takes place at www.cinedigm.com/theUndefeatedMovie
.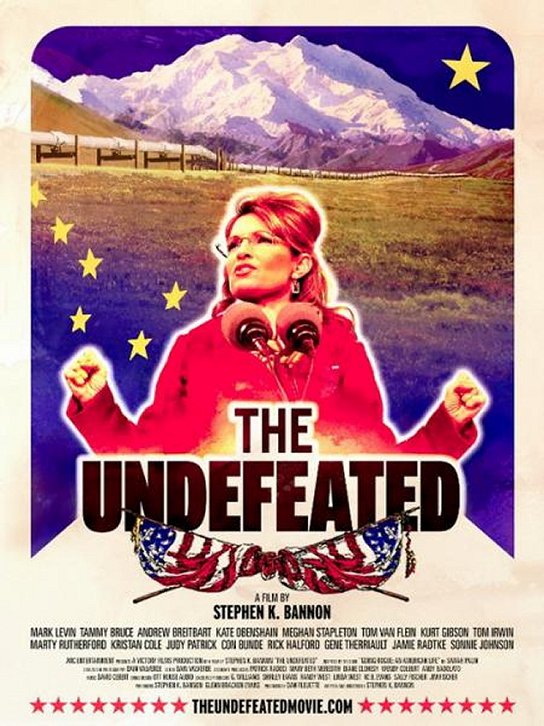 Bannon was approached by Palin's close aide, Rebecca Mansour, with a request to make a few you tube videos explaining a number of Palin's historical accomplishments while Governor of Alaska.
But so taken was Bannon with Palin's record and leadership, he made a feature-length movie, financing it himself while keeping complete editorial control. Palin was not even interviewed for the film (he used audio from her book "Going Rogue" for continuity.)
Bannon's background is interesting. He is a former naval officer and ex-Goldman Sachs banker now filmmaker who was enormously impressed with an American patriot with frontier values from the last great American frontier.
Palin's background is blue collar. Her father was a schoolteacher who never made more than $23,000 a year. Her mom was a homemaker. Her husband is working class and she belongs to no political dynasty or any insiders clique either in the beltway or Alaska. She is us. She is the quintessential maverick, an outsider, but despite this, she beat old boy powerhouse Republican Frank Murkowski in the primary before crushing the competition in the general election to become Alaska's youngest -- and first female -- chief executive on sheer goodness and will.
And even those of us who thought we knew what champion Palin was, knew little of her monumental achievements.
The film is divided into three parts. First, how she came from nothing to battle the corrupt powers fighting against her (and the best interest of Alaskans) and achieved unprecedented success in a very short period of time despite the odds. The second part of the film shows the true leadership, natural charisma and intelligence that makes Sarah Palin uniquely qualified to inherit the Reagan mantle. She is the only conservative leader who can lead a Reaganesque Revolution and bring the American people (the tea party movement) back into power and into the Oval office. Steve Bannon has been quoted as saying, "This film is a call to action for a campaign like 1976: Reagan vs. the establishment."

.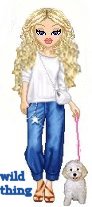 Wild Thing's comment......
This is great! There is a brilliance to Sarah Palin.
Posted by Wild Thing at June 11, 2011 05:47 AM
---
Comments
We the People to the Elitist pissant mob of congress critters in DC/DNC: The Elections are Coming! The Elections are Coming!
Posted by: Olga Centura at June 11, 2011 04:03 PM
---
If we can thank obama for anything at all. It will be for the ressurection of Ronald Reagan. For years now the RNC has been telling us Renoldus Magnus was history. Sarah Palin is here to say Not true.
Posted by: Mark at June 11, 2011 07:16 PM
---
Olga, yes the elections are coming.
Posted by: Wild Thing at June 12, 2011 03:30 AM
---
Mark, that made me smile....yes Sarah is here to say Not True.
Posted by: Wild Thing at June 12, 2011 03:32 AM
---