« Happy July 4th? by Colonel Bob Pappas, USMC, Retired | Main | Obama's Department of Veterans Affairs At Fault! VA in Houston Bans Word's Lilke "God", "God Bless You", At Funerals! »
June 30, 2011
Obama's Gay, Lesbian, bisexual, Transgender (LGBT) Pride Month Celebration In East Room of Our WH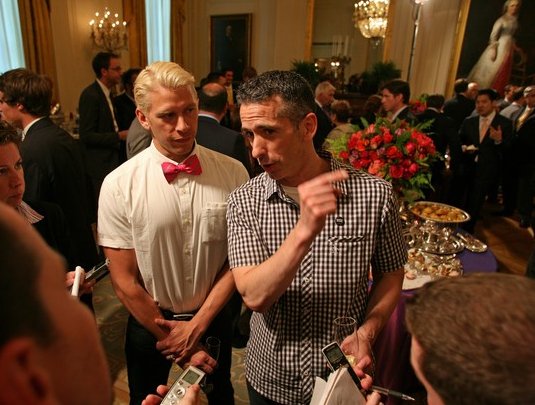 Dan Savage (R), writer of the column, Savage Love, is joined by his husband, Terry Miller, as they chat with reporters in the White House East Room on June 29, 2011 in Washington, D.C. Obama hosted a reception honoring Lesbian, Gay, Bi-Sexual, and Transgendered Pride Month.

.

Last night Obama spoke to LGBT grassroots and community leaders, youth champions and advocates from around the country at a White House event to observe LGBT Pride Month. Gay, Lesbian, bisexual, Transgender and allies that have been working in their neighborhoods, towns and states to bring about equality.
Forty years ago, patrons and supporters of the Stonewall Inn in New York City resisted police harassment that had become all too common for members of the lesbian, gay, bisexual, and transgender (LGBT) community. Out of this resistance, the LGBT rights movement in America was born. During LGBT Pride Month, we commemorate the events of June 1969 and commit to achieving equal justice under law for LGBT Americans.
LGBT Americans have made, and continue to make, great and lasting contributions that continue to strengthen the fabric of American society.
Rest of his speech at WH link above.

.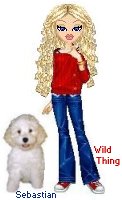 Wild Thing's comment.......
Well this is one subject with which he is sufficiently familiar.
Posted by Wild Thing at June 30, 2011 05:50 AM
---
Comments
Seems to me, that if one pervert begets another pervert they collectively beget nothing. So why are we even giving this group of perverts the time of day.
Posted by: Mark at June 30, 2011 07:38 AM
---
"If God doesn't soon bring judgment upon America, He'll have to go back and apologize to Sodom and Gomorrah!"
Ruth Graham; wife of Billy Graham
Posted by: BobF at June 30, 2011 10:44 AM
---
As Obama says,Chap stick, KY Jelly and knee pads
don't leave home with out em..
Posted by: Gator at June 30, 2011 04:41 PM
---
Posted by: Wild Thing at July 1, 2011 02:41 AM
---
Bob, another great quote by Ruth. What a fantastic couple she and Billy Graham are. Thank you.
Posted by: Wild Thing at July 1, 2011 02:43 AM
---
I think that next year we should advertizn national pervert month and hold some Prevs for Obama rallies just for the footabae of what Obama support looks like.
Posted by: Avitar at July 2, 2011 04:05 AM
---