« President G.W. Bush Nearly Hit In Head By Foul Ball At Baseball Game | Main | Senate Dems Might Join Rebuff Of Obama On Israeli Border Issue »
May 26, 2011
US State Department Advisory: Get the Hell Out of Yemen, Now!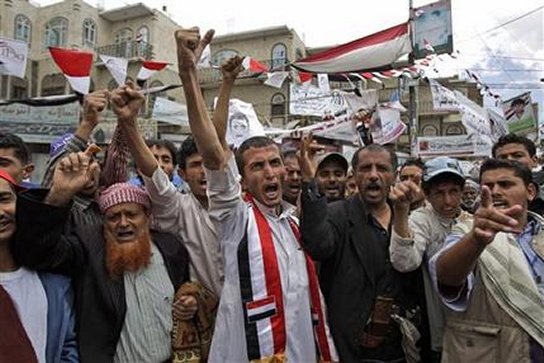 Anti-government protestors, shout slogans during a demonstration demanding the resignation of Yemeni President Ali Abdullah Saleh, in Sanaa, Yemen, Wednesday, May 25, 2011. Yemen's embattled President Ali Abdullah Saleh issued messages of hard-line defiance Wednesday even as intense battles raged in the heart of the capital for a third day, saying he will not step down or allow the country to become a "failed state." (AP Photo/Hani Mohammed)
US State Department Advisory: Get the Hell Out of Yemen, Now!
The State Department has just put this advisory out on twitter:
We urge U.S. citizens not to travel to Yemen & U.S. citizens currently in Yemen depart while commercial transport is available.
Yemen is bordered by Saudi Arabia to the north, the Red Sea to the west, and Oman to the east.
Yemen is an economic mess. It is the poorest country in the Arab world and has an official unemployment rate of 65%. The government survives off of oil reserves that are expected to be depleted by 2017.
Who is behind the current unrest? It is not completely clear, although it should be noted that control over Yemen's Aden port - the "gate to Asia" - brings huge benefits. Currently those benefits go to the US. And it is interesting that Yemen is next door to Saudi Arabia. The Saudi monarchy certainly doesn't want any changes in the Yemen regime. Saudi Arabia has been supplying troops to help quell the Yemen uprising.
If President Ali Abdullah Saleh resigns and a favorite of the US fills the power vacuum, then if I am Saudi Arabia, I get a bit nervous. Saleh has always played a cagey game and was a close ally of Saddam Hussein. A total US puppet on the border of Saudi Arabia or an anti-US regime on the border is not a positive for the Saudis. Both cause problems for Saudi Arabia, differing problems, but problems for sure.


US orders nonessential diplomats to leave Yemen

WASHINGTON
The State Department on Wednesday ordered nonessential U.S. diplomats to depart Yemen and urged all Americans there to leave as security conditions deteriorated with the country's embattled leader refusing to step down.
The decision to tell most nonessential personnel and the families of all American staff at the U.S. Embassy in Sanaa to leave was a sign of Washington's increasing concern about the situation in Yemen, where street battles between supporters and opponents of Yemeni President Ali Abdullah Saleh raged for a third day. The clashes have left at least 41 dead and dozens badly injured.
"The security threat level in Yemen is extremely high due to terrorist activities and civil unrest," the State Department said in its advisory. "There is ongoing civil unrest throughout the country and large-scale protests in major cities."

.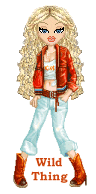 Wild Thing's comment........
Peacefull Muslims??? Nah no such thing!
Posted by Wild Thing at May 26, 2011 04:45 AM
---
Comments
I guess a few infidel... dentists could make a fortune in Semen, make that Yemen? These are the faces that took out the USS Cole in October 2000 under Slick Willie's watch... FREEDOM IS NOT FREE! Oh what a B-52 strike force could do there... "Splash, one more sandbox for the arabs to play in!"
Posted by: darthcrUSAderworldtour07 at May 26, 2011 02:34 PM
---