« Netanyahu Rejects Obama Call for Palestinian State Based on 1967 Borders Calls It 'Indefensible' | Main | UNIONS Threaten Obama: Do More For Us Or We'll Pull Funding »
May 20, 2011
"Obama is the new Arafat!",'Obama adopting Arafat's staged plan for Israel's end' Says Knesset Members ~ They Are Correct!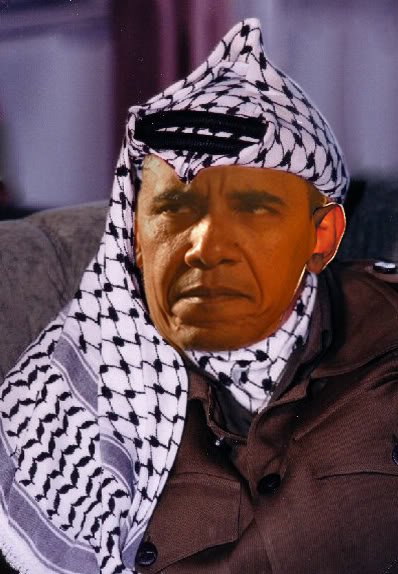 'Obama adopting Arafat's staged plan for Israel's end'

Knesset members on the Right expressed outrage on Thursday night at US President Barack Obama's call for the creation of a Palestinian state based on the 1967 lines with mutually agreed swaps in an exchange of territory for security.

They called upon Prime Minister Binyamin Netanyahu to reject Obama's plan when he meets with him on Friday in Washington.

"Barack Hussein Obama adopted the staged plan for Israel's destruction of Yasser Arafat, and he is trying to force it on our prime minister," said Likud MK Danny Danon. "All that was new in the speech was that he called for Israel to return to 1967 borders without solving the crisis. Netanyahu has only one option: To tell Obama forget about it."

National Union MK Michael Ben-Ari also slammed Obama's speech, calling it "a landmine with pretty wrapping."

Environment Minister Gilad Erdan, who as a minister close to Netanyahu must be more diplomatic, complained on Channel 2 that according to Obama's approach, the Palestinians would receive their demands on borders before negotiations begin.
"Once they have everything from the start, they have no reason to make any concessions,"Erdan said.
But opposition leader Tzipi Livni said Obama's plan was clearly in Israel's interests, while the diplomatic stalemate that she believes was brought on by Netanyahu is not.
.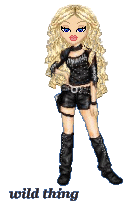 Wild Thing's comment.......

First of all I have to say that opposition leader Tzipi Livni , she is a POS. BiBi is a good man and he loves Israel and thank God he won and that Livni did NOT. "clearly in Israel's interest" ? Wow! This sure shows what a disaster Livni was for Israel. Pathetic. Tzipi Livni is a surrender monkey of the first order. Horrible woman. I remember her from the days before Netanyahu got back into office.

Interesting that obama chose to make this announcement only a few days after the anniversary of Israel, (May 15). Instead of a word of support, he gives this.
In obama's speech, he told Israel to move back to the 1967 borders he effectively gave to the Hamas-Fatah terror alliance.
half of Jerusalem,

the Wailing Wall,.....or simply The Kotel, is a retaining wall in Jerusalem that dates from the time of the Jewish Second Temple (516 BCE – 70 CE). It is sometimes referred to as the Wailing Wall (Arabic: il-Mabka), referring to Jews mourning the destruction of the Temple. The Western Wall is part of the bigger religious site in the Old City of Jerusalem called Har ha-Bayit (the Temple Mount) to Jews and Christians, or Al-Haram al-Qudsi al-Sharif (the Noble Sanctuary) to Muslims. The Western Wall is revered for its proximity to the sacred Holy of Holies on the Temple Mount, which is the Most Holy Place in Judaism. This makes the Western Wall the holiest location in Judaism that is currently generally accessible to the Jewish people for prayer.

The Temple Mount,

Old Jerusalem,

The holiest Christian Church in the world, The Church of the Holy Sepulchre .......The Church of the Holy Sepulcher (Church of the Holy Sepulchre) commemorates the hill of crucifixion and the tomb of Christ's burial. Greek Orthodox, Catholic, Armenian, Syrian, Coptic, and Ethiopian Churches celebrate this holy place as the site of the death and the Resurrection of Jesus Christ.
Posted by Wild Thing at May 20, 2011 02:55 AM
---
Comments
Well, maybe these F'ngelicals are right, The rapture is coming. And we are living in the end times. We already have the anti-Christ in the white house. I wonder if anyone in Israel has checked out the Hebrew codes, in the Bible. They have been pretty accurate, after the fact of course. But who knows. Obama is evil no question about it.
Posted by: Mark at May 20, 2011 07:18 AM
---
The following was written by a good friend of mine.

The Palestinian hatred of the Jews is not blind, ideological, or religious; it's because the Jews are productive. As Jewish settlers moved into the area during the 1920's from Europe and elsewhere, they immediately made the land work for them, cultivating the soil using age-old irrigation techniques, transforming desert into productive olive and fig groves; while the shiftless Palestinians sat by and watched, knowing that all along they could have done the same thing, but for some reason didn't - or couldn't. Now many will say that is because the Palestinians never had the financial backing to do so, unlike the Jews who received financing from Zionists in the US and elsewhere. While that is true to some extent, most Jews came to Palestine with nothing and received little, if any, help from outside Zionist sources. One can go into any "poor" neighborhood in any city in any nation and see that not all the poor people living there live in squalor. Many take pride in what they have and keep a clean house and tidy garden, their children clean and well-mannered. And let's not forget about rich nations like Saudi Arabia who could just have easily aided their Palestinian cousins but didn't; the same wealthy House of Saud that funds global terror and has spawned many of today's terrorists. Surely they cannot claim that they were economically deprived or disenfranchised in any way. So, contrary to the prevailing Marxist "wisdom" of the modern liberal that socio-economic conditions dictate behavior and is the main driver of terrorist and other criminal activity, money has little to do with the two contrasting views of life. It has to do with the values of two different cultures - one that is industrious and productive, having contributed greatly to the advancement of every society in which it has assimilated; that has pride enough in whatever it has to turn lemons into lemonade - the other self-pitying, bitter, and resentful, having contributed nothing to even their own society for over a thousand years since it became the product of a death cult known as Islam.
Yes, the Palestinian is bitter and resentful and understandably so. It must be hard to look at a fellow Semite - the Jew, the Israeli cut from the same ethnic cloth being so productive and positive about life - and then looking in the mirror and seeing a miserable failure.

Posted by: BobF at May 20, 2011 09:27 AM
---
JERUSALEM is the most important city in Israel...
Israel means "He struggles with God."...
JERUSALEM is the CAPITAL place and site where the TEMPLE of GOD was built and NOT the Temple of Allah!
JERUSALEM is also called the City of David which is the City of God - period.
JERUSALEM is NOT the City of Obamanation...
Posted by: darthcrUSAderworldtour07 at May 20, 2011 10:04 AM
---
I don't want to be disrespectful, but I wish somebody would kick Obama really hard in the testicles. Only THEN Obama would know what it feels to be betrayed! And, it would maybe make him become MORE like a man, and less like a weasel, since it would remind him that he has a pair. Or maybe not...
Posted by: eddy at May 20, 2011 02:13 PM
---
PS: Notice how the W and ObaMAO administrations have given away US border sovereignty and security to invading Mexicans and other ILLEGALS, and now Baraghead Hussein ObaMAO is trying to... reduce the nation of Israel's borders and NATIONalism just like his Baracksheviks are trying to destroy American NATIONalism?
Posted by: darthcrUSAderworldtour07 at May 20, 2011 02:48 PM
---
I hope by now everybody has heard that Netanyahu has taken out the garbage at the white house. Too bad Jarret and Soros are still there. Excellant speech/Statement by the Prime Minister of Israel. I knew if pushed he would recoil like a cobra. At this point I'd settle for a Bamboo Viper.
Posted by: Mark at May 20, 2011 09:00 PM
---
"...in an exchange of territory for security."
Been done before. The only result was that Pali rockets started falling on a different part of Israel.
Go, Bibi! Tell Obama where to stick it!
Posted by: Rick at May 20, 2011 11:23 PM
---
Thank you everyone sooooo much!!!

It was so great today how Bibi really put obama in his place.
Posted by: Wild Thing at May 21, 2011 02:23 AM
---