« Obama's CIA Admits There Was "No Live Video Feed" During Osama Raid | Main | South Carolina GOP Focus Group Agree: Obama Is a Socialist »
May 05, 2011
Muslim in Chief Obama (U K L Lee) Says NO Photo Of Dead Osama bin Laden To Be Shown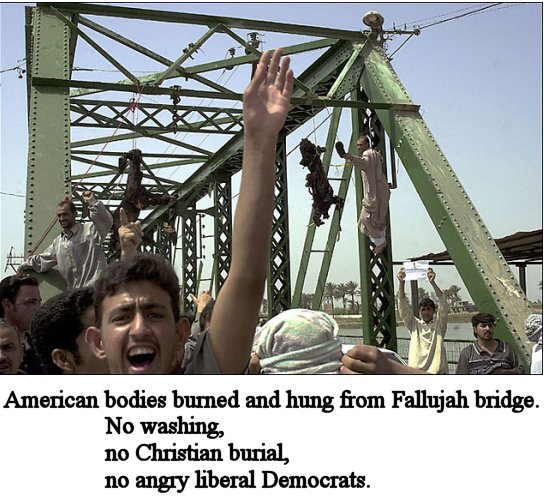 .

On March 31, 2004, four men working for Blackwater USA as security guards — Scott Helvenston, Wesley Batalona, Jerry Zovko and Michael Teague — were ambushed by insurgents in Fallujah. They were killed, their bodies burned and mutilated, and two were strung up on a bridge over the Euphrates. The insurgents made their own video of the attack, broadcasting the images around the world.
The Obama administration prosecuted the SEALs who captured and slapped the mastermind behind the Fallujah killings.

.
And this............
The body of a dead US soldier being dragged through the streets of Mogadishu by Islamists

And there was this:
Private Kristian Menchaca (left) of Houston and Private Thomas Tucker of Oregon were captured by terrorists in Iraq, hacked to death, their eyes gouged, their bodies defiled. The bodies of the two soldiers were apparently dragged behind utility vehicles before being mutilated. It took the search team 12 hours to reach Pfc. Kristian Menchaca of Houston and Pfc. Thomas L. Tucker of Madras, Ore., because soldiers had to make their way through numerous explosive devices set along the road and around the bodies themselves.
.
Obama has decided not to release photographs of Osama bin Laden's body
This quote is from an upcoming 60 Minutes' Steve Kroft in his interview today during which he explained his rationale for not releasing photos of bin Laden's body.
"It is important for us to make sure that very graphic photos of somebody who was shot in the head are not floating around as an incitement to additional violence or as a propaganda tool. That's not who we are. We don't trot out this stuff as trophies. The fact of the matter is this was somebody who was deserving of the justice that he received and I think Americans and people around the world are glad he is gone, but we don't need to spike the football. And I think that given the graphic natures of these photos, it would create some national security risk and I've discussed this with Bob Gates and Hillary Clinton and my intelligence teams and they all agree."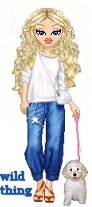 Wild Thing's comment......
OH really Muslim obama? Well, I'm offended that we had a Muslim religious ceremony on a USA ship and our boys were forced to perticipate.
Obama doesn't need to release the photos because he will be dragging Osama's dead corpse to every campaign stop next year....obama is determined to overplay his hand on this one and it's already turning off the American people...BIG TIME!!

All I can say is we have the most AWESOME troops!!!!!!!!!!!!!!!!!!
Posted by Wild Thing at May 5, 2011 04:55 AM
---
Comments
I was listening to Oliver North last night and he agreed with not releasing the photos but not for reasons of upsetting Muslims. His reasoning was that a World Court might use them against the SEAL's in an indictment. After listening to Ollie, it made sense not to release them.
Posted by: BobF at May 5, 2011 10:23 AM
---
The pictures are not being released because obama is a strict adherent of PC. The so called 45 minute "muzzie eulogy" and quick "burial" were because obama is a muzzie. It all makes sense if you think of obama as a PC, liberal progressive, self serving, wimpy mooselimb.
Bob, that is a reason why spec/ops units and individuals should not be publicised.
Posted by: TomR, armed in Texas at May 5, 2011 03:39 PM
---
I retract that last statement. Unit recognition is OK. I am just a bit jealous that it was Navy SEALS and not Army Special Forces that got the mission. No personal names should be made public though.
Posted by: TomR, armed in Texas at May 5, 2011 03:43 PM
---
They are not releasing the photo for fear of Islamic reprisals. Another Koran Burning only this time the WH was involved in the burning. I am really surprised this was carried out at all.
Posted by: Mark at May 5, 2011 04:35 PM
---
He didn't mind releasing pictures of the coffins of our sons and daughters coming home to Dover. I really hate him.
Posted by: Fred Tate at May 5, 2011 07:41 PM
---
Posted by: Anon at May 5, 2011 09:10 PM
---
Thank you everyone so much.
Bob thank you for sharing about what Oliver North said.
Anon, thank you, the first video is gone, but the second one was still there and very special, thank you.
Posted by: Wild Thing at May 5, 2011 11:59 PM
---
I'm gonna have video of o'quambas trial for treason and his short walk to the guillotine for the final chapter in his corrupt life. I'll sell it to al jizzera for $3.28.
Posted by: Eddie (Enemy of the State) at May 6, 2011 09:41 AM
---