« California Balks at Public Display of American Flag Says It's an impermissible "public expression." | Main | Gov. Rick Perry Declines Obama's Invite ~ Thank God For Gov. Perry's Response!! »
May 10, 2011
Barack and Michelle Obama to Host A Poetry Evening And Invited Rapper to WH Who Talks of Killing Cops
Obama to Honor a COP KILLER! Obama "will celebrate American poetry and prose with a gathering of poets, musicians and artists at the White House next Wednesday night." One of the poets who will attend is Lonnie Rashid Lynn, Jr. who goes by the name "Common."
Common's lyrics include threats to shoot police and at least one passage calling for the 'burn[ing]' of then-President George W. Bush

First Lady Michelle Obama has scheduled a poetry evening for Wednesday, and she's invited several poets, including a successful Chicago poet and rapper, Lonnie Rashid Lynn, Jr., AKA "Common." However, Lynn is quite controversial, in part because his poetry includes threats to shoot police and at least one passage calling for the "burn[ing]" of then-President George W. Bush.

Obama "will celebrate American poetry and prose with a gathering of poets, musicians and artists at the White House next Wednesday night." One of the poets who will attend is Lonnie Rashid Lynn, Jr. who goes by the name "Common."
It is likely Obama met Common at the Rev. Jeremiah Wright's Trinity United Church of Christ were both men were members. Several of Wright's sermons caused a firestorm of controversy during the 2008 presidential campaign due to their caustic, racially charged, anti-American tones. One sermon in particular caused Obama a severe headache – the one in which he blamed America for Osama bin Laden's terrorist attacks. "America's chickens are coming home to roost," he said.
Obama at first tried to defend Wright. But when that strategy became untenable, he disavowed him. Not so Common. In fact, Common defended his minister.
"What I picked up from the pews…was messages of love," Common said at the time. "Anything that was going on against that love he would acknowledge and expose. He's been a preacher that's helped raise one of the greatest political figures in the world, and hopefully, the next President. He's also raised one of the greatest rappers in the world [meaning Common himself]."
In fact, Common rapped at the 2008 New Year celebration at Wright's church. "I'm gonna let you know / No people want drama / We gonna vote for my man / What's his name? Obama … Revolution is here," he sang, and the Rev. Wright danced in the background.

Some of Common's poetry could also raise some eyebrows among those who might find cop-killing and racially-tinged or misogynist language beneath the Office of the Presidency.
"Tell the law my Uzi weighs a ton … I hold up a peace sign but I carry a gun," raps Common in one appearance that was posted onto YouTube.

"Flyer say Free Mumia on my freezer," he raps in another. Mumia Abu-Jamal is an incarcerated former member of the Black Panther Party who was convicted in 1981 for killing a Philadelphia police officer. Agitating for his release from prison has become a cause for many leftwing activists.
Common named his daughter after Assata Shakur, a Black Panther who was convicted of first-degree murder 1977. She escaped from prison and exiled to Cuba. The FBI recognizes her as a domestic terrorist.
.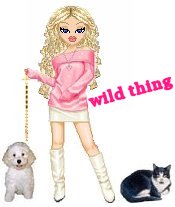 Wild Thing's comment........
Michelle and Barack have infested our WH with their communist agenda.
Wake up obama kool-aid drinkers!!!
Posted by Wild Thing at May 10, 2011 05:55 AM
---
Comments
This administration is nothing more than bottom feeding ghetto scum.
Posted by: Eddie (Enemy of the State) at May 10, 2011 08:32 AM
---
Great example for the country and the kids you want to keep out of Jail. Is there any wonder why the percentage of prisoners per capita, is so much more Black than white. Gee, could this have anything to do with it.
And whose guns do they want to take away? Can't imagine why, gonna level the playin field...
Posted by: Mark at May 10, 2011 08:52 AM
---
Seems like the Obama's will be right at home with him.
Posted by: BobF at May 10, 2011 09:01 AM
---
Great input thank you.
I agree this sets a terrible example to kids.
Ditto that Eddie, ghetto scum.
Posted by: Wild Thing at May 11, 2011 03:03 AM
---