« UNIONS Threaten Obama: Do More For Us Or We'll Pull Funding | Main | Three Chrees and Total Respect For Awesome Benjamin Netanyahu as He Says NO Way to the New Arafat anti-Semitic Obama Put To Shame As He Should Be »
May 21, 2011
AARP That Pushed ObamaDEATHcare and NOT For Seniors, AARP Is Only For Themselves Gets An Obamacare Waiver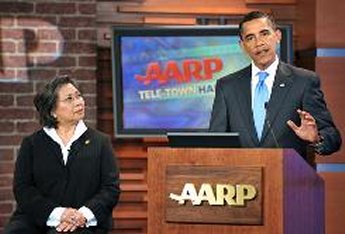 The Daily Caller has learned that the Department of Health and Human Services (HHS) rate review rules, which it finalized on Thursday, exempt "Medigap" policy providers, like the American Association of Retired Persons (AARP), from oversight when such providers increase payment rates for their supplemental insurance plans.
Insurance providers who aren't exempt from Obamacare's rate review rules are required to publicly release and explain some health care payment rate increases.
The AARP is the nation's biggest seller of Medigap policies, or supplemental healthcare plans that add onto what Medicare won't cover for seniors. The senior citizens interest group advocated for Obamacare to include an attack on Medigap policies' biggest competitor, Medicare Advantage.
Though the White House and HHS dismiss allegations of political favoritism when it comes to who's getting exceptions from the new health care regulations – such as in the recent uproar over the disproportionate number of Obamacare waivers that went to companies in House Minority Leader Nancy Pelosi's district — Obamacare critics say the mere appearance of the administration helping friends is disturbing.
The appearance of favoritism exists with the new AARP exemptions, too. Senate Majority Leader Harry Reid and Sens. John Kerry, Massachusetts Democrat, and Max Baucus, Montana Democrat, wrote to HHS Secretary Kathleen Sebelius last October asking her not to do what HHS just finalized today – that is exempt Medigap policies from the HHS rate increase oversight.
"While Medicare Advantage premiums are declining, we are hearing disturbing stories from beneficiaries across the country about excessive premium increases for Medigap supplemental insurance policies," Reid, Baucus and Kerry wrote to Sebelius on Oct. 6.
"For example, some beneficiaries enrolled in the United of Omaha Life Insurance Company will see their Medigap premiums increase by approximately 40 percent between 2010 and 2011," the letter read. "An increase of this magnitude raises serious concerns about premium-setting practices and rate review procedures in place for Medigap policies."
Instead of listening to three top Senate Democrats, the Obama administration decided to go ahead anyway with the Medigap exceptions from rate increase reviews.
The AARP was a driving force behind getting Obamacare through Congress, contributing a large sum to the $121 million advertising campaign pushing it, and spending millions more lobbying for it on Capitol Hill.

The senior citizen advocacy organization stands to make huge profits from Medicare Advantage cuts and from the exemptions it will benefit from when it comes to the Medigap plans sold under what AARP CEO A. Barry Rand calls the AARP's "for-profit side."

The AARP's support of Obamacare during the debate over the legislation raised lots of eyebrows nationwide, as President Obama called for $313 billion in cuts to Medicare to push the plan through. Seniors weren't happy about it, and many ripped AARP representatives at town hall meetings nationwide.
Now, though, it's clear that the AARP is set to make millions, if not billions, of extra dollars in Medigap plan sales moving forward because they've effectively knocked out their biggest competitor, Medicare Advantage, through Obamacare.
.
After AARP gets 'waiver' from Obamacare, conservative groups fight for information, answers
After President Barack Obama's administration tossed the American Association of Retired Persons (AARP) the equivalent of an Obamacare waiver on Thursday, conservative groups Let Freedom Ring and 60 Plus grilled Obama again for the appearance of favoritism. Obamacare is taking heat from critics, who accuse the administration of "crony capitalism," after The Daily Caller reported this week that about 20 percent of the latest slew of waivers from parts of the healthcare overhaul went to House Minority Leader Nancy Pelosi's San Francisco district.
"This is getting ridiculous, special waivers for labor unions, Nancy Pelosi's constituents, and now AARP. How about the rest of America?," Let Freedom Ring's President Colin Hanna said. "The President and his radical bureaucrats need a reminder that we are a country of EQUAL protection under the law!"
Jim Martin, chairman of 60 Plus, the conservative alternative to the AARP, likens the AARP's latest Obama administration gift to a "payoff" and that this "doesn't surprise" him "one iota."
"It's payoff time to the AARP (some call it bribery) for selling out seniors and endorsing Obamacare, an awful proposal which makes no sense to seniors who know it's bad medicine for them," Martin said in a statement. "But it makes sense to the AARP, dollars and cents, that is, to its bottom line. The AARP made over a half billion in profits last year, selling 'low cost' insurance and other goodies to seniors. But that's nothing."
Martin went on to explain how Obamacare, which the AARP actively advocated for, damages the AARP's biggest competitor, Medicare Advantage. He adds that the AARP is likely to make millions, if not billions, more dollars in the coming years because it can sell many more Medigap plans without competition.
"Now the cash register will ring even louder as these money-hungry merchants fleece the elderly," Martin said. "AARP was the single most powerful organization supporting ObamaCare, yet now they want out of the relationship, so that they can make millions selling Medi-gap insurance to the very seniors they betrayed. If there is a more clear example of corruption and hypocrisy, I've yet to see it in my over seven decades on the planet. That's why we call them the Association Against Retired Persons."

To read more CLICK HERE
.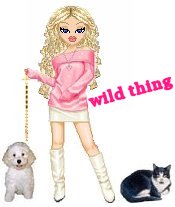 Wild Thing's comment.........
EVIL !!!! Beyond outrageous!
AARP lobbied vigorously for Obamacare in order to be relieved of its money-losing medical insurance program—and now gets a waiver!

So this is the new order. Laws are passed by the left that only those on the right have to follow. The left is exempt from the law. As, apparently, they are also exempt from taxes, since half the population does not pay tax, and votes Democratic.
Posted by Wild Thing at May 21, 2011 04:47 AM
---
Comments
All those organizations and unions who pushed hard for Obamacare are now being exempted from it. I can only think of one other country where the "friends" of the ruling government party got exempted from its laws: Union of Soviet Socialist Republics
Posted by: BobF at May 21, 2011 07:40 AM
---
Wild Thing Babeushka, how come both of our families live on budgeted incomes daily, weekly, monthly and annually, while 60% of other Americans (including the 20 million ILLEGALS that hideout here in Estados Unidos)spend.... spend...charge... charge and $imply do not?
Go LIGHTNING! Must be the ME MYSELF & I POOP CULTURE DEGENERATION?
Posted by: darthcrUSAderworldtour07 at May 21, 2011 09:26 AM
---
For thee, not for me... sorta like "All animals are equal, but some are more equal than others."
Posted by: Anonymous at May 22, 2011 11:28 AM
---