« Congressman Allen West (LTC. Ret) Warns Hateful, Radical Leftists: Don't Mess with Me! | Main | Obama Disappointed With Lack of 'Cool' Phone in Oval Office »
April 16, 2011
While Obama Signs Spending Bill He Proves His Talk Is Cheap and Giving His Word Means Nothing As He Disregards Parts Of Bill
Obama signs bill to keep government open, but protects 'czars'
Obama signed into law on Friday the hard-fought legislation to fund government and keep it running through the end of September.
But Obama took the key step of issuing a signing statement, a declaration of constitutional interpretation by a president of legislation he or she might sign into law. It essentially notified lawmakers that he would not abide by the section of the law defunding the establishment of so-called "czars."
Obama has employed a good number of these informal policy advisers who aren't subject to Senate confirmation, drawing the ire of congressional Republicans and prompting them to include in their spending bill a provision barring the use of federal funds for czars.
"The president also has the prerogative to obtain advice that will assist him in carrying out his constitutional responsibilities, and do so not only from executive branch officials and employees outside the White House, but also from advisers within it," Obama said in his signing statement. "Therefore, the executive branch will construe section 2262 not to abrogate these Presidential prerogatives."

Obama also issued a statement strongly objecting to provisions in the legislation intended to bar the transfer of prisoners detained at Guantanamo Bay, Cuba to the U.S., but did not go so far as to outright disregard the provisions. Rather, Obama said he wouldn't accept any expansion of those restrictions, and would seek the repeal of the ones included in the legislation.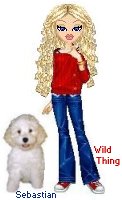 Wild Thing's comment........
Stalin and Hitler would be proud of the vile bastard named 0bama.
Contracts, agreements, oaths, our laws, our Constitution, etc. northing means anything to this obama person. Nothing. Only his agenda, his hate and his getting his way no matter what.
Posted by Wild Thing at April 16, 2011 12:40 AM
---
Comments
And if oaths, our laws and our Constitution meant anything to most members of Congress the SOB would be impeached.
Posted by: Bob A at April 16, 2011 09:55 AM
---
Hussein obama is a pseudo dictaor king that that thinks he is above the restrictions of The Constitution. If he is not dethroned in 2012, our economy and the rule of law will be thrown into anarchy.
Posted by: TomR, armed in Texas at April 16, 2011 11:21 AM
---